Free Range And Fabulous Hens
---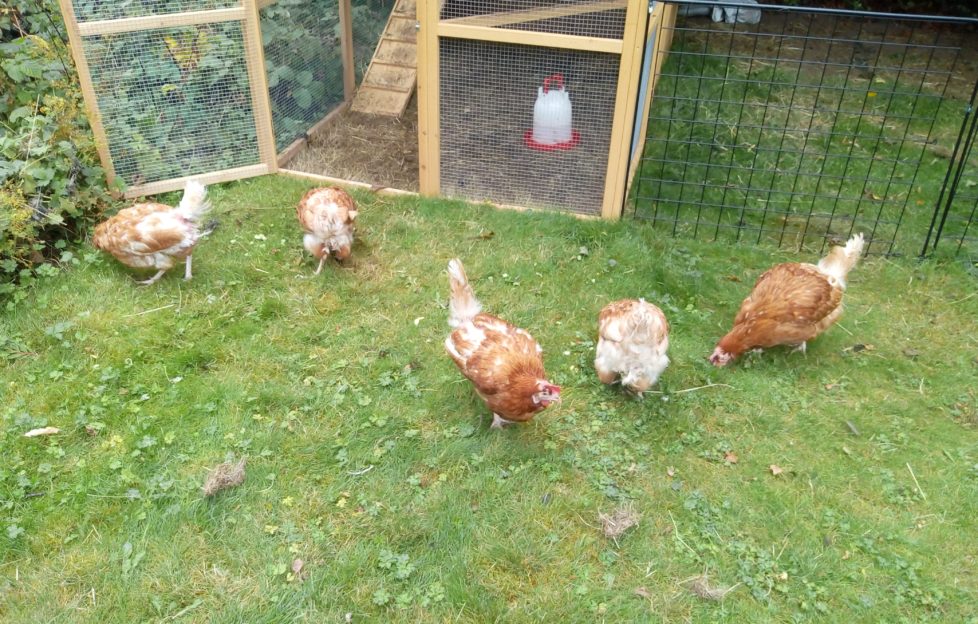 Photograph by Alex Corlett.
Way back at the start of lockdown, you might remember I spoke on Facebook about getting some hens.
They weren't ones we'd planned to take on, as we'd made a commitment to take four from the British Hen Welfare Trust (BHWT). But when all their pick-up events were cancelled because of the virus, we took on a couple that were causing trouble at a friend's house.
Star and Lyra, we called them. They're big personalities, that's for sure, and we've become rather used to them joining us when we are out gardening.
Or trying to slip into the house to eat the cat's food if we leave a patio door open!
Well, the day eventually came when the BHWT were able to run some more rehoming days, so we said a hearty yes, bought a new coop and headed off to Stonehaven with my parents one sunny Saturday.
Ask and ye shall get
Although we'd signed up for four, I'd read in the small print that they're usually rehoming loads on any given day, and that we'd be welcome to take more if we had room.
Our cardboard box wasn't huge, but we had the cat carrier, too. So when I mentioned this once we got to the front of the queue, they managed to fit another two in. We came home with six!
They told us that on that particular day they were rehoming just under 500.
They weren't in the best of nick. These were proper battery hens. They were not used to the outdoors at all, and they had feathers missing, floppy combs, long nails — the works.
Apparently, 200 of the hens were heading off to Orkney. The BHWT lady at the desk was away to put them on a ferry in Aberdeen at the end of the day and send them on their way!
We took them home and settled them into their new coop.
It was just as the Trust had said: being battery hens, they had no idea of having space or having options where to sleep. So when night fell, not one of them climbed the ramp to the safety and shelter of the box. We found them all quivering in the dark in a bundle.
I had to pick them up one by one and gently push them into their house. I didn't always get thanks for this . . . a few pecked me, but most were very passive.
This lasted for a few days, until — one by one — they all got the gist.
For a week I'd go out and one more chicken would've made the climb, until at last only one needed lifting up — and she had it nailed by the next day, too.
Now we go out in the evening, and they've all gone up to bed.
Everybody needs good neighbours
So far they're not best buddies with our established hens.
There's been a few face-offs, but sooner or later they're going to have to sort their pecking order out.
It's a bit violent while they do, though. Even separated by a fence, they have a pop at each other.
But it has been satisfying seeing them gain confidence and independence. Their feathers are just starting to come back in over the bald spots, and they're proper adventurous when they're let out.
Only thing is, we're now a bit overwhelmed with eggs!
We're getting about a half dozen a day, so we're giving them away to family and friends. But it's great — we'd run out of food today, so I just ate four soft-boiled eggs for lunch, something I haven't done for years.
And they were delicious.
It's been an interesting journey, but they're a lot of fun. And goodness me, what characters they all are.
---
Read more from Alex on his Features Ed Blog here.
Read more from the rest of the "Friend" team by clicking here.