What Can We Recycle?
---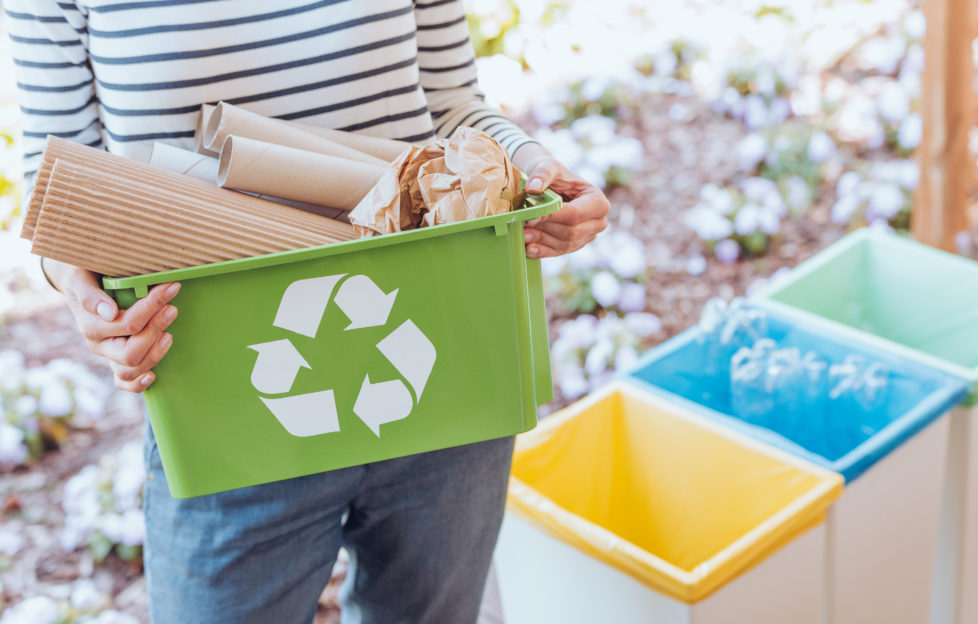 Shutterstock.
This year, Recycle Week runs from September 21-27.
The awareness campaign is now in its 17th year. It encourages both individuals and businesses to be more proactive in recycling old/used materials, for the good of the planet.
To mark the occasion, we're "recycling" this article by Lorna Cowan, first published in "The People's Friend" in 2018.
---
Did you know that wearable clothes worth an estimated £140 million go to landfill in the UK every year?
Here, Lorna Cowan finds out how to put our unwanted items to good use and raise money for charity.
Textiles
If you have old bed linen or clothes that have seen better days, remember textiles can be recycled, too.
The Fire Fighters Charity supports heroes in the fire community who are injured or ill, or in need of psychological aid. You can find collection points at fire stations around the UK.
The charity recycles donated textiles into items such as car upholstery.
The charity raises over £400,000 a year through its recycling scheme
Clothes and bras
Although many of us take clothes we no longer wear to charity shops or jumble sales, there are other ways to recycle clothing.
Marks & Spencer first teamed up with Oxfam in 2008 to launch their Schwopping initiative, making it easy for you to give your unwanted items a second life.
Nothing ends up in landfill. Clothes – taken into either a participating M&S or Oxfam shop – are sold in Oxfam shops, sold overseas or recycled. Around £20 million has been raised for Oxfam via this scheme in the past 10 years, which helps them to fight poverty.
Lingerie retailer Bravissimo, found in cities such as Aberdeen, Leeds and Reading, also partakes in a bra recycling scheme.
They send donated bras that can be reused to girls and women in developing countries across the world. Others, they recycle into new items which are then sold.
Money raised by Bravissimo this year is being given to Mind, a charity that provides advice and support to empower anyone experiencing a mental health problem.
Glasses
Have you replaced your specs recently and don't know what to do with your old pair?
Then hand them into a local optician supporting Vision Aid Overseas, who provide free eye tests and affordable glasses for many people living in Ethiopia, Ghana, Sierra Leone and Zambia.
The charity recycles glasses for their precious metal content. They also sell any vintage or retro specs online.
This supports their valuable work overseas.
On average, Vision Aid Overseas recycle 3.5 million pairs of glasses each year. The money raised through this has helped them to carry out an impressive 53,592 eye tests in the last 12 months.
Mobile phones
Do you regularly upgrade your mobile? Or maybe you're the grandparent of a teenager who does. If you're not passing the phones on to other members of the family, consider recycling for a good cause.
Remember to remove all your personal data first. Up to 80 per cent of a mobile phone is recyclable. Metal, plastic and other valuable components, such as silver, can be extracted and reused.
The British Red Cross is just one charity that accepts mobile phones – even ones that are damaged and no longer work – claiming that they can get up to 50 per cent of the phone's market value.
Dogs Trust also recycle phones, and state that an old iPhone 6 could be worth up to £80 – money that could help a homeless hound.
Other charities that will readily take unwanted mobile phones off your hands include the Retired Greyhound Trust, Barnardo's and WaterAid UK.
Used stamps
When a pile of cards pop through your letter-box from loved ones wishing you a happy birthday, don't throw away the envelopes.
We can recycle used postage stamps – from the UK and overseas – and sell them by weight to raise money for charity.
Against Breast Cancer, Macmillan Cancer Support and the MS Society are just three organisations which accept donations of used stamps, with Macmillan stating they get £7.50 plus VAT for every batch weighing a kilogram.
Get friends and family involved. Just remember to leave a border of approximately 1 cm around each stamp.
Coffee pods
A coffee-machine cappuccino made at home may taste delicious, but what can you do with the leftover coffee pods?
Simply send to recycling company TerraCycle, who have partnered with Tassimo and L'OR, and they'll turn them into cash for schools, charities and non-profit organisations. An impressive £308,000 has been raised so far.
Ink cartridges
We can put used inkjet and laser toner cartridges to good use, too.
The Royal National Institute of the Blind (RNIB) accepts and recycles some brands of printer cartridges via the Recycling Factory, receiving up to £4.50 for each one.
Watches and jewellery
Do you have an old watch that no longer works? Or a bracelet with a clasp missing? Don't just throw them out.
The RSPCA, with the help of Recycling for Good Causes, can turn unwanted items into money to help animal welfare.
IT equipment
Laptops, desktop PCs, computer monitors, tablets – Age UK can benefit from the safe disposal and recycling of unwanted IT equipment.
After answering a few easy questions on their website, your item is valued and, once taken to a participating store, the charity will be sent the money on your behalf.
Cars
Not everyone has a car to scrap, but if you do, the money raised, via charitycar could be donated to Marie Curie.
Some cars only have a value of £15, others can fetch over £2,600; it all depends on the type of car, age and condition.
Donating your car won't, however, cost you a penny.
---
For more great lifestyle features from "The People's Friend", click here.
For more on Recycle Week 2020, click here.