A Tasty Turkey Mince Hotpot
---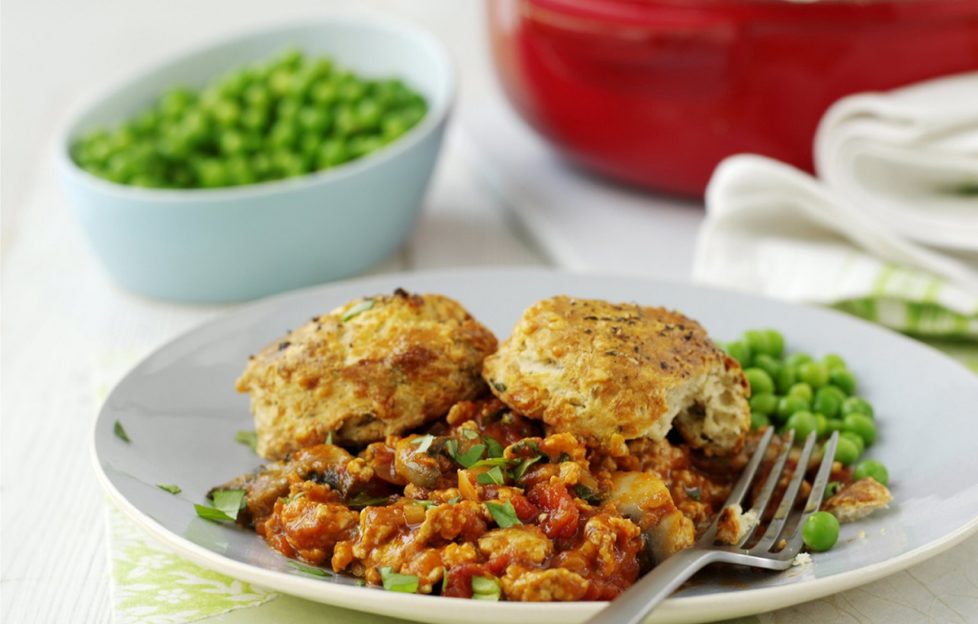 Image courtesy of British Turkey.
Ingredients
2 tbs vegetable oil
2 small onions, peeled and chopped
2 cloves garlic, peeled and chopped
200 g (7 oz) mushrooms, sliced thickly
500 g (1 lb 2 oz) British turkey mince
1 x 400 g can chopped tomatoes with herbs
1 small bunch fresh basil, chopped roughly
2 level tbs chicken gravy granules
For the Cobbler Topping:
25 g (1 oz) unsalted butter
Pinch salt
225 g (8 oz) self-raising flour
100 g (3½ oz) mature Cheddar, grated finely
2 heaped tsp dried oregano
1 medium egg, beaten
2 tsp mustard
4-5 tbs semi-skimmed milk
Black pepper
To Serve: green vegetables of choice.
Recipe courtesy of British Turkey.
Hotpot may be a Lancashire favourite, but don't worry — you can enjoy it anywhere!
Method:
Pre-heat the oven to 220 deg. C., 425 deg. F., Gas Mark 7 and grease a baking sheet lightly.
Topping:
To make the cobbler topping, in a bowl, rub the butter and salt into the flour together lightly. Add the cheese and oregano and mix. Next, add the egg, mustard and half the milk and mix very lightly until you have a soft dough. Do not overwork the mixture. You can always add a little extra milk if needed.

Roll out very carefully until the dough is roughly 1 cm (½ in) thick. Cut out with a plain cutter and place on to the prepared baking sheet. Brush the tops with a little milk and a sprinkling of black pepper.

Cook in the pre-heated oven until well risen and golden, about 10 to 12 minutes. Leave to cool until ready to use in the hotpot.
Hotpot:
To make the hotpot, heat the vegetable oil in a 25 x 20 cm (10 x 8 in) deep flameproof casserole.

Add onions, garlic and mushrooms. Cook over a high heat for 10 minutes.

Add the turkey mince, break up well with a wooden spoon, and cook until it changes colour.

Stir in the tomatoes, most of the basil and mix well, then simmer for 20 minutes.

Once cooked, stir in the granules until the mixture thickens. Top with the mini cobblers, then turn the heat down until it's at its lowest setting. Cover and warm the topping through, about 10 minutes.

Uncover, sprinkle over remaining basil and serve with a green vegetable.
---
Click here for more great recipes from "The People's Friend". And if it's turkey your keen to try, start with this Turkey Bolognese recipe.
Or if you have a little more time on your hands, this Slow-Cooked Turkey With Spiced Chickpeas could be just what you're looking for.
If you can't get to the shops just now for your "Friend", subscribe now by clicking here. It means your magazine will come straight to your door every week — all you have to do is put the kettle on!
You can also take out a digital subscription, meaning your issue will come straight to your computer, tablet or phone! And it's great value for money. Click here for more details.