Book Review: "The Silent Companions"
---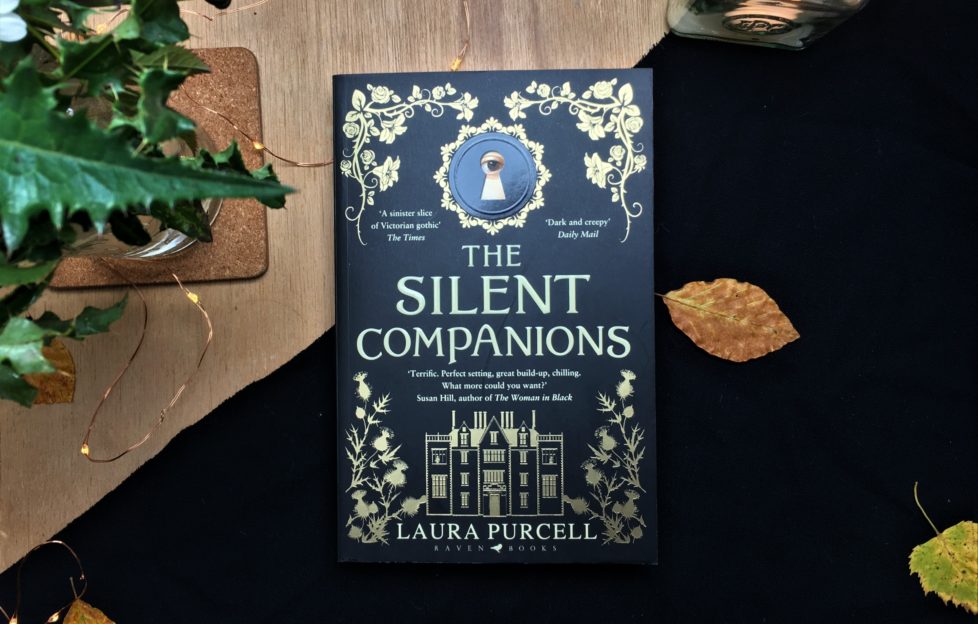 Photograph by Kirsty Souter.
Before I get to my review of "The Silent Companions" by Laura Purcell, I wanted to say: if you've read any of my other reviews, you might notice that I've got a particular preference for historical fiction.
It's not the only thing I read, but it's certainly something that's overrepresented on my bookshelf.
But whether you'd believe it or not, my real reading passion is old horror novels.
As someone who buys books second-hand whenever possible, I've amassed a decently sized collection of vintage New English Library books from the 80s. Including one that's very out of print, and a first edition of Stephen King's "The Shining".
When I stumbled across "The Corset" by Laura Purcell on the library app I've been using a lot this year, and started reading it (without properly checking the blurb — a rookie mistake!) I had no idea what I'd stumbled into.
I expected to get historical fiction about clothing manufacture. What I got was a "chiller" (scary thriller) set in the murky backroom of a Victorian dress shop.
Suffice to say, I was hooked.
I picked up "The Silent Companions", which was Laura's debut novel, at the beginning of October. And with Hallowe'en fast approaching, it couldn't have been a more perfect spooky autumn read.
A young woman moves to a creepy old mansion . . .
Stop me if you've heard this one before.
"The Silent Companions" opens within the confines of a prison. The year is 1866 and our main character, Elsie Bainbridge, is in custody, accused of setting fire to her home.
Poor Elsie, having endured some unknown trauma, has gone mute — and all but one doctor have given up on her as a mad woman known for violent breakdowns.
Her execution is approaching. Understanding how she came to be the only survivor of a huge fire on her inherited estate might be the only thing to save her from the scaffold. The doctor gives Elsie a pen and paper, and asks her to write.
Through this frame narrative, we travel back in time to the beginning of Elsie's unfortunate tale.
She is pregnant and newly widowed when she falls heir to her husband Rupert's large but crumbling country estate.
Of course, she also falls heir to his strange, unrefined staff; his awkward spinster cousin, Sarah; and a mysterious family history that slowly unfurls through the pages of diary of Rupert and Sarah's ancestor, Anne, from the 1600s.
The villagers on the estate are wary and untrusting of the new mistress. And the new vicar at the parish informs Elsie that there's a great deal of suspicion surrounding her new family.
There's more than one skeleton in the closet. Or perhaps in the abandoned garret behind that mysterious locked door . . .
Two stories within a story
So, for anyone keeping count, technically there are two stories within a story! Three different narratives all together. Whew.
Luckily, they're well-paced and compellingly written. I never found myself powering through one perspective to get to the next because there was so much to discover about each separate strand of the timeline.
I particularly enjoyed the 1600s sections, which touched on some very seasonally appropriate witchcraft, and set up the "spooks" to come in Elsie's story.
The historical details are also amazing. I had never heard of the titular "Silent Companions", but found myself inspired to go online and search the National Trust's collection of Dummy Boards (free-standing portraits).
Laura's writing certainly reflects the uncanny feeling they gave me.
But historical details aside, "The Silent Companions" is, above all, a brilliant horror novel.
It has all the hallmarks of the most gothic take of the genre — creepy old house, distrustful neighbours and a heroine with a strange and sordid family history.
Personal trauma and property trauma combine to create psychological and physical drama!
Haunted paintings are not necessarily a new idea. But you've never seen haunted paintings like these before!
The supernatural element is wonderfully creepy.
I cannot stress enough how well-written and truly page-turningly unsettling I found this! It's gloriously atmospheric, evocative, and a genuinely original take on a haunted house story.
---
For more book reviews from "The People's Friend" team, click here.