Deliciously Sweet Kitchen Sink Cookies
---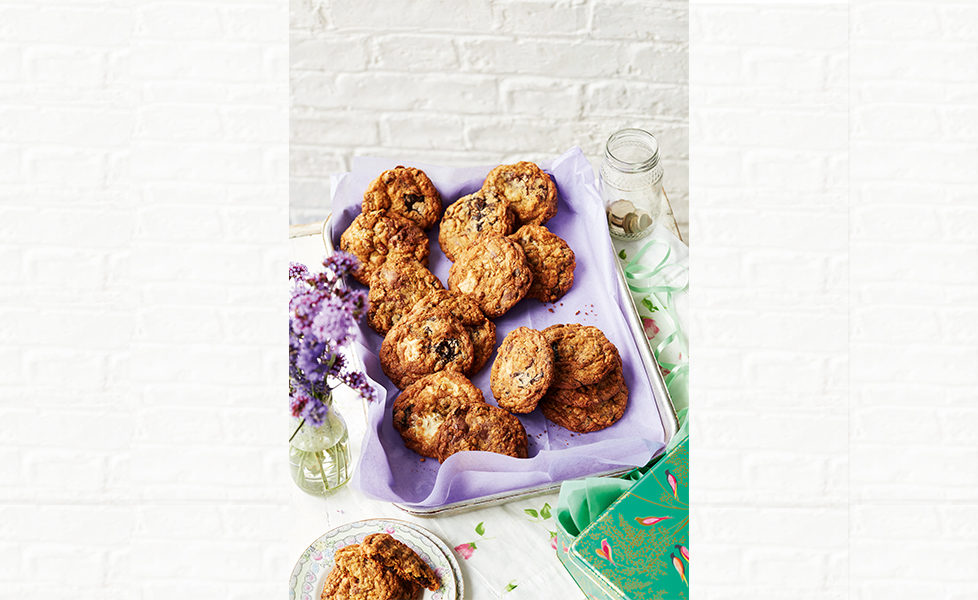 Photograph by Jamie Orlando-Smith.
Ingredients
225g unsalted butter, softened
220g light brown soft sugar
50g dark brown soft sugar
2 eggs
225g plain flour
1 tsp bicarbonate of soda
Pinch of salt
75g rolled porridge oats
100g 70% dark chocolate, roughly chopped
100g white chocolate, roughly chopped
75g milk chocolate, roughly chopped
100g pecans or walnuts, roughly chopped
100g raisins
50g desiccated coconut
75g toffee or fudge pieces
Recipe courtesy of Sphere Books.
Everything but the kitchen sink . . . these cookies are chock-a-block with chocolate (three types!), oats, nuts, raisins, coconut and fudge pieces.
Choose the nuts and dried fruit according to what you prefer or have in the cupboard. They're an ideal way to use up any open bags, and for when you need to provide something for a last-minute school cake sale or an office bake off.
This recipe makes around 24 cookies.
Method:
Beat the butter and both sugars in a stand mixer fitted with the beater, on medium speed for 3-5 minutes, until pale and creamy.

Add the eggs, one at a time, beating well between each addition until smooth.

Sift together the flour, bicarbonate of soda and salt into the bowl. Add the oats and mix again until nearly combined.

Remove the bowl from the mixer, add all the chopped chocolates, and the nuts, raisins, coconut and toffee or fudge pieces. Using a large spoon, mix together to thoroughly incorporate until all the pieces are evenly distributed.

Using an ice-cream scoop or a tablespoon, shape or roll the mixture into 24 neat balls. Arrange on the lined baking sheets. Cover and chill for at least 1 hour or up to 24 hours, until firmed up.

Heat the oven to 180°Cji60°C fan/Gas 4.

Bake in batches. Arrange 6 cookies on each lined baking sheet, spacing them well apart, and bake on the middle shelves for 10 minutes. Remove the baking sheets from the oven and tap them sharply on the work surface to deflate the cookies slightly. Return to the oven for a further 5 minutes, until the cookies are golden and starting to turn crisp at the edges.

Leave the cookies to cool and firm up on the baking sheets for 5 minutes, then transfer to a wire rack to cool completely. Cook and cool the second batch of cookies in the same way.
If you enjoyed these cookies, then why not pick up a copy of "Great British Bake Off: Love To Bake" for more great recipes!
---
Click here for more great recipes from "The People's Friend".
If you can't get to the shops just now for your "Friend", subscribe now by clicking here. It means your magazine will come straight to your door every week — all you have to do is put the kettle on!
You can also take out a digital subscription, meaning your issue will come straight to your computer, tablet or phone! And it's great value for money. Click here for more details.