6 Fantastic Gift Ideas For Christmas
---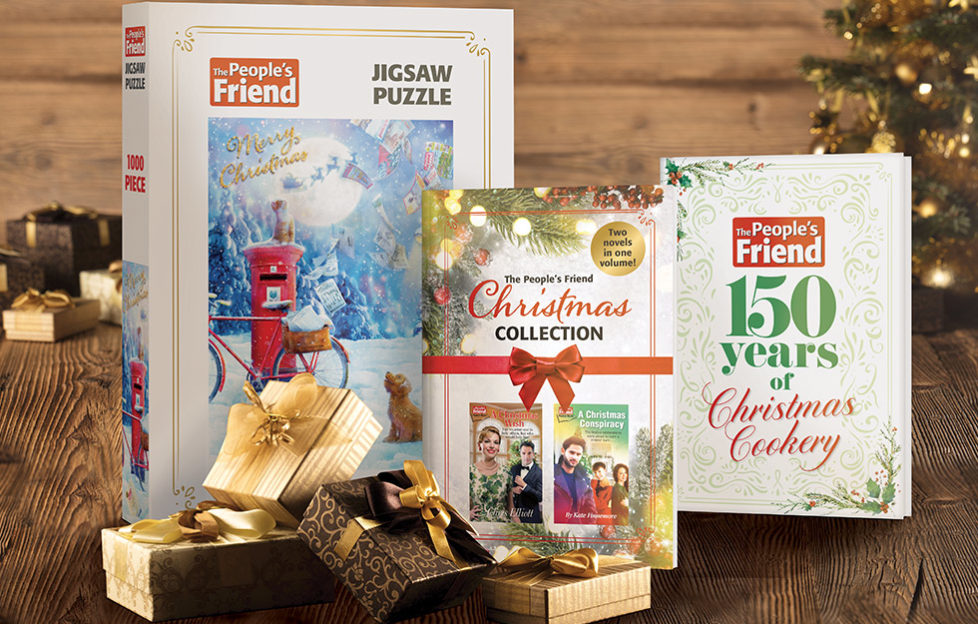 Find the perfect gift with The People's Friend (Shutterstock/Supplied)
As the countdown to Christmas well and truly begins, we take a look at some fantastic gift ideas from the "Friend".
These are ideal for loved ones and friends — or as a treat to yourself this festive season.
1. "The People's Friend" Christmas Book Pack
Indulge the tastebuds and tuck into a feast of festive fiction with our Christmas Book Pack.
For over 150 years, the "Friend" has been sharing recipes, helping readers create some truly delicious dishes and tempting treats.
150 Years of Christmas Cookery features some of the quirkiest, most Christmassy recipes in our magazine's long history.
Recipes from every decade are accompanied by charming adverts and illustrations from the time.
An excellent side dish (sorry, we really promise to stop the foods puns!) we have selected two of our finest full-length Pocket Novels to complete our suitably Christmas Book Pack.
Click here to visit our Shop.
2. "The People's Friend" Classics Collection: "The Inheritance"
Written by Annie S. Swan, the most-read Scottish author of the twentieth century, "The Inheritance" is the second release from our Classics Collection.
Now available in beautifully presented book-form for fans old and new, this fascinating story transports readers to the city of Dundee and, a short jaunt across the Tay, to Newport.
An involving tale about a prominent mill owner's inheritance unwinds in dramatic fashion, triggering a series of events that could spell tragedy.
Click here to visit our Shop.
3. "The People's Friend" Annual Collection 2021
Set a friend up for the year ahead with the ultimate gift from the "Friend'.
Our 2021 Annual Collection brings together our annual, "The Friendship Book" 2021 and our 2021 "Fireside Book".
Your chosen recipient will enjoy a variety of poems, illustrations, paintings, inspirational thoughts and feel-good fiction throughout.
Click here to visit our Shop.
4. "The People's Friend" Subscription
The perfect affordable treat sure to brighten anyone's day, share the enjoyment of "The People's Friend" by gifting a subscription this Christmas.
Alongside a subscription, the chosen recipient will also be able to enjoy a nice cup of tea in a rather beautiful China Rose Mug, free of charge.
Click here to visit our Shop.
5. "The People's Friend" Christmas Jigsaw
A beautiful, 1000-piece jigsaw, this is an ideal gift for yourself or a friend sure to add a little festive sparkle this winter.
Click here to visit our Shop.
6. "The People's Friend" Feel-good Special 2020
Celebrate the positives of 2020 with our Feel-good Special!
Featuring a collection of uplifting stories and features, the Special will help you discover real-life lockdown stories and meet amazing key-worker heroes who've kept us safe throughout 2020.
Set to provide hours of entertaining reading, we've also sprinkled in some lovely recipes, craft project ideas, puzzles, gardening tips and so much more!
Click here to visit our Shop.
---
Explore a huge range of Christmas gifts over at the DC Thomson Shop. Click for more information.