Knitting And Craft Preview: December 5, 2020 Issue
---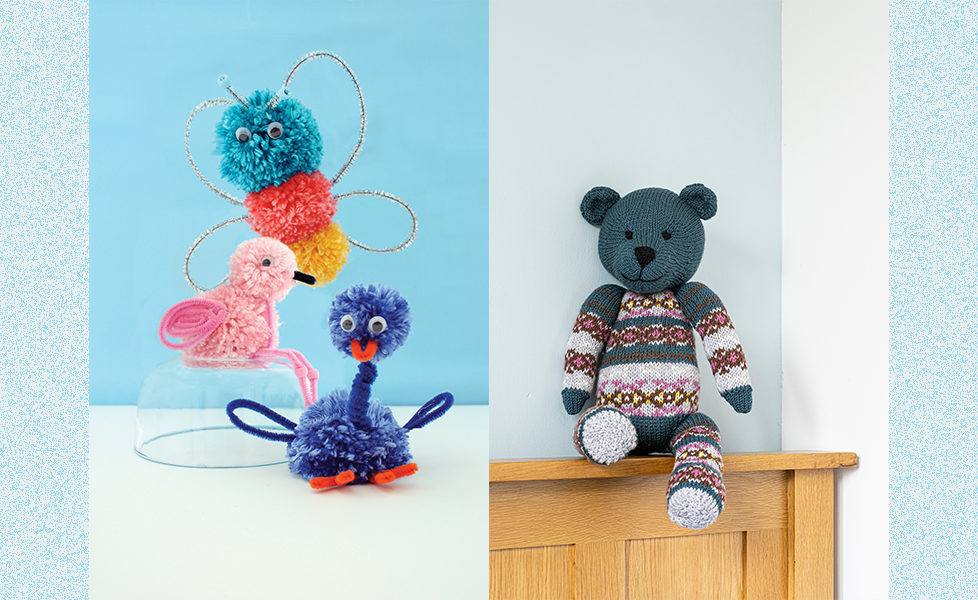 Photographs by Ally Stuart/courtesy of Caron Yarns.
We have a double helping of knitting and craft for you this week.
Meet Fergus
Meet Fergus the Fair Isle bear. He is a lovely fellow worked in a selection of Fair Isle patterns, worked following charts. The various parts of the teddy are knitted and then stitched together to complete.
We have used Sublime Extra Fine Merino DK for this bear in seven shades. In addition, you will need toy stuffing and a long darning needle.
Designer Monica Russel has created a yarn pack which you can order direct from her at www.theknitknacks.co.uk or by phoning 01892 785035.
We have graded this as advanced because of the colour changes and the need to follow a chart, but the actual stitches used are simple knit and purl.
We love Fergus and hope you do, too.
And his friends!
Alongside Fergus, we have his fun friends, cheeky little pompom creatures worked in Caron Simply Soft and finished off with pipe cleaners, googly eyes and Pony beads.
The shades we have used are Soft Pink (9719), Berry Blue (9609), Blue Mint (9608), Strawberry (0015) and Sunshine (9755) and you can view the entire colour range and order direct from www.woolwarehouse.co.uk.
These are super quick and easy to make, all ages can have a go at making the pompoms. Don't worry if you don't have a pompom maker, cardboard does just as well and we list the sizes needed for each animal.
If you are looking for a quick stocking filler to make, our pompom creatures are ideal.
---
Knitting and craft preview piqued your interest? Click here for more great craft content, including DIY face masks and a quick and easy pouffe project.
Or you can subscribe to "The People's Friend" here. That way you'll never miss another one of our great patterns and projects!
A digital subscription means you can download every issue straight to your laptop, tablet or phone. Try it today.