Fiction Sneak Peek: December 5, 2020 Issue
---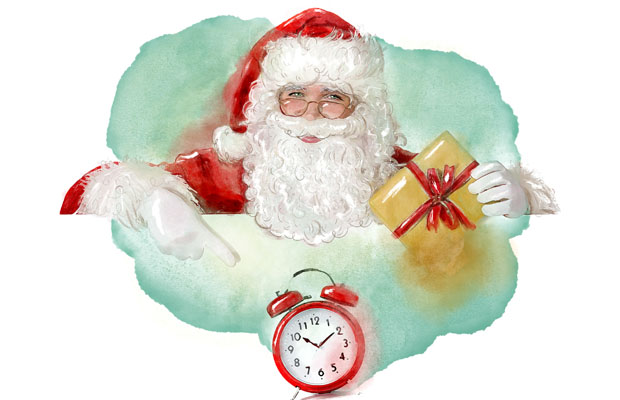 Artwork: Manon Gandiolle
Get ready for a sneak peek at two weeks of wonderful Christmassy reading!
Life is full of surprises in our opening story – whether it's an old book or a Christmas present! Liz Filleul's "Secret Santas" is part of our "Bookshop" series, illustrated by Sarah Holliday (below).
Would Fran's day have turned out differently if she hadn't read her horoscope that morning? Find out in "Claus And Effect", by Alyson Hilbourne. With a jolly image (below) from Shutterstock.
"Being Joseph", by Meg Stokes, is a really lovely Christmas story. Playing Joseph in the Nativity helps little Thomas to understand how a father can take on someone else's child. With a festive illustration (below) by Pat Gregory.
Fred Bunting's take on the festive season keeps his neighbours entertained in "Believe In Magic". Written by Christine Bryant, this seasonal story has a cheerful illustration (below) by Martin Baines.
Set in Victorian times, "Room For One More" by Lynda Franklin tells the story of Bessie, whose son Bertie has passed away. This will be the first Christmas without Bertie, and everyone's heart is heavy. Our uplifting short story has beautiful artwork by Sailesh Thakrar.
New neighbours move in across the road in Teresa Ashby's "The Festive Family" – and you'll never guess what their surname is! With a perfectly cosy illustration (below), courtesy of our very own Manon Gandiolle.
We go back to the 1970s for our next story, "Frosty Wind Made Moan", by Liz Filleul. Policewoman, Gina, is part of the town choir, spreading joy at Christmas. But no-one is ready for what happens next . . . Jim Dewar's snowy illustration accompanies this thrilling story.
. . . and there's more in this sneak peek!
Maureen and Jean are back in Eirin Thompson's "Something To Boast About". Jean is affronted to receive a swish Christmas card from her cousin, complete with 'round robin' letter. Brought to life with the wonderful artwork of Ruth Blair (below).
In "I Want A Unicorn", one little boy knows exactly what he'd like for Christmas – and it isn't what his dad wants him to have! By debut author, Patricia Lowther, this sweet little story has an illustration from Shutterstock (below).
Mason and Brogan have different dads. While that's usually fine, it could become an issue at Christmas time – what if one gets more from his dad than the other? A problem shared is a problem halved  in "Too Many Dads", written by Eirin Thompson and illustrated (below) by Helen Welsh.
Walt and Amy believe that if they wish on a shooting star, their Christmas wishes will come true.  Find out if they do in Lynda Franklin's "Wish Upon A Star", set in 1944. With an illustration by Shutterstock (below).
How can Santa deliver his presents if the children won't go to bed? All is revealed in "He Sees You When You're Sleeping", by Donald Lightwood. Illustration (main image) by Manon Gandiolle.
"Reinventing Advent" is our next story. For one family, money's tight this year, and someone is missing – so they decide to return to the true meaning of Christmas. Starting with no chocolate in the Advent calendars! By Nicola Martin, this thoughtful short story is illustrated (below) by Jim Dewar.
Renting, rather than buying a tree becomes a family tradition in "Rent And Return". Set over five Christmases, this seasonal short story by Jacqui Cooper has a Shutterstock illustration (below).
One woman's Christmas plans are under pressure from the family in Katie Ashmore's "Planning Makes Perfect". Image by Shutterstock (below).
Family drama threatens to spoil the festivities in Teresa Ashby's "Let It Snow". Illustrated by Shutterstock (below).
We're in 1957 for our next story, "Seeing The Speech", by Julie Goodall. For one family, the Queen's Speech is a special part of Christmas Day, and this year, there's a surprise in store that means it'll never be quite the same . . . with an illustration from Shutterstock (below).
Eirin Thompson's "May The Best Tree Win!" completes the fiction for this bumper issue. There's a Christmas tree festival at St Saviour's, and everyone is competing to have the most attention-grabbing decorations. With a beautifully Christmassy illustration (below) by Mandy Dixon.
Serials
In the final instalment of Lesley Collison's "The Christmas Swap Shop", Cheryl's enjoying Christmas with her family – but next year might be a little different. This serial's super illustrations are by Kirk Houston.
In the penultimate instalment of "Bring Him Home", by Kate Finnemore, the search for Harry is finally over – but this wasn't how Rose had imagined the reunion . . . Philip Crabb's artwork accompanies this serial.
A brand new serial starts in this issue – "The Inn On Bluebell Lane", by Katharine Swartz. Will Ellie and her family be able to settle into their new life in the Welsh countryside? Sailesh Thakrar will be illustrating this serial for us.
Then we're in 1919 for the final instalment of Kate Finnemore's "Bring Him Home". Rose has found out all the answers to her questions – so why does it still feel as though something is wrong?
Series
Dan has a cockerel conundrum to solve in Della Galton's "Paw and Order" – and he's not alone!
And Susan's at the end of her tether with her uninvited guest in Glenda Young's "Riverside".
---
If this sneak peek has left you wanting more, don't worry! Our new issue is in shops soon.
Did you know that subscribers receive their issues early? Click here for more information on subscribing to the "Friend" today. You'll never have to worry about missing another issue again!
Plus, if you're worried about potential delivery issues, we have a great digital subscription available. This way, you can download every issue straight to your phone, tablet or home computer.