Fiction Preview: Special 201
---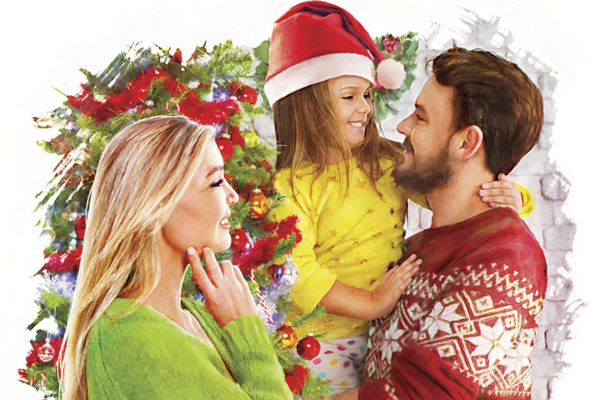 Illustration by Kirk Houston.
Good news! Special 201 is on sale on Wednesday, December 2.
Inside you'll find fourteen brand new stories, written specially for the "Friend", and an eight-page crime mystery. Here's a quick look at the reading we have ready for you.
The opener
Our opening story in Special 201 is "Once A Rogue", set in 1817. There's an elopement afoot, and one step-sister must risk all to save the other. Kitty-Lydia Dye's exciting short story welcomes you to this Special, with  an atmospheric illustration by Ruth Blair.
Bingley Brothers Department Store could thrive once more . . . if only it could persuade more people to venture through the front doors. Can one young saleswoman come up with a plan? Find out in Eirin Thompson's upbeat short story, "Out Of Fashion", charmingly illustrated by Sarah Holliday.
Whatever Adele expected from her friend Colette's online dating plan, it certainly wasn't this . . . Eirin Thompson's feel-good short story, "The Perfect Match", is warmly illustrated by Ruth Blair.
We go back to The Great Smog of 1952 for our next story, "In A Mist", by Pamela Ormondroyd.  The smog is ruining everything – not least one girl's chance of romance! With a light-hearted illustration by Helen Welsh.
Georgia has never had much of an interest in babies. Now that one's on the way, how will she cope? All will be revealed in Lynda Franklin's gentle short story, "Not The Baby Type". With an upbeat illustration by Martin Baines.
"It's On The House" is our next story. When Isobel slips on black ice, a Good Samaritan comes to her aid – but it turns out not to be a stranger, not by any means . . . Meg Hudson's short story comes with a cheering illustration from the Shutterstock Picture Library.
The magic of the season brings people together in our next short story, "Be Of Good Cheer", by Moira Gee. With a festive illustration (above) by Kirk Houston.
The long read
This Special's Long Read is Alison Carter's thriller, "Secrets In The Snow". The Italian slopes attract locals, tourists, and lots more besides . . . Jim Dewar illustrated our 8-page crime mystery.
A family leave their native Ireland and arrive at Ellis Island in our captivating next story, "Through The Golden Door". By debut author Marion Manning, it has a striking  illustration by Phillip Crabb.
Two sisters start a new business in our next story, set in the 1900s. With different personalities and very different ideas, can the sisters make it work? Find out in "Pick Of The Bunch",  by Em Barnard, delightfully illustrated by David Young.
A mum tries to find five minutes to herself to read her book in "Do Not Disturb", by Patsy Collins.
Niamh knows Mr Right is out there – somewhere – but she's beginning to give up on ever finding him! Find out if she gives up on dating altogether in Lynne Hallett's "The Single Life".
A special recipe causes problems in our next short story, "Mother Knows Best". Becky didn't want to cook when her mum offered to teach her, and now it's too late . . . Our heart-warming story by Anne Stenhouse is sensitively illustrated by Jim Dewar.
Our next short story is set in 1960. When Edith hears that Sylvia Pankhurst has died, she remembers a secret life, and inspires her own much-loved granddaughter to aim high.
Our nostalgic short story, "Memories Of Sylvia" has been specially written for us by Teresa Ashby and thoughtfully illustrated by André Leonard.
The closer
The final short story in Special 201 is Isobel J. Sayer's "Don't Stop Believing". Kitty dreams of making the big time, but can those dreams come true?
---
For more from Fiction Ed Lucy, read her blog here.
Click here for more on Special 201.
And remember, you can subscribe to our Specials today, and have them delivered straight to your door! Click here for more information.