Creamy Fenland Celery Soup with Stilton Cheese
---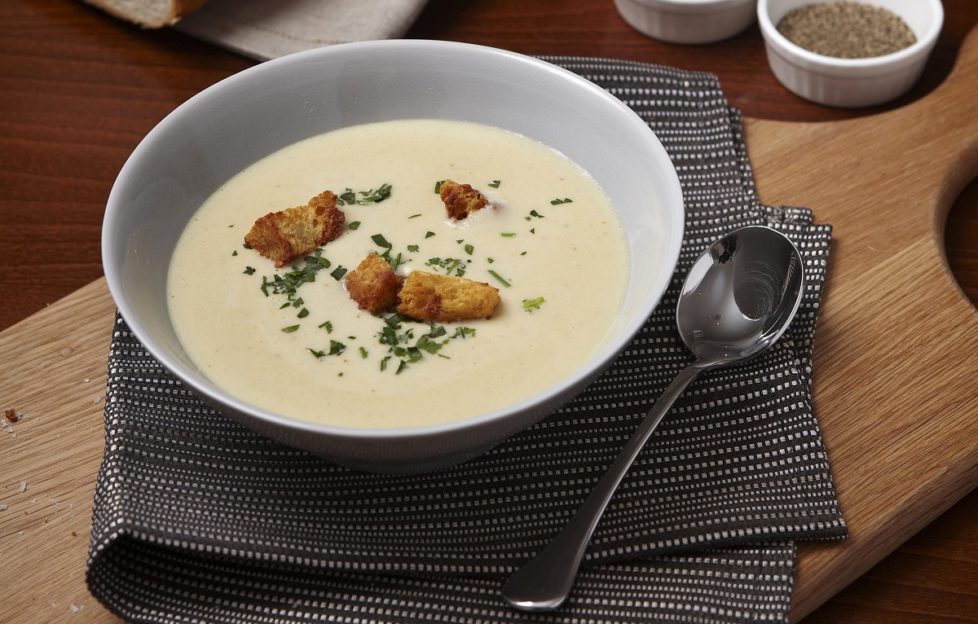 Image courtesy of Fenland Celery.
Ingredients
25 g (1 oz) butter or margarine
1 small or ½ medium celeriac, chopped
1 large leek, chopped
2 cloves garlic, chopped
1 whole head of fresh Fenland Celery with leaves, chopped (reserve some chopped leaf for garnish)
850 ml (1½ pt) vegetable stock
150 ml (5½ fl oz) milk
75 g (2¾ oz) Stilton cheese
Salt and freshly ground black pepper, to taste
For the Croutons:
1 small white loaf (1 day old), cut into small cubes
2 tbs olive oil
50 g (1¾ oz) Cheddar, grated
Recipe courtesy of Fenland Celery.
As conditions outside remain a little frosty, we thought our readers could use a tasty winter warmer: Creamy Fenland Celery Soup with Stilton Cheese.
Method:
To make the cheesy croutons, mix the bread cubes, olive oil and grated cheese in a bowl. Scatter on to a baking tray and bake for 20 minutes at 180 deg. C., 350 deg. F., Gas Mark 5.

Cook for another 10 minutes if not golden brown. Cool and store in an airtight container for up to a week.

Melt the butter or margarine in a large saucepan and add the celeriac. Stir and then sweat for 3 to 4 minutes. Add the leek and garlic and cook for a further 3 to 4 minutes and then add the chopped celery and stock.

Gently simmer with the lid on for 15 minutes or until the celery is just soft. Remove from the heat and leave to cool.

Liquidise the soup and then sieve if a smoother texture is desired. Stir in the milk and cheese and reheat until the cheese has dissolved, taking care not to let it boil. Garnish with cheesy croutons and ½ tsp of the reserved finely chopped celery leaves.
---
Click here for more great recipes from "The People's Friend". And if you're a fan of soup, we've got you covered.
Try this Hearty Leek, Ham And Spelt Broth, for example. St Andrew's Day is just around the corner, which also gives you the perfect excuse to revisit our Lentil And Smoked Bacon soup. As if you needed one!
If you can't get to the shops just now for your "Friend", subscribe now by clicking here. It means your magazine will come straight to your door every week — all you have to do is put the kettle on!
You can also take out a digital subscription, meaning your issue will come straight to your computer, tablet or phone! And it's great value for money. Click here for more details.