Fiction Sneak Peek: February 13, 2021 Issue
---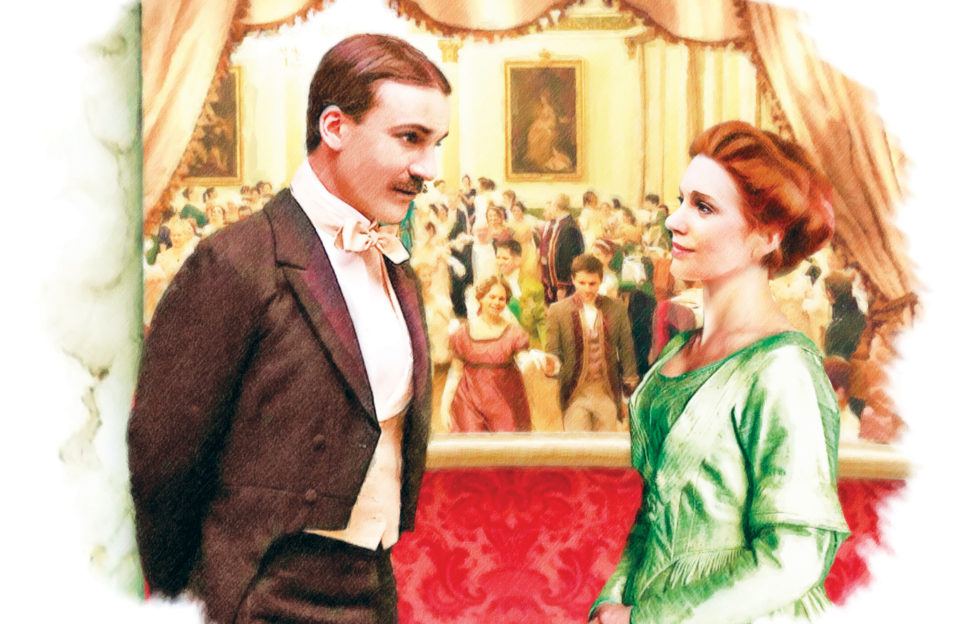 Illustration by Ruth Blair.
Welcome to our weekly sneak peek at the fiction in our latest issue, which is on sale tomorrow, Wednesday 10th February.
As it's Valentine's Day this week, love is most definitely in the air!
Our romantic opening story is Moira Gee's "A Night To Remember", with a lovely illustration by Ruth Blair (above). It's 1880, and Gertrude is accompanying her daughter, Viola, to a Valentine's ball, where Viola hopes to receive a proposal. But someone from Gertrude's past is also there, and he was the love of her life . . .
A couple who met at a support group for the recently widowed are getting ready for a fresh start — and it involves flat-pack furniture! Alison Wassell's uplifting short story, "Build Me Up", is accompanied by an illustration from the Shutterstock Image Library.
In "Her Cup Of Tea", singleton Beth joins the Friday Film Club to get over her broken heart. Before each film, the club visits a little coffee shop. Might she meet someone who may be just "cup of tea"? Laura Tapper's lovely short story is illustrated by Kirk Houston.
Aspiring actress Shona is "between roles" and working in a supermarket, where she feels both life and romance are at a standstill. When manager Geoff gives her three unsold boxes of chocolates, what could go wrong? Find out in Alyson Hilbourne's fun short story, "Say It With Chocolates".
Can Mattie's bookshop help reunite a pair of old flames? Find out in Liz Filleul's "On The Same Page", a new story in our bookshop series, illustrated by Sarah Holliday.
We're back in 1971 for our next story, "Old Pennies, New Pennies". It's decimalisation day, but Muriel isn't sure that her family is ready for the changes . . . Alison Carter's short story has a lovely illustration from Sarah Holliday.
Our final story of the week is "Not Just A Pretty Face". It's Ash Wednesday in Palermo, and Melina is wondering why every woman in the world seems cleverer and more able than she feels. Stefania Hartley's seasonal story is beautifully illustrated as always by Jim Dewar.
Serials
District Nurse Isla is growing fonder of little Olivia, and of her uncle, in our three-part serial, "In Safe Hands". Written by Suzanne Ross Jones, it's wonderfully illustrated for us by Ruth Blair.
As the final curtain falls on Kitty's run as a singer, has she made the right decision? Find out in the final instalment of Lynn Love's "Swansong At Foxwells", with a striking illustration by Mandy Dixon.
Series
Dan has a Valentine's surprise up his sleeve in Della Galton's "Paw And Order" . . .
And in Glenda Young's "Riverside", who will receive a Valentine's card?
---
If this sneak peek has left you wanting more, don't worry! Our new issue is in shops soon.
Did you know that subscribers receive their issues early? Click here for more information on subscribing to the "Friend" today. Right now we're offering a fantastic subscriber discount, too: just £8 for the first 13 issues. Don't miss out, take advantage of this offer while it lasts!
Fiction fans will also want to listen to "Reading Between The Lines", our brand new story podcast. Click here for more information.