Butternut Squash, Chorizo and Chickpea Salad
---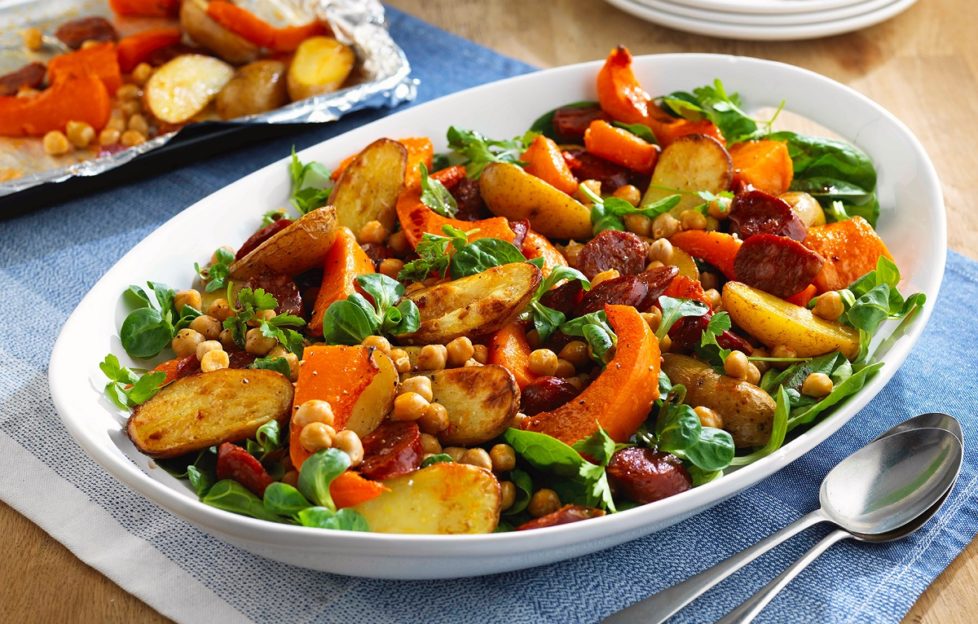 Image courtesy of Bacofoil.
Ingredients
500 g (1 lb 2 oz) small, waxy salad potatoes, washed, skins left on
1 x small butternut squash, peeled and sliced
3 x whole unpeeled garlic cloves
2 tsp olive oil
Salt and freshly ground black pepper, to taste
1 x 200 g chorizo ring
1 x 400 g tin chickpeas in water, rinsed and drained
150-200 g (5½-7 oz) baby spinach or mixed salad leaves of your choice, washed
Handful flat leaf parsley leaves
For the Dressing:
2 tbs balsamic vinegar
3 tbs extra virgin olive oil
Recipe courtesy of Bacofoil.
How tasty does this Roasted Butternut Squash, Chorizo and Chickpea Salad look?
This has definitely made our list for dinner this week, providing the weather permits travelling to the shops . . .
Give it a try yourself!
Method:
Pre-heat oven to 190 deg. C., 375 deg. F., Gas Mark 5.
Parboil the potatoes for 10 minutes or until almost cooked, but not quite, then drain and cool slightly.
Halve the potatoes lengthways and toss in a large bowl with the butternut squash and unpeeled garlic cloves. Drizzle with
2 teaspoons of olive oil and season.
Line a large baking tray with a piece of Bacofoil Non-Stick Foil – remember food should always touch the dull side to take advantage of the non-stick surface! Tip the potato and squash mixture into the tray and roast for 30 minutes, carefully stirring halfway through.
After 30 minutes, add the chorizo and chickpeas, stir, then roast for another 10 minutes. Set aside to cool a little.
To make the dressing, whisk together the balsamic vinegar, olive oil and some seasoning in a small bowl or jug.
Place the salad leaves in a large serving bowl and top with the roasted vegetables and chorizo. Scatter the parsley over the top. Drizzle with the dressing just before serving.
We haven't featured too many salads on our website so far, but this is a great place to start!
Enjoy!
---
Click here for more great recipes from "The People's Friend".
If you can't get to the shops just now for your "Friend", subscribe now by clicking here. It means your magazine will come straight to your door every week — all you have to do is put the kettle on!
You can also take out a digital subscription, meaning your issue will come straight to your computer, tablet or phone! And it's great value for money. Click here for more details.