Writer Of The Week: Elizabeth McGinty
---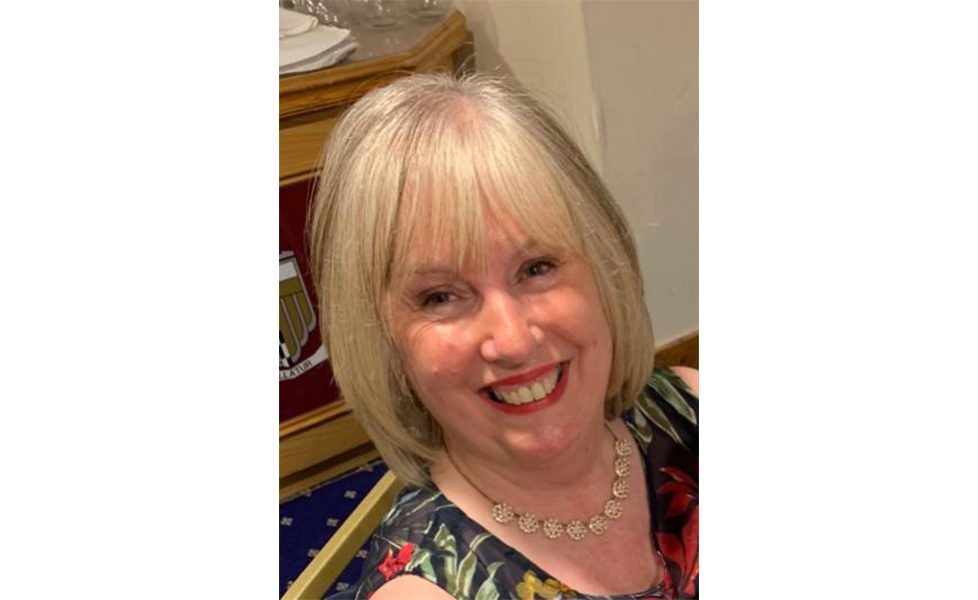 Photograph courtesy of Elizabeth McGinty.
Our Writer Of The Week is Pocket Novel author, Elizabeth McGinty.
Elizabeth's novel, "Half Moon Ranch" is in the shops now.
Tell us where the inspiration for "Half Moon Ranch" came from?
I would love to say it was based on a stunning Arabian horse I owned, but sadly that is not the case.
The inspiration for "Half Moon Ranch" came from a childhood of watching Western-type films on Saturday mornings at the cinema, or TV shows such as "Alias Smith and Jones".
My favourite, thanks to Antonio Banderas, was "Zorro".
My aim was to write a contemporary story, but one that hinted back to the history of the Wild West and then carried the thread of family from past through to the present.
I used the voices of Noah and Adabelle just tantalisingly lingering on the edges of Ashley's subconscious as a tool to make the past real for her, and give an ethereal feel to some sections of the story.
I also wanted to explore how a young woman who had settled for a life in LA would cope when thrown into a world she had no real understanding of on a ranch in Colorado.
When my children were young, I made up a story for them featuring a horse named Tansy, so Stargazer the horse in my Pocket Novel is a nod to that memory.
Why do you enjoy writing Pocket Novels?
Pocket Novels are just the right length to allow me to explore and develop the characters in my stories.
They are also a good length to allow a writer to tell the character's story, and hopefully keep the reader intrigued until all the strands come together in a satisfactory manner.
It also allows greater use of supporting characters, who can bring different traits to the main characters and a further dimension to the story.
I feel they are ideal for readers who enjoy a shorter length read, but with all the ingredients of a longer length novel.
As a writer I get a greater sense of satisfaction from completing a Pocket Novel compared to short stories.
I do things slightly differently, because I write the complete story before submitting the first three chapters. This is because I like to know how it will end before sending it out into the world.
Even if there are changes to be made, I need to know that there is a complete story there.
Do you have a favourite setting or era that you like writing about? 
I do prefer writing in the present day, although I'm not sure about writing about the current times we are living through.
That said, I often find my character's lives and their future happiness is often built on events from the past. I think that is true of real life: our past sometimes impacts on the present.
My characters often find the answers to their issues lie with older family members, or somewhere in the past.
When that happens in a story such as "Half Moon Ranch", I chart a family tree to ensure all the birth dates and times are realistic to fit in with the timescale of the story, and of course then I can indulge myself on researching that particular era.
How difficult do you find it to stick to around 37,000 words? 
When I began writing longer lengths I did worry if I would be able to get to the required length. However I soon found that there is a rhythm to writing longer pieces of work. And now I'm Writer Of The Week!
I begin by plotting out a pocket novel, with pen and a notepad, to ensure I have enough of a story to complete to novel length.
Then I find though that either the characters or the story run away with themselves and need to be curtailed. I do think, however, I would be more concerned if my characters did not have so much to say.
Overall, I manage to stick to the word limit for an ideal pocket novel.
Who are some of your favourite characters that you've created for a Pocket Novel? 
I do have to confess that I am flippant with my emotions and fall in love with all my leading men.
Ashley's journey in "Half Moon Ranch" kept me guessing because she was so unsure of herself, and I found myself rooting for her and wondering how she would figure it all out.
Of course, they may not always be my favourite characters, but the baddies are always fun to write, because you can really let yourself go with them.
I also enjoy writing and creating the supporting characters, such as no-nonsense Hannah in "Half Moon Ranch" and motherly Stella in "Dangerous Liaisons".
---
To subscribe or buy single copies of our Pocket Novels, click here.
For more from our Writer Of The Week series, click here.