Writing Prompt Story Starter: Lantern Festival
---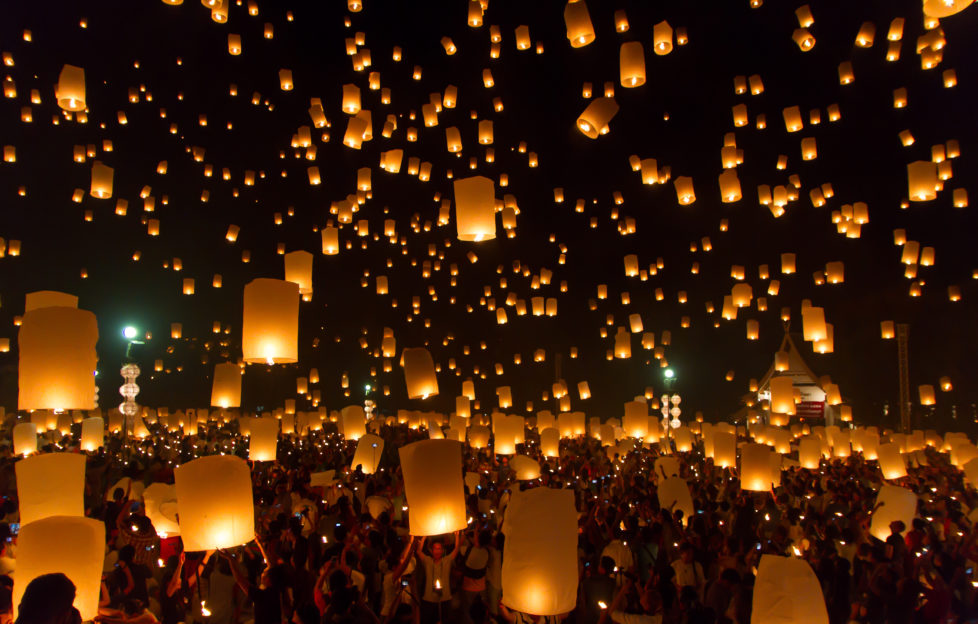 Shutterstock.
Let me shed some light on today's Story Starter . . .
Today marks 2021's Lantern Festival.
Taking place on the 15th day of the Spring Festival celebrations, the Lantern Festival dates back around 2000 years. It usually occurs in February or early March, and marks the final day of traditional Chinese New Year.
Lanterns are symbols of good luck and hope.
Floating sky lanterns, like the ones in our image, have been a mainstay of past Lantern Festivals. Floating or fixed lanterns may be seen more today, varying in size from palm-held to huge parade floats.
People eat tangyuan, or yuanxiao, (depending if they're from Northern or Southern China). These rice balls are often served in round bowls, and thought to symbolise the togetherness of family.
People may perform dragon and lion dances at this time, to bring good luck and financial prosperity.
Fireworks are a big part of the celebrations, too, and guessing the riddles posed on lanterns.
One old story goes that, in a time when curfews were strictly observed, people were allowed to go out and about during Lantern Festival to view the lanterns, so there could be some mingling. And possibly matchmaking!
The meanings behind it all
Chinese culture is absolutely fascinating. Could there be some story starters, here?
New Year – falling at different times, in different cultures. Songkran, the Thai New Year festival, takes place this year on Tuesday, 13 April. Islamic New Year is around August 9, and Rosh Hashanah, Jewish New Year, is in September.
Festivals, of all cultures. The meanings behind it all.
Matchmaking.
Traditions, adapting to different times.
Good luck. Hope. Prosperity. Hoping for a bright future. And letting go of the past, perhaps?
And at the heart of it all is our reader.
We know you want strong stories, with interesting settings and engaging characters.
---
To pick another Story Starter, click here.