Fiction Sneak Peek: March 6, 2021 Issue
---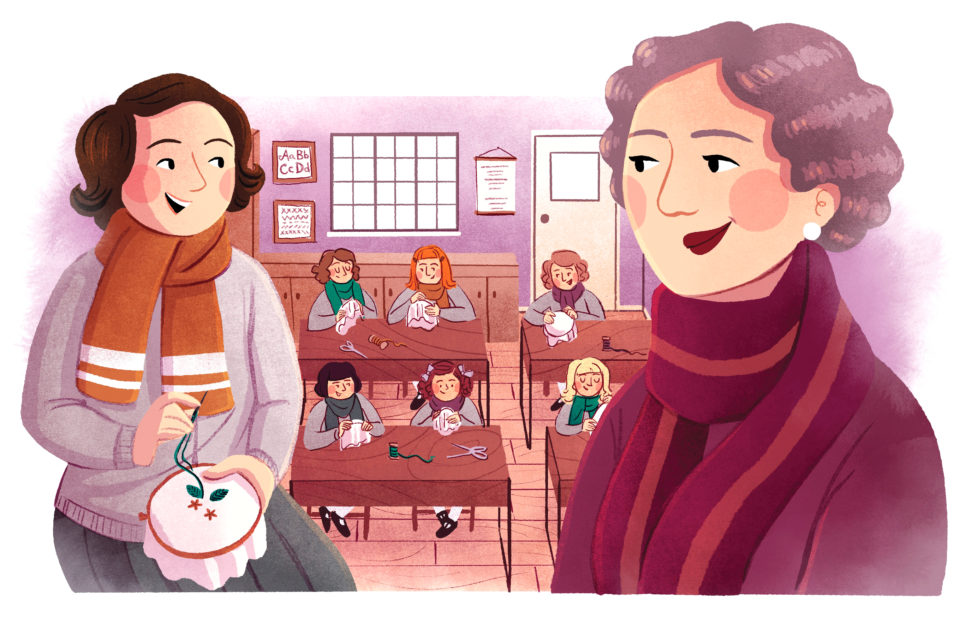 Illustration by Sarah Holliday.
Welcome to our weekly sneak peek at the stories and serials in our latest issue, on sale this Wednesday, March 3.
In our opening story, Sophie and her neighbour, John, don't seen eye to eye – until there's no choice but to pull together! Vanda Inman's "Mending Fences" is illustrated by André Leonard.
A little girl comes to the UK in the wake of the Hungarian Uprising of 1956 in our touching second story. "A Gift For Miss Partridge", by Penny Alexander, has a sweet illustration (above) by Sarah Holliday.
Bored with her "round and round" life, Adele finds that life blossoms when she steps out of her comfort zone. Eirin Thompson's thoughtful short story, "Rinse And Repeat" has an illustration from the Shutterstock picture library.
Carly's husband of 43 years has left for someone young enough to be his daughter, and now Carly's lost her wedding ring on the beach. What else can go wrong? Something is lost and something is found in Meg Stokes' moving story, "Begin Afresh". Illustrated by Shutterstock.
Travis has travelled the world. Is it true that there really is no place like home? Find out in Teresa Ashby's "Adventure Of A Lifetime", warmly illustrated by Mark Viney.
For country singer Jenna-May, it's just one interview – what can possibly go wrong? Find out in "Keeping Up Appearances" by Alison Carter, brightly illustrated by Kirk Houston.
In our final story, Marcus likes co-worker, Anna, but she seems disinterested. Find out the reason she's giving him the cold shoulder in Clare Claremont's "The Silent Treatment". Illustration by Shutterstock.
Serials
In Part Two of "All Change At The Cosy Café", Yvonne fears that being too busy caused her to miss the signs of Bryn's ill health . . . Beth Watson has written this brand new serial for the "Friend". With cheerful illustrations by Sailesh Thakrar.
Rose has shocking news. Will it be enough to convince Henry to change his plans about returning to England? Find out in Part Three of Sandy Salisbury's "The Call Of The Prairie". Superbly illustrated by Gerard Fay.
Series
It's always good when a plan comes together, as we discover in this week's "Paw And Order", by Della Galton.
But in Glenda Young's "Riverside", something is troubling Susan . . .
---
If this sneak peek has left you wanting more, don't worry! Our new issue is in shops soon.
Did you know that subscribers receive their issues early? Click here for more information on subscribing to the "Friend" today. Right now we're offering a fantastic subscriber discount, too: just £8 for the first 13 issues. Don't miss out, take advantage of this offer while it lasts!
Fiction fans will also want to listen to "Reading Between The Lines", our story podcast!