Knitting Preview: March 13, 2021 Issue
---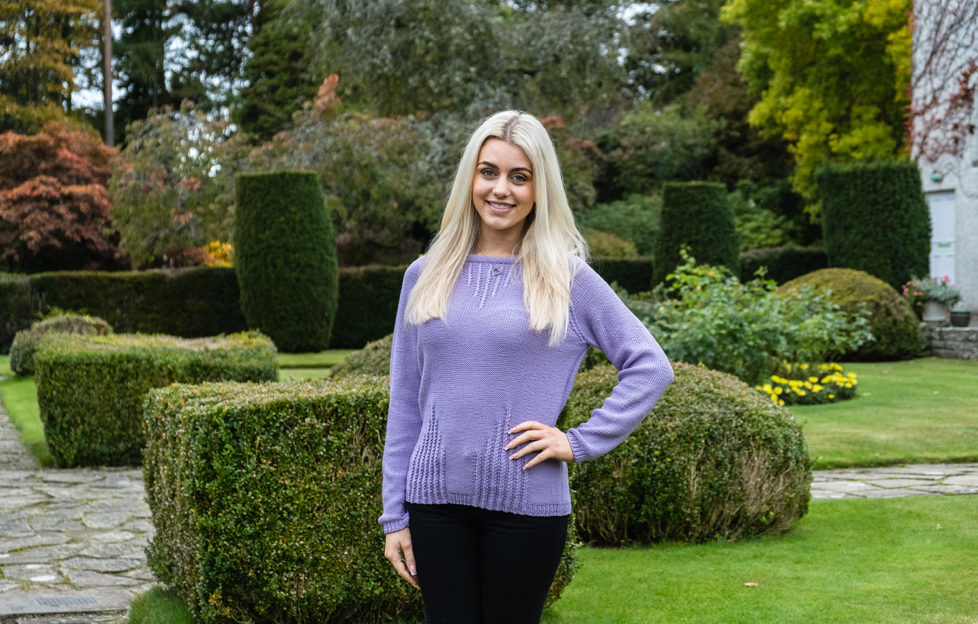 Photograph by Ally Stuart.
Welcome to this week's knitting preview, where we take a look at the pretty top with twisted stitch detail you'll find in our latest issue, on sale Wednesday.
Thistle (3456) is the shade of King Cole Bamboo Cotton DK we have used for our versatile top with raglan shaping. It comes in 100-gram balls and you can view all the shades and find a local stockist at www.kingcole.com.
Bamboo Cotton is 100% natural. It is the ideal choice for someone with delicate skin. Its soft, comfortable feel makes it great for the warmer days ahead (we hope!)
It comes in six sizes ranging from 76/81 cm (30/32 ins) to 127/132 cm (50/52 ins). Actual size is around 10/5 cm (4/2 ins) bigger, so we would recommend working your usual size unless you want it to be loose, then you might want to consider making a size up.
The top is worked in reverse stocking-stitch (purl 1 row, knit 1 row). You can achieve the staggered pattern with simple twist stitches worked over 52 rows at the beginning and 26 rows at the top of the front.
The back features the pattern on the bottom only. The sleeves are worked in reverse stocking-stitch throughout.
We have graded this as intermediate. There is nothing too difficult, but you will need to keep track of the rows when working the twisted-stitch detail.
Finally, this is a great value top. The first two sizes cost around £22.50 to make and the biggest size around £32.
Start this week and you'll have it ready to wear in no time.
---
Knitting preview piqued your interest? Click here for more great craft content, including Lisa's adventures with Mosaic Crochet!