Fiction Sneak Peek: March 27, 2021 Issue
---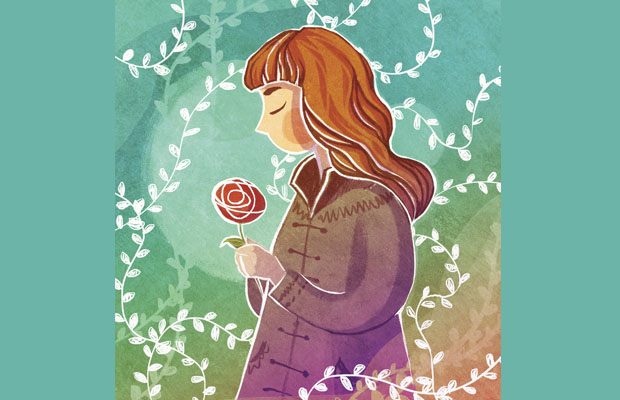 Illustration by Sarah Holliday.
It's time to take a sneak peek at the fiction that's ready to read in this week's issue.
Short stories
Our opening story, "Many Happy Returns",  is set in 1973. Who is responsible for sending mysterious birthday cards? Private detective team, Glyn and Chrissie, are on the case. Philip Crabb illustrated Val Bonsall's intriguing short story.
Newly-retired Tom and Emma are avoiding telling each other a few home truths, in Rebecca Holmes' "A Little Honesty". Illustrated by Kirk Houston.
Kelly hasn't had the easiest of childhoods, but after meeting Geoff, she settles into married life, happy and content. When tragedy strikes, hope comes into her life once again thanks to a throwback from her childhood. Eirin Thompson's moving "Symbols In Spring" is accompanied by a Shutterstock illustration.
We have a story by a Debut Author, next – Writer Of The Week, Charlotte Sabin. It's been two years since Laurel moved to Shakespeare Place. When will she find her Romeo? "An Epic Romance" features a Shutterstock illustration.
After Tess's father dies, her life seems to be on hold and she can't face leaving her mum to take up her place at university. An unconventional friendship with an older man she cleans for helps her remember that life is for living. Marie Penman's gentle short story, "A Friend Indeed",  is thoughtfully illustrated by Helen Welsh.
Veronica yearns for "A Quiet Life", but with a large, noisy family, can it ever be possible? Teresa Ashby's perceptive short story has a lovely illustration by Sarah Holliday (above).
Our final short story of the week is Sharon Haston's "Random Acts Of Kindness". Frosty Adelaide disapproves of her new neighbours, but forms an unlikely friendship . . . and discovers a secret . . . With a Shutterstock illustration.
Serials
Sisters Kate and Steph have inherited a cottage from an estranged aunt in our exciting new serial set Down Under. And when Kate hears a prowler outside, Steph reassures her it's probably just a kangaroo – after all, why would someone be interested in their rundown old place? Why indeed . . . Our three-part serial, "The Tarwin Creek Inheritance", by Liz Filleul, is brightly illustrated by Kirk Houston.
It's Part Two of "A Tale Of Two Sisters", and Millicent has travelled to study at Oxford University. After meeting fellow student, Violet, Millicent is told they are to be paired with some final-year students, Reginald and Oliver. But Oliver doesn't believe ladies should be allowed to study and makes his position known . . . Katie Ashmore's superb serial features a striking illustration by Helen Welsh.
Series
In the final part of Della Galton's "Paw And Order", will Dan and Sheila find their happy ever after?
Whilst in Glenda Young's "Riverside", it's time for a celebration!
---
If this sneak peek has left you wanting more, don't worry! Our new issue is in shops soon.
Did you know that subscribers receive their issues early? Click here for more information on subscribing to the "Friend" today. Right now we're offering a fantastic subscriber discount, too: just £8 for the first 13 issues. Don't miss out, take advantage of this offer while it lasts!
Fiction fans will also want to listen to "Reading Between The Lines", our story podcast!