Tidy Kitchen's Wrexham Bake
---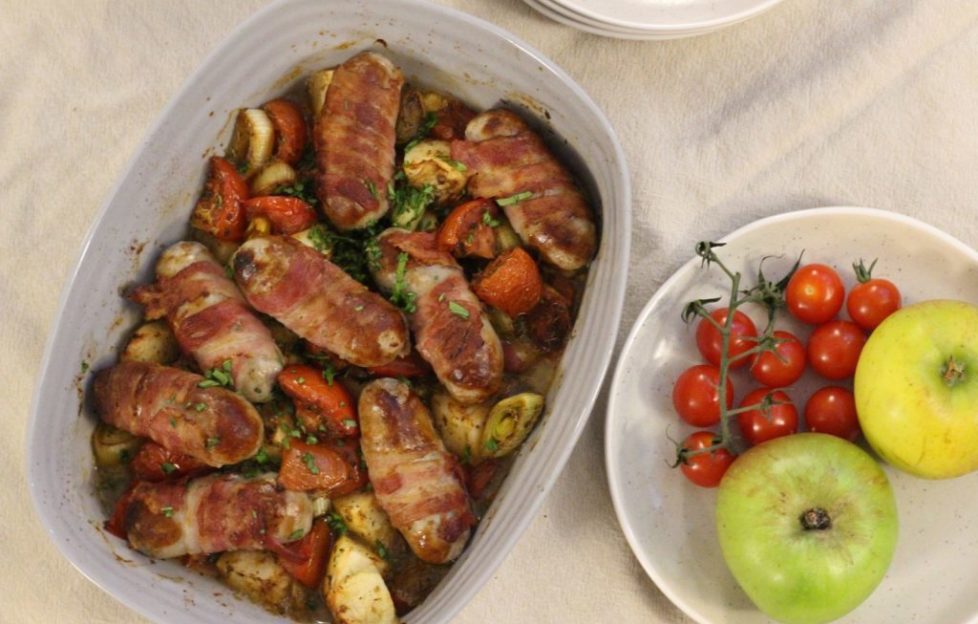 Photograph by By the Tidy Kitchen Co.
Ingredients
8 chunky Welsh pork sausages
8 slices smoked, streaky bacon
1 tbs vegetable oil
4 medium leeks, ends trimmed & sliced horizontally
½ tsp salt
4 x ripe tomatoes chopped into 2.5 cm (1 in) chunks
1 tbs dried oregano
1 tsp dried thyme
2 medium cooking apples, peeled, cored and chopped into 2.5 cm (1 in) chunks
To Serve: buttery mashed potatoes; steamed green beans.
By the Tidy Kitchen Co., courtesy of British Leeks.
If you ask us, this tasty Wrexham Bake recipe from the Tidy Kitchen Company seems perfect for Easter!
And it's simple, too. Why not give it a go today?
Method:
Pre-heat the oven to 200 deg. C., 400 deg. F., Gas Mark 6.

Wrap each sausage in one rasher of streaky bacon.

Add the oil to a frying-pan on medium heat and add the sausages wrapped in bacon. Fry until browned but not burned (approximately 2 to 3 minutes on each side). Once browned, remove from the pan and place in an ovenproof dish.

Add the sliced leeks and the salt to the frying-pan, and cook slowly on a medium heat, taking care not to let them burn. Once sweated, add the chopped tomatoes and dried herbs.

When the tomatoes have released a small amount of water, add the chopped cooking apples. Mix well over the heat, then transfer the ovenproof dish with the sausages. Arrange the sausages evenly over the vegetable mixture.

Bake in the pre-heated oven for 35 to 40 minutes or until sausages are cooked through and you can pierce apples easily with a knife. Serve with buttery mashed potatoes and steamed green beans.
We hope you enjoy!
---
Click here for more great recipes from "The People's Friend". For more sausage recipes, try our Italian Pepper Stew With Crispy Kale, or this lovely Herby Sausage Jambalaya. 
If you can't get to the shops just now for your "Friend", subscribe now by clicking here. It means your magazine will come straight to your door every week — all you have to do is put the kettle on!
You can also take out a digital subscription, meaning your issue will come straight to your computer, tablet or phone! And it's great value for money, too. Click here for more details.