Fortieth Birthday In Quarantine
---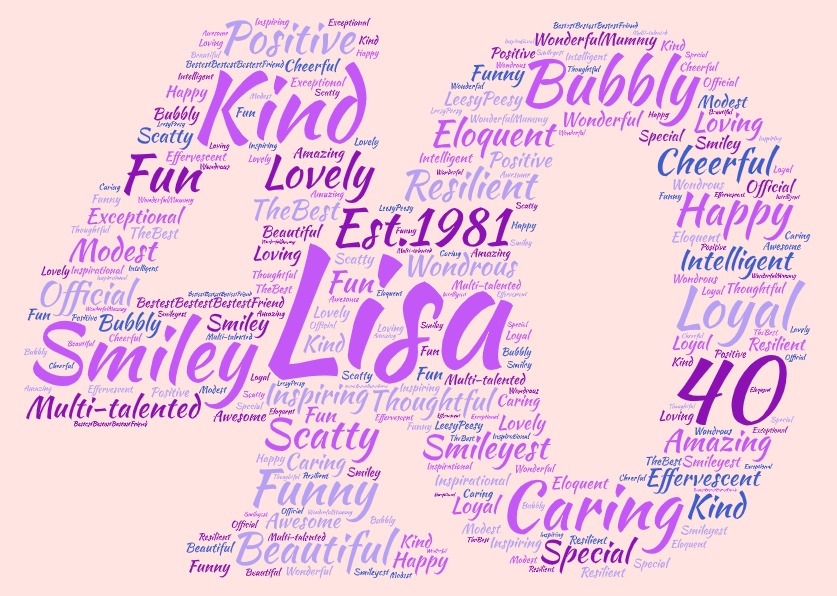 Photograph by Lisa Crow.
I recently celebrated my 40th birthday. A global pandemic aside, I had an amazing day from start to finish. Amongst the many highlights was a video featuring messages from friends and family.
On the morning of my big day – the 16th of March – I was presented with a 40th-birthday sash and tiara to don for the occasion. I received deliveries of balloons, flowers and other gifts and opened my presents on Zoom with my family. My husband, Bob, baked me some chocolate orange muffins. My dad then shared a link to my video. There were tears right from the very start! I really should invest in some waterproof mascara because my make-up had mostly all run down my face by the end of the video!
In spite of lockdown restrictions meaning I couldn't celebrate with my family in person, I went to bed that night feeling very lucky. However, the celebrations didn't end there. There was more to come on the Saturday – when you have a 16-month old daughter, you have to be mindful of getting to bed as early as possible on a "school night".
My sister played a slide show she had created of photos of me throughout my life set to "Revolution" – my favourite song by my favourite group, The Beatles.
Cocktail hour
My mum read out a poem she had written about me and they showed me a "Wordle" she had created for me. If you are unfamiliar with the concept, a Wordle is best described as an arty collection of words. My mum had contacted my friends and other family members asking them for words to describe me.
The Saturday celebrations began with cocktail hour, with a drink named after me – the Lisa Pina Crowlada. Brilliant idea! We all mixed our cocktails in front of the camera so it really felt like a team effort. Then we sat down to eat dinner, together but apart.
I was later shown another video of the opening credits of "Art Attack", one of my favourite programmes when I was growing up. My brother-in-law, Adam,  had edited the sequence to add my face, making it look like I were the one presenting the programme, rather than Neil Buchanan.
Thoughtful gifts
The reason Adam had made the "Art Attack" clip was to introduce an activity. I'm known for enjoying various crafts – in fact, the Features Team kindly gave me vouchers for Hobbycraft. We spent the next part of the evening decorating ceramic tiles. My sister thought it would be nice for me to keep the tiles once they were all finished so I could use them as coasters. Any time I use them I'll remember that evening.
All of this and I haven't even mentioned in detail all the thoughtful gifts I received. My family's generosity knows no bounds. My husband, Bob, also organised for a special afternoon tea from a local café. We had to eat it at home, obviously, but it was another special way to mark my birthday.
It may seem incredibly unlucky to have turned 40 during a lockdown. I feel very fortunate. My face-to-face celebrations will come. They have only been delayed. As it was, everyone went above and beyond to make me feel special. They say you can't choose your family, but I have the best one anyway. If temporarily being separated means we'll all stay safe from coronavirus, it is a small price to pay.
Later in the year, we have plans to go on holiday together. Now that really will be something to celebrate!
---
For more from the "Friend" team, click here.