Enjoy This Beautiful Baked Miso Cod
---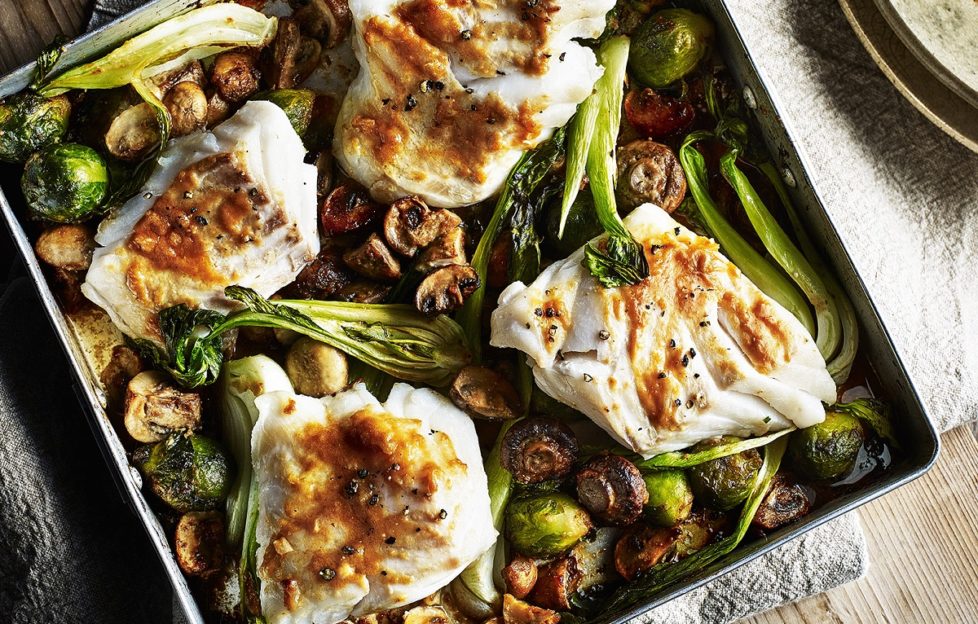 Image courtesy of the Mushroom Bureau.
Ingredients
Salt and freshly ground black pepper, to taste
200 g (7 oz) Brussels sprouts
3 tbs miso paste (ideally light)
2 cloves garlic, minced
2 tbs softened butter
250 g (9 oz) baby mushrooms (button or chestnut), chopped roughly
4 x 180 g (6 oz) pieces of cod loin (equal sized, ideally fat)
2-4 pak choi, depending on size, cut into wedges lengthways
Recipe courtesy of the Mushroom Bureau.
Anyone who's lived near the coast knows that the cod is a very versatile (and tasty) fish.
If you're looking for something new to do with your seafood, then give this Japanese-inspired Baked Miso Cod recipe a try.
Method:
Pre-heat oven to 220 deg. C., 425 deg. F., Gas Mark 7. Line a large baking tray with baking paper.
Bring a large pan of salted water to the boil and add the sprouts. Cook for 5 minutes until tender. Drain.
In a bowl mix the miso paste with the garlic and softened butter until combined. Take a tablespoon of this mix and put it aside to top the fish with.
To the rest, add the mushrooms and sprouts and coat thoroughly (it might be easier to use your hands). Transfer to the prepared baking tray and place in the oven for 15 minutes.
Add the pak choi to the tray and mix thoroughly to coat with the miso mixture. Top the skin side of the cod fillets with the reserved miso paste and place on top of everything for a final 10 to 12 minutes, until the fish is cooked.
---
If cod isn't the only fish your looking to catch in your kitchen, try this fantastic Fish Pie recipe, or these Smoked Haddock And Watercress Fishcakes.
Can't get to the shops just now for your "Friend", subscribe now by clicking here. It means your magazine will come straight to your door every week — all you have to do is put the kettle on!
You can also take out a digital subscription, meaning your issue will come straight to your computer, tablet or phone! And it's great value for money. Click here for more details.