Jersey Royal Brownies With Peanut Butter And Salted Caramel
---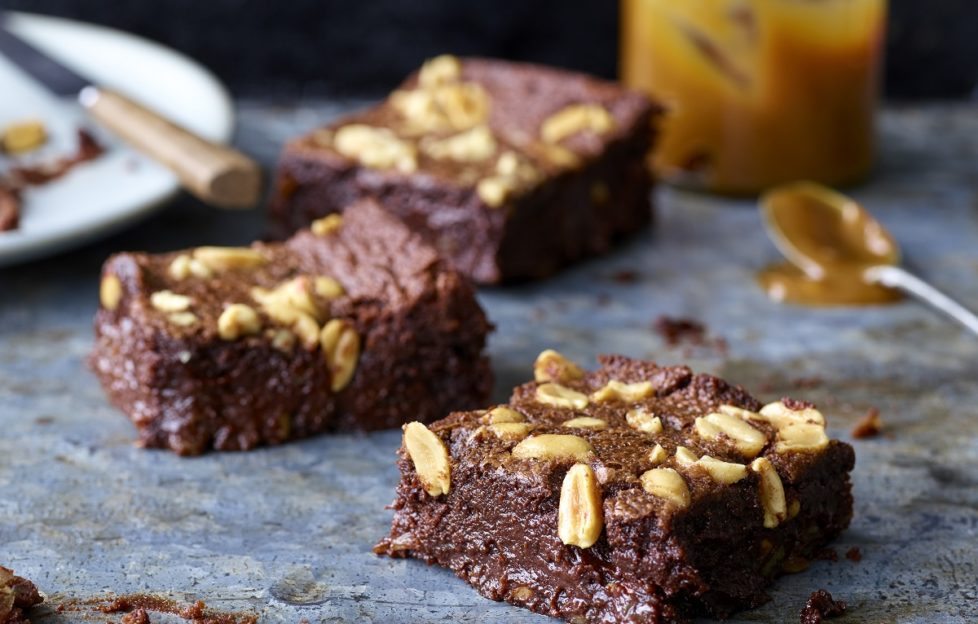 Image courtesy of Jersey Royal New Potatoes.
Ingredients
275 g (9½ oz) Jersey Royal potatoes, scrubbed but left whole
75 g (2¾ oz) butter
75 g (2¾ oz) crunchy peanut butter
200 g (7 oz) dark chocolate, chopped
200 g (7 oz) brown sugar
2 eggs, beaten
110 g (3¾ oz) self-raising flour
40 g (1½ oz) cocoa
25 g (1 oz) salted peanuts, chopped roughly
To Serve: Jersey salted caramel sauce.
Recipe courtesy of Jersey Royal New Potatoes.
You might not immediately think of a Jersey Royal as a sweet treat . . . but you'd be wrong!
Don't believe us? Try these Brownies with Peanut Butter And Salted Caramel.
Method:
Bring a pan of water to the boil, add the potatoes and cook for 10 to 12 minutes until tender. Drain and run under cold water until cool enough to handle. Pull off any loose bits of skin and then grate the potatoes finely.
Line a 20 cm (8 in) square baking tin. Pre-heat the oven to 180 deg. C., 350 deg. F., Gas Mark 6.
In a large saucepan, gently melt the butter, peanut butter and chocolate, stirring regularly to combine and stop the chocolate catching on the bottom. Remove from the heat.
In a bowl, beat the sugar and eggs with an electric whisk for a few minutes until they are thick.
Fold in the chocolate mixture until well combined, then gradually fold in the grated potatoes. Sift over the flour and cocoa and fold into the mix. Spoon into the baking tray and scatter over the peanuts.
Bake for 20 minutes until just cooked but still a little wobbly. Cool in the pan for 10 minutes before transferring to a wire rack. Cut into squares and serve with the Jersey salted caramel sauce.
---
For more great recipes from "The People's Friend", click here.
If you're looking for more suggestions for your potatoes, try this Sausage And Jersey Royal Bake or visit https://jerseyroyals.co.uk/