Thai Chicken And Asparagus Curry w/ Turmeric Rice
---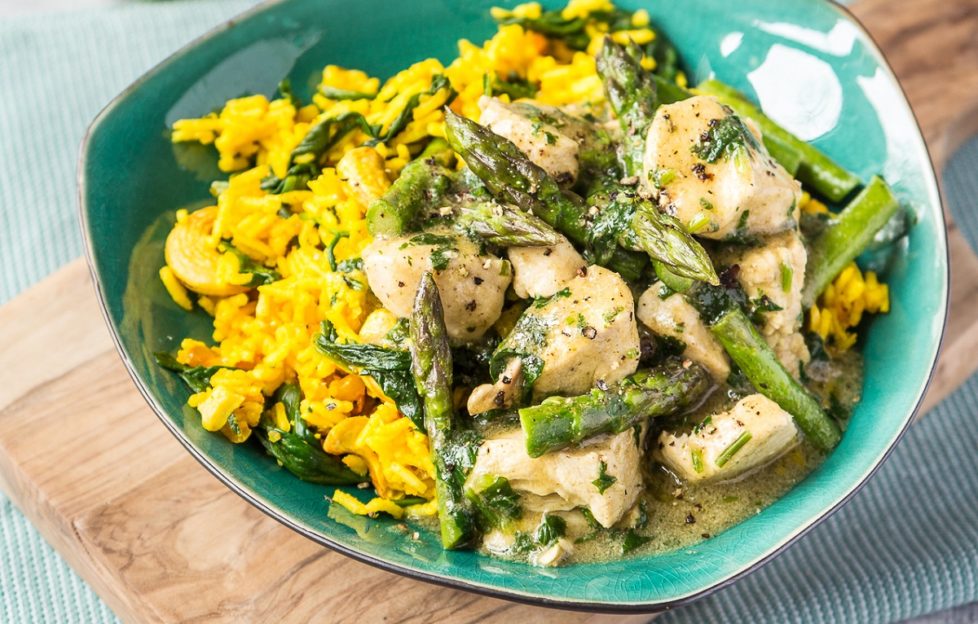 Image courtesy of British Asparagus.
Ingredients
1 tbs vegetable oil
2 tbs Thai green curry paste (or to taste)
500 g (1 lb 2 oz) chicken breast (about 4 small fillets), cut into bite-sized pieces
400 ml (14 fl oz) coconut milk
1 tbs soy sauce
2 tsp fish sauce (optional)
Salt and freshly ground black pepper to taste
1 bunch British asparagus, trimmed and cut into bite-sized pieces
Small bunch coriander, leaves and stalks chopped
For the Rice:
50 g (1¾ oz) cashew nuts
1 tbs vegetable oil
1 onion, chopped finely
1 tsp turmeric
200 g (7 oz) baby leaf spinach
500 g (1 lb 2 oz) cooked basmati rice – 2 x 250 g pouches or 250 g (9 oz) raw rice if cooking from dried)
Recipe courtesy of British Asparagus.
Asparagus season officially begins on St George's Day, and we've hardly been able to keep this recipe to ourselves since then!
It both looks and sounds delicious, and we can't wait to try it.
Plus it's simple, and doesn't take too long to make! What more could you ask for?
Method:
Begin with the rice. Add the cashew nuts to a deep saucepan and set over a medium-high heat to toast for couple of minutes. Tip into a bowl and set aside. Reduce the heat to a minimum and add the vegetable oil and onion and fry for 10 minutes, stirring occasionally.
Whilst the onion is cooking, start the curry by adding the oil to a saucepan set over a high heat. Once hot, add the curry paste and stir-fry for a couple of minutes until fragrant, then add the chicken and stir and fry for 5 minutes.
Pour in the coconut milk, soy sauce and fish sauce (if using) and season. Bring up to the boil, reduce the heat and allow to simmer for 10 minutes, adding the asparagus for the last 5 minutes of cooking.
Whilst the curry is simmering, finish the rice. Add the turmeric to the onion, stirring well to mix, then add the spinach on top. Cover with a lid or piece of foil and allow the spinach to wilt for a few minutes. Tip in the cooked rice and cashew nuts and stir well over a low heat to warm through. Season with a little salt and pepper.
Stir the coriander through the curry just before serving. To serve, divide the rice between warm bowls and spoon the curry over the top.
---
For more great recipes from "The People's Friend", click here.
Looking for more ways to get the use out of your asparagus? Try this Pizza Bianco recipe, or a Stilton, Asparagus And Cherry Tomato Tagliatelle.