Editor's Diary: A Local Landmark
---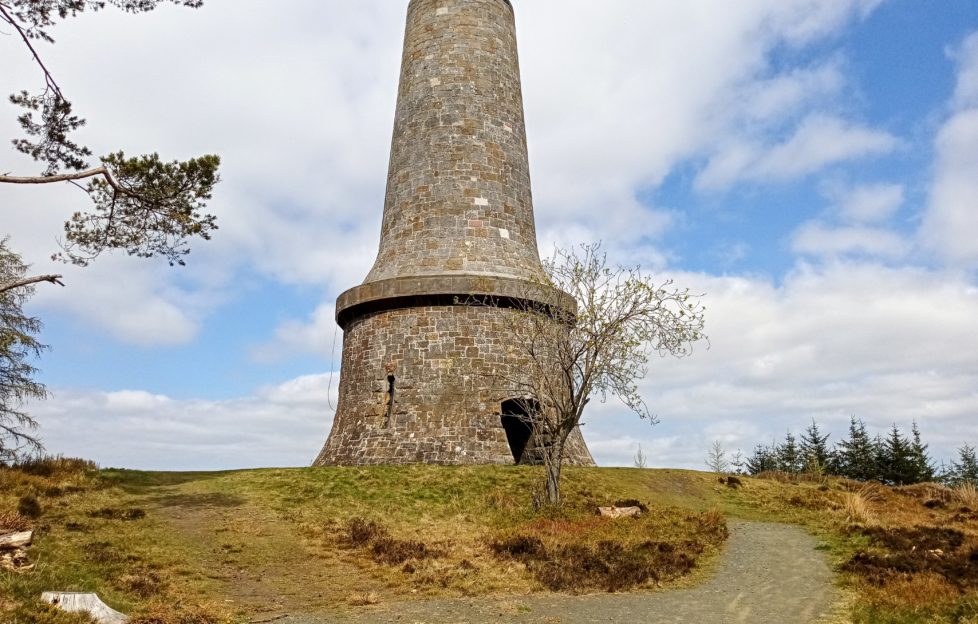 Photograph by Angela Gilchrist.
Regular readers of this Editor's Diary know how much I enjoy exploring my local area on foot. And last weekend was no exception.
I took advantage of a sunny spring afternoon to head to the historic little town of Falkland, just a few miles from home.
But it wasn't the royal palace I was intending to visit. Instead, I had a mystery to solve!
For many years, whenever I've been in this part of Fife, I've noticed an imposing stone monument on a hill above Falkland. But what is it? And why is it there? I've never known.
So my mission was to climb up to it and find out more!
The Falkland estate is home to a network of woodland trails. The one up to the Tyndall Bruce Monument is pretty steep, as you might expect. However, it leads you through mature woodland alive with birdsong and is absolutely beautiful.
As you near the summit of the Black Hill on which the monument stands, you are rewarded by glorious views of Falkland Hill, also known as East Lomond.
It's an extinct volcano that was formed over 400 million years ago.
And the views from the Grade Two listed monument itself out over Fife are stunning.
So I had learned what it was – but why is it there?
It's a monument to the memory of the grandly named Onesiphorous Tyndall Bruce, one-time laird of the Falkland Estate.
He died in 1855 at the age of sixty-five. He was credited with being "the Laird who first afforested the Lomonds, to the great benefit of his country in two world wars."
But the story is more interesting than that.
A woman of substance
The estate actually belonged to Margaret Stuart Bruce, who inherited it from her uncle. The illegitimate child of an Army captain and an Indian woman, she became one of the richest women in 19th-century Scotland.
In her forties she married Bristol-born barrister Onesiphorous Tyndall.
Clearly a woman ahead of her time, the canny Margaret insisted he sign a pre-nuptial agreement and take her surname!
The couple played an active role in Fife society and gave generously to charity and local good causes. Onesiphorous was known as the Laird, but his wife was also a capable businesswoman.
The monument was erected to the memory of this respected local figure. There's a statue of the great man in the grounds of Falkland Parish Church, too.
But when Margaret herself passed away in her eighties, she was accorded no such memorial. Even though it was her fortune that had enabled and paid for all the good works!
Her tale is typical of the way too many women have been airbrushed from history. And one of the reasons why the "Friend" is so passionate about shining a light on their stories.
So I am very glad I climbed that hill and learned a little about the life and achievements of Margaret Stuart Bruce.
---
For more from Angela's Editor's Diary, click the tag below.