Tackle The Top Bank Holiday Stains
---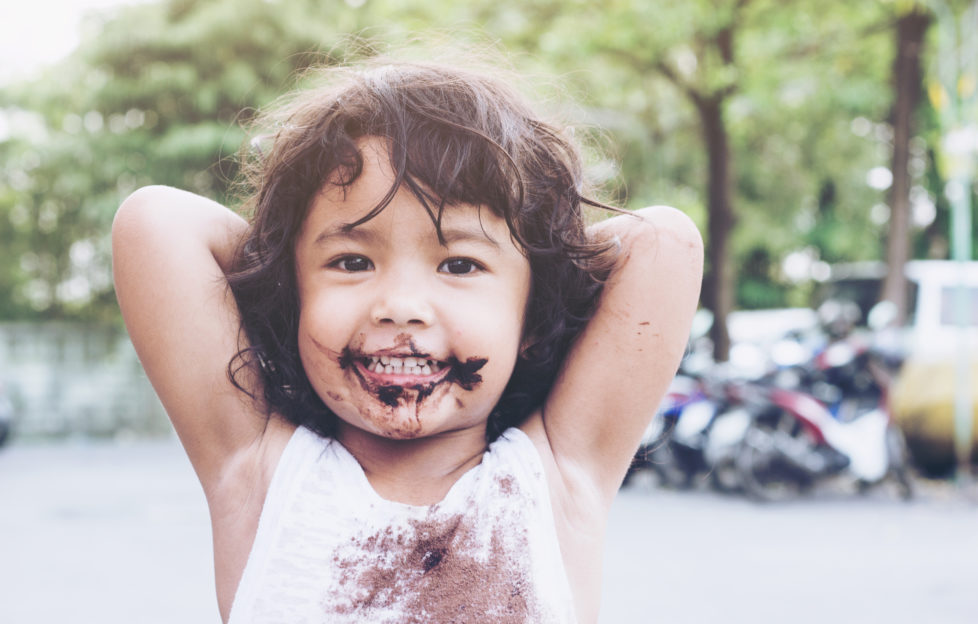 Shutterstock.
After a year of postponed celebrations, Brits everywhere are eagerly awaiting the arrival of the upcoming May bank holiday, so they can spend quality time with loved ones in the fresh air.
But, whether it's a BBQ in the garden or a picnic in the park, it's easy to get caught out by accidental spills and stains when enjoying the pleasures of the beloved bank holiday.
Time is crucial when tackling any stain, as any stain develops over time enabling chemical reactions to take place – the longer you leave it the more difficult it becomes to remove. Acting fast is the first step to fighting any stain, no matter how small the spillage.
Cleaning and laundry expert, Dr. Beckmann have identified the stains you're most likely to experience this bank holiday and shared its Top 10 tips on how best to tackle them.
Ice Lolly
One of life's greatest pleasures when the weather gets warmer and we need to cool off.
Ice lolly stains can be tough, so it's best to rinse the area as quickly as possible in cold water. Follow this up by using Dr. Beckmann's Stain Devils Fruit & Drink for the best results!
Wine
British bank holidays are known for being the prime time to enjoy a glass (or a bottle) of refreshing wine.
If you experience an unfortunate spillage, remember to blot the alcohol with a cloth until the majority of the liquid is absorbed. After sponging with cold water, use a stain remover to break up the remaining stain.
Fruit juice
Juice stains are one of the most common issues that we experience through the warmer months.
The best way to treat any fruit juice stain is to mix a teaspoon of detergent with warm water, dip a cloth into the solution and work from the outside edge of the stain towards the centre to help prevent any spreading.
Grass
Gardens and parks have become a social setting for all of us in the recent months, but lazy afternoons in the sun can often be ruined by unsightly grass stains.
The best way to treat a grass stain is to soak the stain for fifteen minutes in water with a dash of white vinegar, then take a white cloth and gently dab.
Finish by washing the item of clothing as you usually would, adding in one of Dr. Beckmann's Stain Remover Oxi-Power Caps, to ensure there are no leftover marks.
Mud
When grass stains appear, mud stains can often follow. It's important to remember to resist the temptation to wipe the stain while the mud is wet, as this can cause the stain to spread and make more of a mark.
Let it dry and then scrape off the dried dirt, before washing the clothes as normal.
Grease
Grease stains are often inevitable when it comes to BBQs and outdoor dining.
The best way to ensure that you remove a grease stain without any nasty remains is to sprinkle a small amount of baking soda on the area and leave it to soak for five minutes, then use a brush to scrub the baking soda into the stain.
Finish by washing the clothing as you normally would, on the hottest temperature that the fabric will allow.
Meat
As much as we love this bank holiday BBQ staple, red meat stains such as burgers, steaks and lamb kebabs can be a nightmare to remove from clothes.
Cooked meat produces an oily stain, so make sure to blot repeatedly to absorb as much oil as possible.
Once you've finished soaking up the oil with a cloth, treat the stain with Dr. Beckmann's Stain Devils Fat & Sauces to remove all remaining traces.
Chocolate
A delicious treat that should be enjoyed all year round, although it's best to be prepared for when it starts to melt. Treat any chocolate stain by removing any excess and blot the area with a damp cloth.
Finally apply a stain remover to the stain and scrub repeatedly.
Sun cream
An essential for any time spent outdoors, especially during the summertime. But as useful as this product is, it can often transfer onto your clothing, leaving an unwelcomed greasy stain – especially if you are wearing white! To eradicate this unfortunate incident, soak the area in warm water and gently brush with a cloth. 
Flowers
Delightful to look at and a clear sign that summer is on the way, however we don't always realise how much pollen we pick up on our clothes from flowers and plants. Blot the stained fabric with a damp cloth then prepare to wash the garment. Use a stain remover to help tackle the blemish.
"After such a difficult year, everyone deserves to be able to enjoy themselves outdoors this bank holiday," Susan Fermor, Dr. Beckmann spokesperson, said.
"I think it's safe to say that most people have realised the importance of spending quality time with friends and family over the last twelve months, so with all the celebrations going on, we want to make sure people are prepared for any of those accidental spills and stains that could catch you out whilst having fun in the sun."
---
For more on Dr Beckmann's cleaning products, visit their website here.
For more lifestyle hints and tips from "The People's Friend", click here.