Features Sneak Peek: May 8, 2021 Issue
---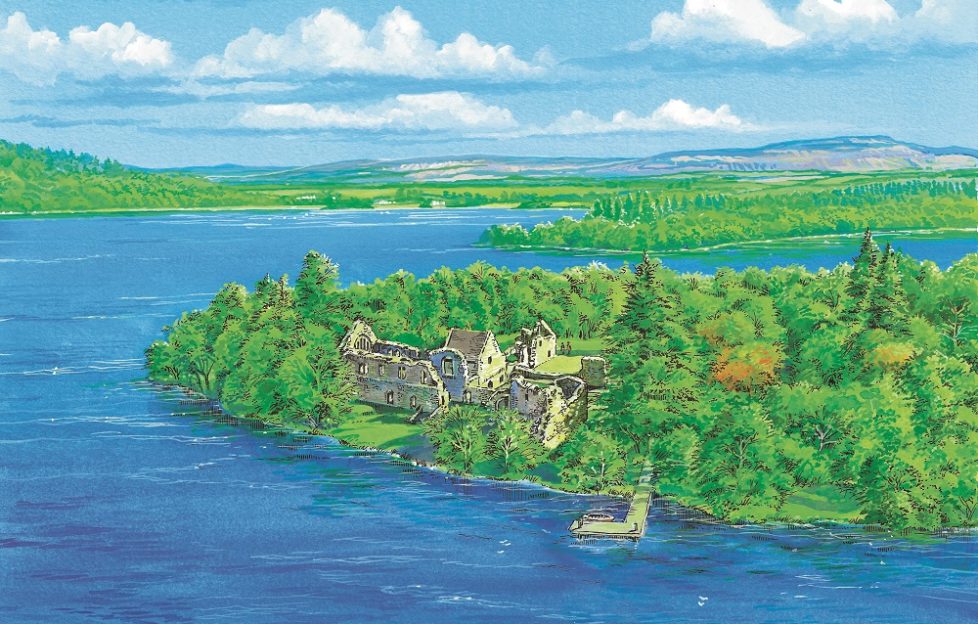 Illustration by DC Thomson Ltd.
Willie Shand's hike in the Menteith Hills is the delightful cover feature in our May 8, 2021 issue.
The 700-acre Lake of Menteith is Scotland's only lake. In extremely cold winters it can completely freeze over, which excites Scotland's curlers. That means it's time for a Grand Match or "bonspiel". 
The last bonspiel here was in 1979, when several thousand curlers and spectators took to the ice. People even drove their cars across the frozen waters!
Geese, swans, herons, great crested grebe and even osprey abound in this reed-fringed expanse. Enjoy the stunning views with us!
AnonyMouse
In 2016, in the coastal city of Malmö, Noix de Vie, a new restaurant and deli suddenly appeared overnight.
But this establishment was aimed at satisfying the growling tummies of nut-loving mice . . .
The Swedish art collective AnonyMouse soon took responsibility for the creation of the teeny-tiny building. Then more and more of these miniature structures began to pop up across Sweden.
Over the years the collective has produced all kinds of rodent-sized installations, from mini bookshops and barbers to castles and carnivals.
Dawn Geddes finds out from AnonyMouse creator Yasha Mousekewitz.
Greg Silvester
In 1996, Greg Silvester became one of the first people in Great Britain with Down's syndrome to become a qualified mainstream gymnastics coach.
Over the years Greg has won gold, silver and bronze medals at Special Olympics. He has raised hundreds of thousands of pounds for Special Olympics GB, where he is now an ambassador.
Greg also gives talks in schools, for which he was awarded a British Empire Medal for services to people with learning disabilities in sport.
Over and over again, Greg has used sport to prove people wrong, transforming perceptions and creating a more inclusive world.
Janey Swanson finds out more.
Joys Of Spring
The pandemic has consumed us with uncertainty. However, spring brings hope, and hope is what we must cling on to.
Polly Pullar delights in the curative power of the season, and the incredible unfurling of nature that takes place every year.
Elsewhere, we have a collection of midday meals that will banish lunchtime boredom. Plus we have a pattern to knit a cabled slipover for the young ones in your life. Enjoy!
---
Has this sneak peek at our May 8, 2021 issue encouraged you to subscribe to the "Friend"? Click here. If you do, your "Friend" will come straight to your doorstep! 
You can also take out a digital subscription, meaning your issue will come straight to your computer, tablet or phone! And it's great value for money. Click here for a sneak peek at that!