Editor's Diary: A Visit To The Office
---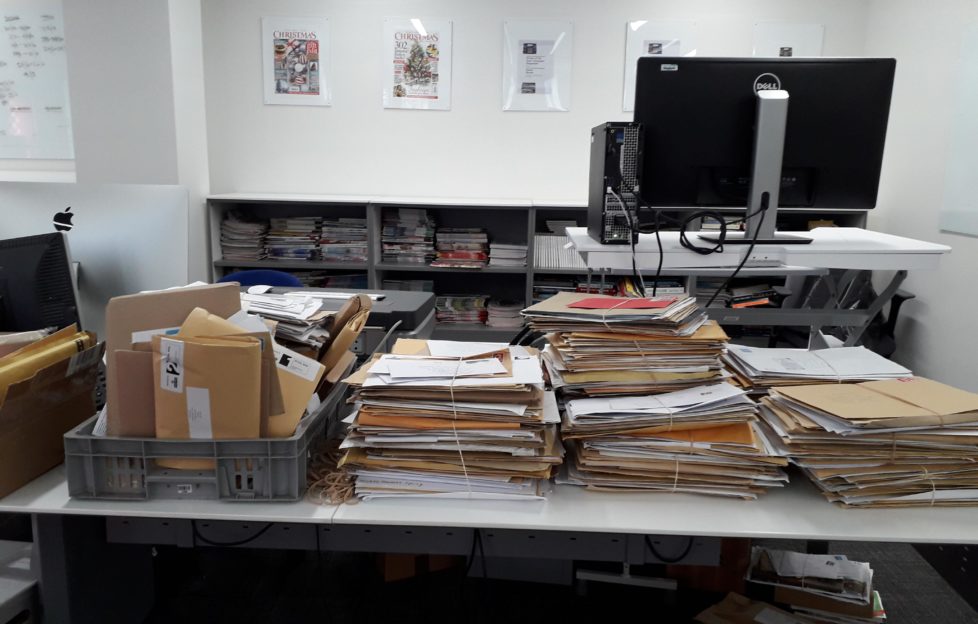 Photograph by Angela Gilchrist.
In this week's Editor's Diary I have some exciting news to report. I have made a visit to the office!
I've written previously about how the whole "Friend" team has been working from home since March 2020. And that hasn't changed. We are all still producing the magazine each week from our kitchens, dining-rooms and bedrooms.
In doing this, we are sticking to the rules set out by both the Scottish government and our own company. We can do our jobs perfectly well from home, and it's the safest place for us to be right now.
With travel restrictions easing, however, it was time for me to venture into Dundee for a short visit. My task was to assess the backlog of mail and make a plan for dealing with it.
Simple, you might think! But as my picture shows, there is a lot of post to deal with. And my photo only shows the Fiction Team's pile . . . There are similar heaps for Features, the Between Friends section, poetry, etc.
I have to admit I was a little bemused by the number of people who had written to complain they hadn't received a reply to a previous letter or submission. We have been living through exceptional times for the past year or so. Not being allowed into the building has been quite a big barrier to dealing with the mail!
If you have sent us something by post and are waiting for a reply, can I ask you please to be patient for a little longer? We will open, read and, where appropriate, reply to all queries. But it's going to take time! And we will have to fit it in around continuing to produce the magazine every week.
Eerily Quiet In The Office
It felt very strange to be in the building again. My last visit was a fleeting one in September.
In the past, the place would have been humming with activity. This time, I was the only person in the "Friend" team's area. It was eerily quiet.
Of course, that made it very easy to focus on the task in hand!
But it really brought home to me that it's people who make the "Friend" what it is. Without the team, the office is just an empty space. The real magic is happening at those kitchen and dining tables I mentioned earlier.
For now, it's safest for us all to continue to work from home. There are no plans for an imminent return to the office. So if you do want to get in touch with us, please use e-mail, not post, if possible. That way, you won't add to the backlog that awaits us!
To make sure you don't miss out on your copy of the "Friend", why not take out a subscription? You'll find details here.