Fiction Sneak Peek: May 29, 2021 Issue
---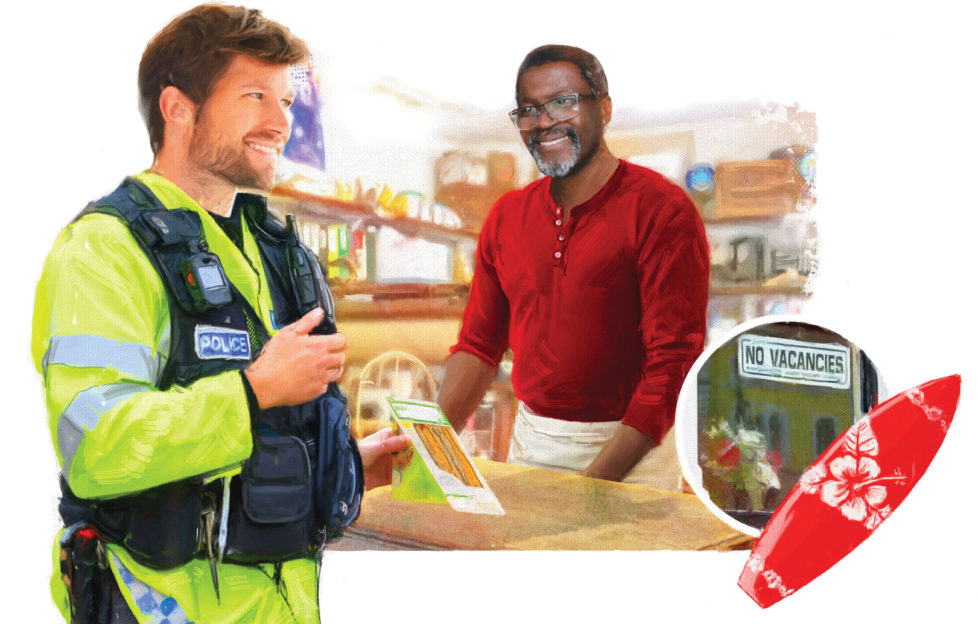 Illustration by Martin Baines.
Let's look at the stories and serials ready for you to read, in our May 29, 2021 issue, on sale tomorrow.
Our Opening story is "Building Character", by Fiona Thomson. When Laura's son injures his ankle, she takes on his paper round. But it isn't as easy as she initially thought! With an illustration by Ruth Blair.
In Joanne Duncan's "A Trick Of The Light", we go back to 1877, and an old friend from Oxford comes to visit country curate, James. With an illustration by Mandy Dixon.
We reflect on time spent in Bahrain and a very special canine companion in Julie Goodall's "Middle Eastern Memories", next, with an illustration from the Shutterstock picture library.
Will Amanda meet the love of her life online? Find out in "It's A Date!", written by Carrie Hewlett, and illustrated by Gerard Fay.
Jethro's on a missing person's case in Richard Bonsall's "Gone Girl", illustrated by Martin Baines (above).
Gran's advice is best in Samantha Tonge's "In Her Own Way", with artwork by Ruth Blair.
After her love-rat boyfriend dumps her by text, Susanna joins a book club, but is dismayed to find that not everyone shares her love of Enid Blyton! Sharon Haston's light-hearted "Two Are On The Case" has a Shutterstock illustration.
Serials
Charlie has something to confess to Ellery – but how will she take the news? Find out in Part Two of "Ellery's Orchard", by H. Johnson-Mack, with illustrations by Andre Leonard.
In Part Five of Pamela Kavanagh's "The Tanner's Son", Nicholas knows he's in love – but he and Roisin can have no future together, in Ireland. Artwork for this serial is by Mandy Dixon.
Series
In Stefania Hartley's "Tales From The Parish", Father Okoli is nowhere to be found…
…and Ruby is surprised by Jim's new hobby, in Glenda Young's "Riverside".
---
If our May 29, 2021 issue has left you wanting more, don't worry! Our new issue is in shops soon.
Did you know that subscribers receive their issues early? Click here for more information on subscribing to the "Friend" today.