The "Little May Girl" By Mollie E Jamieson
---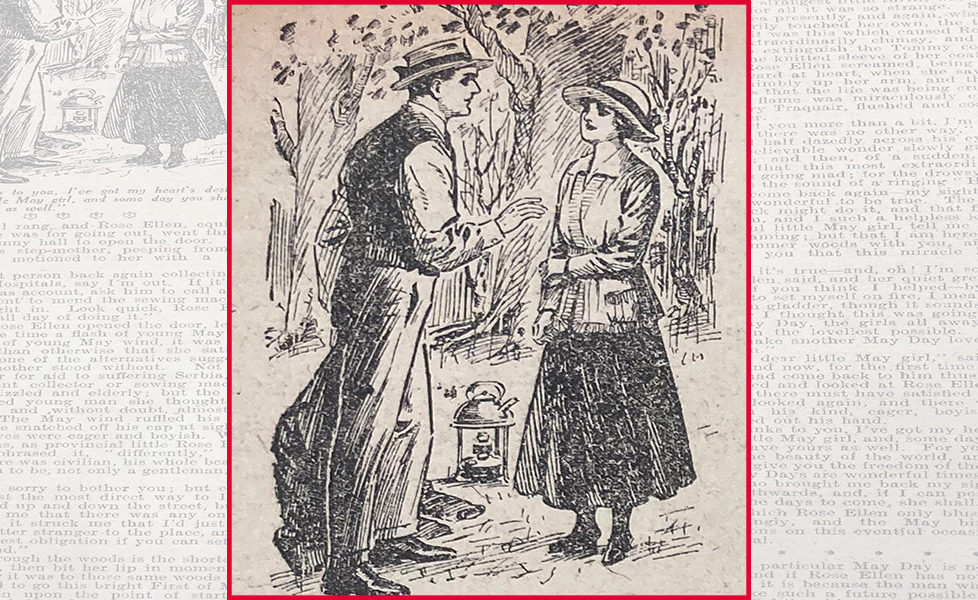 Image by DC Thomson Media.
This story was subtitled "A Romance Of May Day", and was first published in "The People's Friend" in 1917.
The story's author, Mollie E. Jamieson, was well known to "Friend" readers, and appeared frequently in our pages.
We hope you enjoy!
---
The bell rang, and Rose Ellen, equipped as she was for going out, went through the sunny hall to open the door.
Rose Ellen's stepmother, peeping from the china pantry, motioned to her with a stage aside.
"If it's that person back again collecting for the Serbian Hospitals, say I'm out. If it's the man for the gas account, ask him to call again.
"If it's the agent to mend the sewing machine, bring him right in. Look quick, Rose Ellen, and don't be all day of doing it."
But when Rose Ellen opened the door, letting in at the same time a flash or young May sunshine, a gust of young May wind, it was with relief rather than otherwise that she satisfied herself that none of the alternatives suggested by her stepmother stood without.
Not that special pleader for aid to suffering Serbia, nor the gas account collector or sewing machine agent, both grizzled and elderly; but the very pleasantest-faced young man she thought she had ever seen, and, without doubt, almost the handsomest.
The May wind ruffled his fair, curly hair as he snatched off his cap at sight of her, his blue eyes were eager and boyish. When he spoke, it was, as provincial little Rose Ellen would have phrased it, "differently", and, though his attire was civilian, his whole bearing proclaimed him to be not only a gentleman, but a soldier.
"I'm ever so sorry to bother you; but could you tell me just the most direct way to Lynn Court? I looked up and down the street, but it didn't seem to me that there was any one in sight, and then it struck me that I'd just ask here.
"I'm an utter stranger to the place, and it will be the biggest obligation if you can set me on the right road."
"The path through the woods is the shortest," said Rose Ellen, then bit her lip in momentary annoyance. For it was to those same woods that she had planned to go this bright First of May, and indeed been upon the point of starting, when his ring had thus abruptly summoned her.
"If you can walk quickly you should be at Lynn Court easily within half an hour."
She pointed in the proposed direction as she spoke; though it seemed to her that the young man followed her guiding finger a little vaguely.
"Thank you for your kindness. I am sure I shall hit on Lynn Court without any difficultly – though perhaps not as quickly as you suggest.
"My eyes aren't up to the scratch yet – shell shock; though the doctors prophesy they will come all right. It isn't but that I can see in a sort of a way, but blurred up, if you understand.
"So that, even allowing for possible tree-trunks, your wood path sounds the most feasible that could have been suggested.
"And now I must not detain you longer. Good morning, and again many thanks."
He turned, groping for the steps with his stick in the awkward, fumbling way of a newly-blind man, and then it was that, all of a sudden, something pulled at Rose Ellen's heartstrings, refusing longer to be denied.
Selfish discretion was flung without regret to the four winds. She stretched out her hand impulsively.
"I was going in that direction anyway, and I could –  I mean, we might walk so far together. For it is the First of May, and always, if I could possibly manage it, and the weather suited, I have gone to the woods on the First of May.
"See, let me take your hand down the steps; steps are the biggest pitfall of all, aren't they? We enter upon the woods just a little way down the road, and then the rest will be easy."
"I say, you're just A1," he said boyishly, and gratefully. "It's my aunt that's at Lynn Court; she'd asked me to come and stay; but I thought I'd spring a surprise on her, arriving unexpectedly.
"I'm Australian born, you see; and it's hard enough to have been put out of action before we so much as got the chance of giving the final smash up to German Bill.
"Not walking too slow for you, I hope, am I? A half-blind man, such as I am, has to feel his way about cautiously."
"Oh, no, I like walking slowly," little Rose Ellen said politely, if not over truthfully.
And presently they were in the woods, where the greenly-budding trees cast interlaced shadows on the sunny path, where the running water and the birds lilted, as though in glad rejoicing that Queen May had come at last, and where the primroses lifted golden, starry faces from the mossy banks, mutely joining in the great hymn of universal jubilation which swelled around.
And as they went, though quiet little Rose Ellen talked but little, Rose Ellen's new friend talked much.
Presently she heard that his name was Harry Traquair, that he had been sheep-farming with an uncle in Australia, and that upon his return – if he ever did return, Harry added a little ruefully – the uncle meant to retire, and leave everything in his nephew's hands.
To little Rose Ellen, listening sympathetically, it was like the opening up of a new and wonderful world.
She drew a long breath.
"I'd live it, I think – that sort of life, I mean. Always I've wanted to go out into the world, and now the war might have given me my chance, if only I'd been allowed to take it.
"But my stepmother is delicate, and of course, as she says, it is my first duty to stay with her," added Rose Ellen with a little sigh.
"Only it is so hard, when all one's friends have gone out to do their duty, not to be allowed to follow."
They had come to a little clearing in the wood, where a fallen tree trunk lay, and upon which Harry Traquair. pleading the indulgence of a wounded soldier, had persuaded her to rest a while.
And now it transpired that Rose Ellen, in pursuance of a time-honoured custom, when her girl friends had still borne her company, had brought with her a basket, and with a small tin kettle and "Tommy cooker", was proceeding to make tea.
Harry Traquair nodded understandingly as he spoke.
"But some day you will follow – fly, perhaps, who knows – father than any."
His blue eyes, radiantly eager in spite of their partial unseeingness, met hers, and Rose Ellen experienced the strangest little thrill, which was pleasurable for all it was so strange.
She brought him his tea presently, and again, when his hand momentarily touched her own, the thrill came.
Perhaps it was this which caused Rose Ellen to be so extraordinarily clumsy, and when she turned to extinguish the Tommy cooker, made her set the knitted sleeve of her coat on fire instead.
Rose Ellen screamed, being a veritable little coward at heart, when she saw the flame licking nimbly up her arm, and the next she knew was that the life was being crushed out of her, the flame was miraculously extinguished, and Harry Traquair, flushed and coatless, stood before her.
"I hurt you more than a bit, I'm afraid; but, you see, there was no other way."
He passed his hand half dazedly across his eyes, amazed, hardly believable wonder slowly growing upon his face; and then, of a sudden, Rose Ellen thought that this most extraordinary young man was going mad; for the drowsy May woods awoke to the sound of a ringing "Hurrah!"
"It's come back again – my sight. Oh, surely it's too wonderful to be true. The doctors said any shock might do it, and that flame licking your arm, and I such a helpless log.
"Oh, you wonderful little May girl, tell me that I amn't just dreaming; but that I am here in the beautiful summer woods with you, and that it is through you that this miracle has come to pass."
"Yes, it's true – and, oh! I'm so glad," little Rose Ellen said, and her quiet grey eyes shone.
"And if you think I helped – by being silly enough to set myself on fire, I mean – why, then, I'm even gladder, though it sounds queer to say so.
"For I thought this was going to be such a dull May Day, the girls all away, and now it has been the loveliest possible.
"Nothing ever could make another May Day lovelier than this has been."
"You dear little May girl," said Harry Traquair, and now, for the first time since his full vision had come back to him thus miraculously, he turned and looked at Rose Ellen.
And what he saw there must have satisfied him, I think; for he looked again, and there was a pleased look in his kind, eager, boyish eyes. He stretched out his hand.
"Thanks to you, I've got my heart's desire at last, little May girl, and, some day, if I can, you shall have yours as well.
"For you've given me back the beauty of the world, and if I can, in return, give you the freedom of the world . . . for May Days are wonderful times, and the little bird who brought me back my sight deserves to fly southwards, and, if I can possibly compass it, in the days to come, she shall."
At which Rose Ellen only blushed again very charmingly, and the May birds, the only chaperons on this eventful occasion, lilted their approval.
***
That particular May Day is now ancient history, and if Rose Ellen has not yet "flown West", it is because the man who has promised to make such a future possible to her is once again fighting his country's battles under alien skies far away.
But the joyous hope  which the birds sang of that May Day has become reality, and if Rose Ellen's lover lives to come home – why, then, Rose Ellen's lover will very soon make all things possible to the little "May girl" who, all unwittingly, gave him back his sight.
---
For more great fiction content from "The People's Friend", click here.
If you're interested in fiction from our Archives, why not try an episode of our story podcast, "Reading Between The Lines"? Click here to listen wherever you get your podcasts.