Knitting Preview: June 5, 2021 Issue
---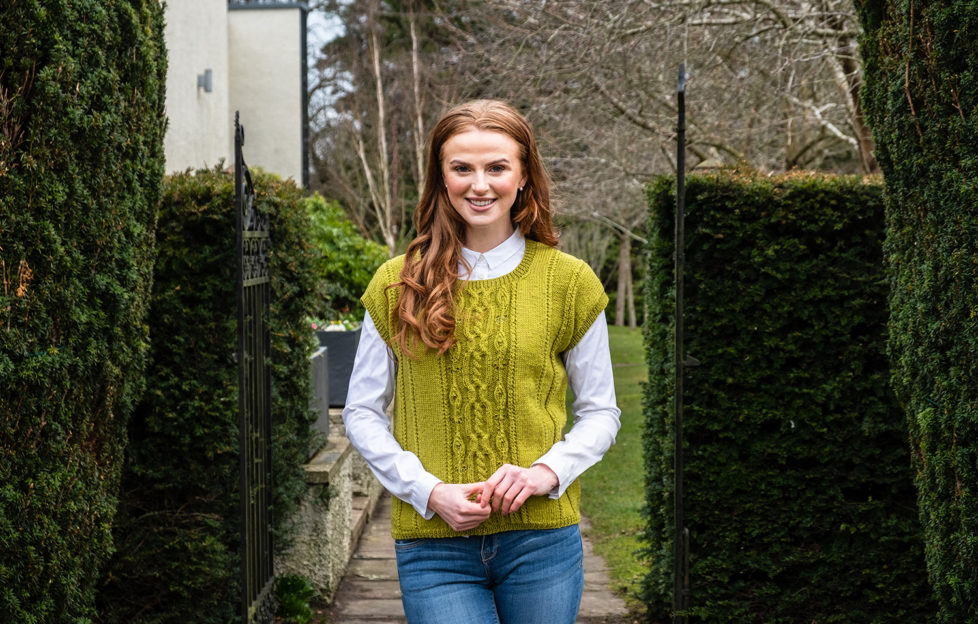 Photograph by Ally Stuart.
This week we have a textured slipover in a beautiful heritage yarn.
Nature is the inspiration behind our slipover which features a cable and twist panel on both front and back.
It comes in six sizes ranging from 76/81 cm (30/32 ins) to 127/132 (50/52 ins). Actual size is around 13/8 cm (5/3 ins) larger so we would recommend you work your usual size for a comfortable fit.
The leaf-inspired pattern panel follows a 26-row pattern worked over 34 stitches and you will need a cable needle to work it.
We have graded our slipover as intermediate as it is best to have experience of cable and twist stitches. If this is new to you, we would suggest you practise the panel first. As long as you keep track of your stitches, you will be fine.
The yarn used is West Yorkshire Spinners ColourLab DK, a yarn of 100% British wool manufactured in Keighley, Yorkshire.
We have picked the vibrant Pear Green shade to reflect the inspiration of nature, but there are several other shades available including five self-striping yarns.
To find out more about the yarn or to order direct, visit www.wyspinners.com.
With our unpredictable weather, this textured slipover is a great choice and the perfect way to show off your knitting skills.
---
Knitting preview piqued your interest? Click here for more great craft content.
Or you can subscribe to "The People's Friend" here. That way you'll never miss another one of our great patterns and projects!
A digital subscription means you can download every issue straight to your laptop, tablet or phone. Try it today.