Volunteers Week: "Reading Friends"
---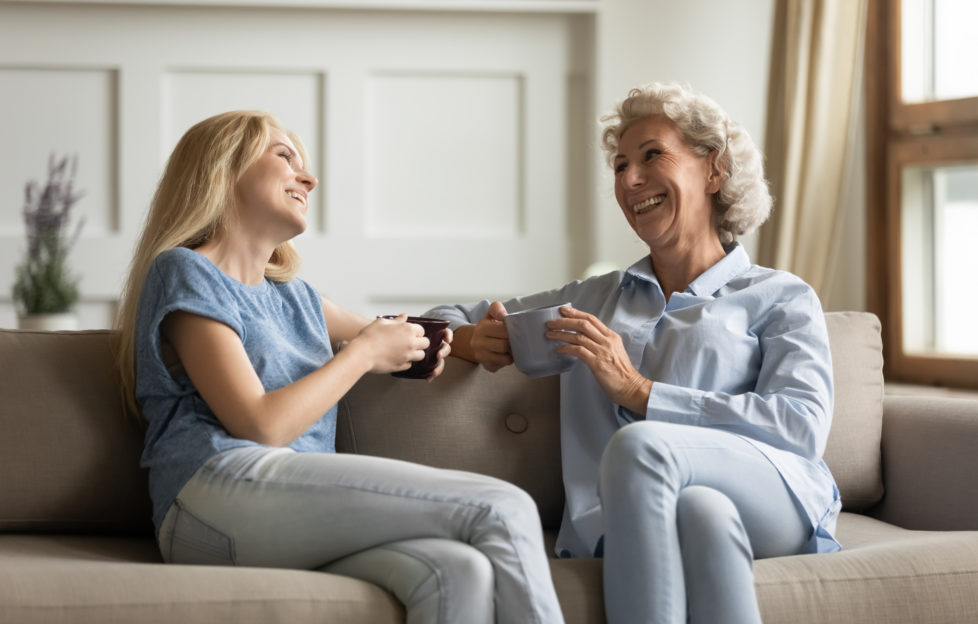 Shutterstock.
It's Volunteers Week until June 7 here in the UK. This is the time when we say thanks for the contribution millions of people make across the UK through volunteering.
To mark the occasion, we're revisiting this piece on "Reading Friends", an initiative that sees a shared passion for books bringing people together across the generations.
This article was written by Bill Gibb, and first published in "The People's Friend" in March 2021.
---
Alison Jane always looks forward to her regular get-togethers with her pal Ann, savouring a good blether about the subject that bonds them together.
That's their love of books and their enjoyment in sharing discussions about their literary passions.
What makes it different from many such conversations right across the country is that the pair were complete strangers until just over three years ago.
And, as Alison is thirty-six and Ann is more than 40 years older, their different social circles meant they might never have come into contact.
But they are just two of those who have found a warm, close connection through Reading Friends. The charity helps tackle loneliness by bringing people and volunteers together across the UK to read, chat and share stories.
It was set up in 2017 by the Reading Agency, which believes that reading can help meet many of life's big challenges, and reached over 1.8 million people in 2019-20.
"We are so excited at how it's grown"
"Reading Friends followed on from the work we do with the Reading Agency to use reading to improve people's lives," Creative Director Debbie Hicks MBE says.
"It's not about book clubs and it's not about Shakespeare or great literature; it's about using books and other written content to get people to share stories and find common ground."
From small beginnings, Reading Friends has blossomed hugely. There are now groups operating in all nations of the UK, with an increasingly wide geographical spread.
"We are so excited at how it's grown," Debbie admits. "We started with ten sites and expanded by early 2020 to forty-two sites operating.
"Closures of public venues during lockdown meant that dropped back a bit, but we came up with different things such as telephone helplines and Zoom groups.
"So, while some other organisations' activities died away, we were meeting such a significant need that we continued to flourish."
Alison, a passionate reader since childhood, heard about Reading Friends through Newcastle Libraries.
"The e-mail explained that you could be part of a reading group or do one-to-one sessions," Alison says.
"It said it was just as simple as visiting someone in their home and having a chat about books.
"I was doing my Masters at university. As I had a bit of free time, I had been looking to see if I could do a bit of volunteering.
"With my interest in reading, it seemed to be the perfect project.
"I think if volunteers don't have anything in common with the other person it might be a bit of a struggle.
"But reading was such an obvious thing to be able to bond over and talk about, that shared experience of having read the same book."
The pair quickly formed a friendship
Ann has some health conditions that meant it would have been difficult to be part of a group. One-to-one sessions were deemed best, and Alison started visiting her home back in 2017.
The pair quickly formed a friendship and the fondness Alison has for Ann is unquestionable.
"She's just wonderful; such a lovely person," Alison says. "She's a kind-hearted, friendly, generous soul.
"The lady who matched me with Ann said, 'I think you'll be able to hold your own with her'. I wondered what I'd let myself in for.
"But all she meant was that Ann has some strong opinions and we actually found very quickly we have similar views, so that wasn't a problem.
"She has family so she isn't isolated and would hate to be described as lonely, but it's just that those she was in close contact with didn't have the same interests in books."
Alison says her monthly visits to see Ann have always been a highlight and she'd barely be in the door before the kettle was on and Ann would have the cakes and biscuits out.
Generally, Ann chooses the book which Alison then reads – and the subject matter can be surprising.
"She is really into Scandi crime." Alison laughs. "I think about ninety per cent of the stuff we've read involves murder!
"Mysteries are her thing, trying to work out the killer. In fact, the first thing she said to me was that she hates romantic novels
"We've become so close I don't think about the age gap at all. I know that Ann really enjoys it and looks forward to it, as do I. I'm sure I get as much out of it as she does."
Anyone can be affected by loneliness
While Ann may not suffer from loneliness, many do, with one in 10 of over sixty-fives saying they were often or always lonely.
"It was amplified during the pandemic, where people found themselves socially distanced and shut away at home," Debbie says.
"That made staying in touch and giving people contact and something to talk about even more important."
With group meetings unable to take place and home visits impossible, volunteers like Alison still played a vital role. She did doorstep visits and stayed in touch via calls and texts.
While many of those who have been helped by Reading Friends are older, Debbie says the circumstances of the past year have seen others happy to use the service.
"We think of older people as those who are most vulnerable, but anyone can be affected by loneliness," Debbie says.
"Recent research has shown how younger people have been particularly badly hit during the pandemic. Then there were many with long-term health conditions who were isolated in their homes.
"One of the really interesting developments with Reading Friends is how it has evolved right across the generations.
"The content can be shaped to the interests of all ages, so it might be a cookery book or a sports book, whatever the people are passionate about. It really is a very flexible model."
For volunteers
You can find further information on Reading Friends on their website, or by calling 0207 324 5153.
---
For more on the charities we support, visit our Helping Others pages.
For more about Volunteers Week, click here.