Picnic Week: Cherry Bakewell Flapjacks
---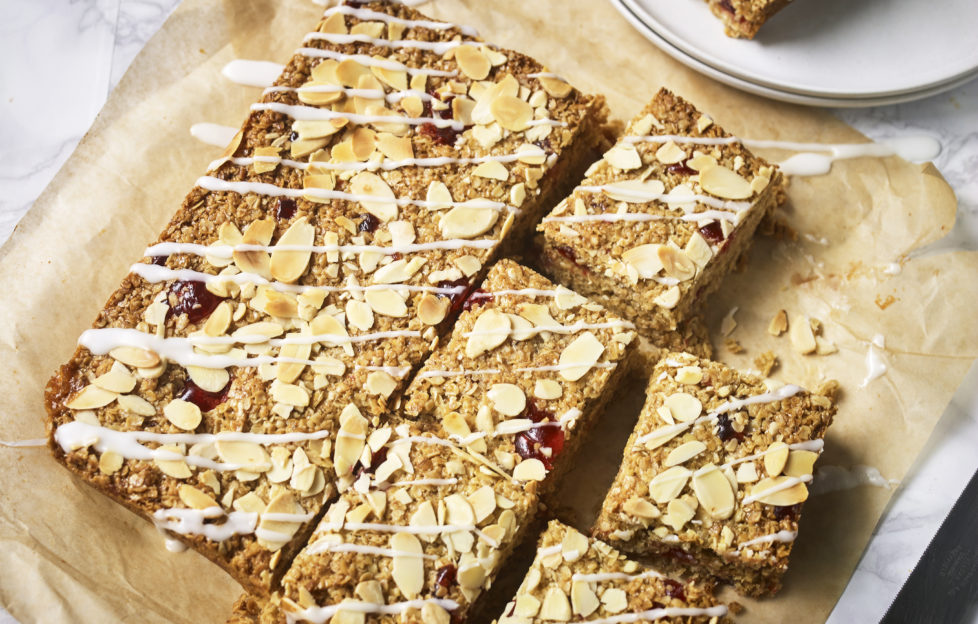 Image courtesy of The National Trust.
Ingredients
300 g (10½ oz) margarine
250 g (9 oz) golden syrup
1 tsp almond essence
200 g (7 oz) caster sugar
720 g (1 lb 10 oz) oats
150 g (5½ oz) glacé cherries
50 g (1¾ oz) flaked almonds
150 g (5½ oz) icing sugar
Recipe courtesy of The National Trust.
Here's the second of our fabulous National Trust recipes for Picnic Week: Cherry Bakewell Flapjacks. These are the perfect, easy treat for a quick snack or to take with you on a day's outing. Plus, they're so easy to pack up for a sweet treat to accompany a picnic!
Pre-heat the oven to 160 deg. C., 325 deg. F., Gas Mark 3. Grease and line a tray-bake tin.
Place the margarine, golden syrup, almond essence and sugar into a saucepan over a medium heat. Once the mixture starts to melt give it a stir.
Once completely melted and combined, gradually add in the oats until all the liquid has been soaked up and the oats are thoroughly combined. Add in the cherries, then gently
mix.
Tip into a prepared tin and gently smooth out the oat mix until it's an even layer. It should be just under the lip of the tray in thickness. Top with flaked almonds.
Place in the pre-heated oven and bake for around 25 to 30 minutes, or until lightly coloured and set.
Remove from the oven and leave to cool before portioning.
Mix just enough water with the icing sugar to make a thick but pourable icing and drizzle on to the flapjack when cooled.
---
For another tasty picnic treat this week, why not try this delicious Blackberry and Goats' Cheese Quiche. We can thoroughly recommend this – it's a recipe that Designer Moira often makes for "The People's Friend Strawberry Tea", and it always sells out quickly!
For more recipes from "The People's Friend", click here.