Picnic Week: Berry Tart
---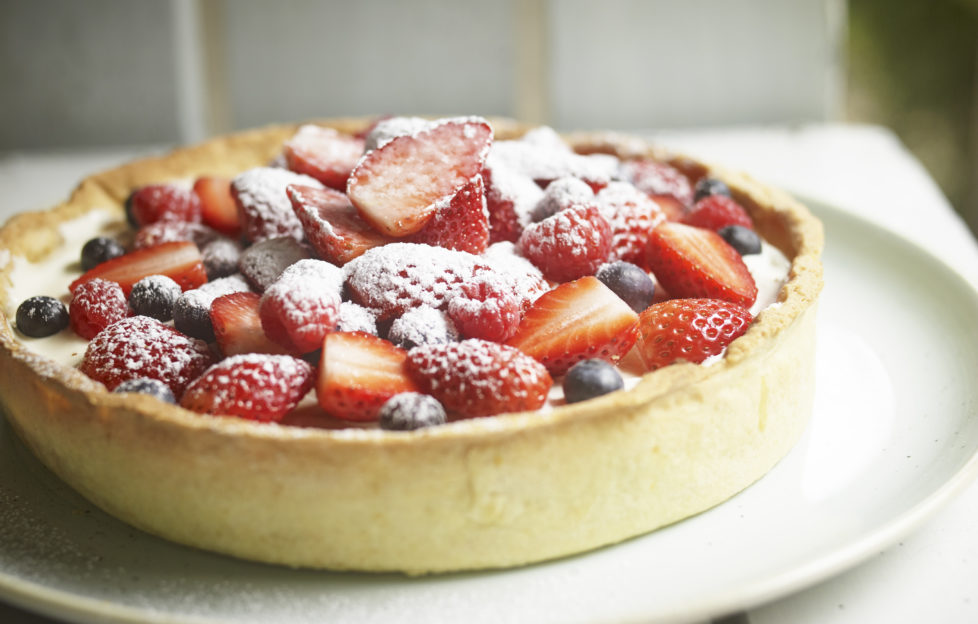 Photograph courtesy of the National Trust.
Ingredients
250 g (9 oz) plain flour
125 g (4½ oz) butter
50 g (1¾ oz) icing sugar
½ lemon, zest and juice
1 egg
For the Filling:
1 x 397 g tin condensed milk
250 g (9 oz) Greek style yoghurt
5 eggs
2 limes, juice and zest
To top:
50 g (1¾ oz) Greek style yoghurt
250 g (9 oz) mixed seasonal berries (fresh or frozen)
Recipe and image courtesy of The National Trust.
Topped with seasonal British fruit, this berry tart is the ultimate summer treat.
Method:
Place the flour, butter and icing sugar into a bowl. Using a food processor or whisk, blitz until the mix resembles fine breadcrumbs.
Add the lemon (zest and juice) and the eggs. Pulse a few times to bring the pastry together.
Turn on to a lightly floured board and knead a couple of times to give a smooth dough. Wrap and refrigerate for 30 minutes.
Roll out the pastry and line a sandwich tin, pricking the base all over with a fork or pastry docker. Bake blind (see top tips) at 180°C for around 10 minutes. Remove the baking beans and place the case back in the oven to dry out the pastry for a further 5 minutes before removing and putting to one side.
For the filling, place the yoghurt, condensed milk, eggs, lime (juice and zest) in a bowl and beat until smooth.
Pour the filling into the pastry case. Place in the oven at 150°C for around 40 minutes or until the filling is set with a slight wobble and lightly coloured on top.
Remove from the oven and leave to cool.
Spread the yoghurt over the top of the filling.
Scatter the mixed berries over the top of the yoghurt. Cut into portions and serve.
Top tips
If you have berries and fruit growing in your garden, this is a delicious way to enjoy them.
Avoid the dreaded soggy bottom by blind-baking your pastry before adding the filling. Line the pastry case with baking parchment, then place baking beans or dried pulses/lentils on top of the paper before placing in the oven. Be sure to put the beans on after the paper to stop them baking into the case.
---
Click here for more tasty recipes from "The People's Friend".
This recipe comes to us from our friends at the National Trust. Enjoy a day out at one of their properties today.