Upcycle Your Old Tins Into Stunning Vases
---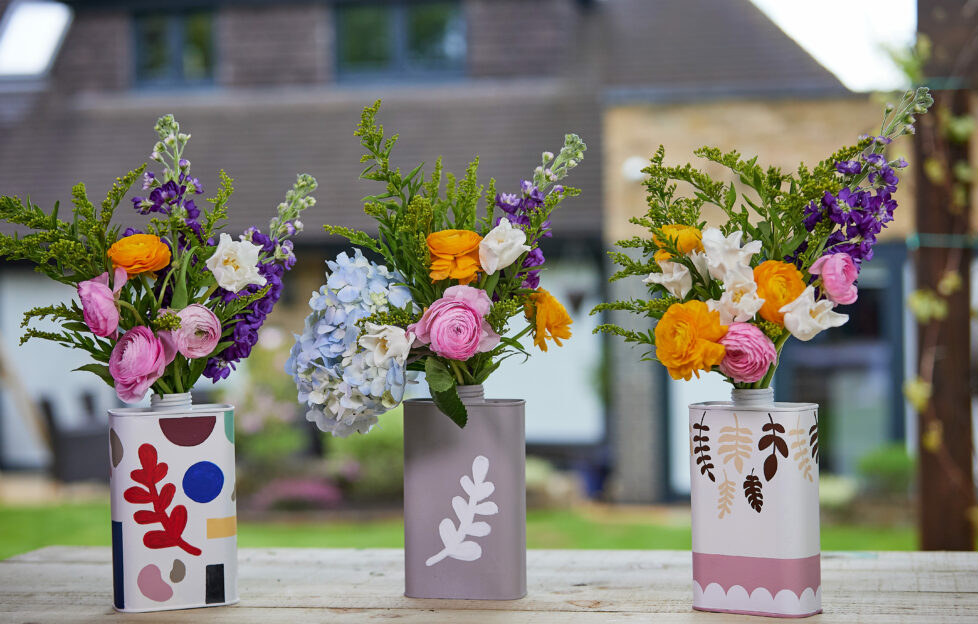 Photograph courtesy of Jeyes Fluid.
Jeyes Fluid, the British heritage brand that's been proudly keeping the nation's gardens clean for over 140 years, has launched its Creative Spaces initiative this year, by partnering up with Melanie Lissack, the award winning interior stylist, writer and influencer.
Together, they are helping to inspire Brits on how people can easily repurpose tired furniture, leftover materials in the home and upcycle them to transform their gardens.
This follows new research revealing that 73% of Brits said their garden and outdoor spaces have become even more important following the pandemic, and a whopping 73% of Brits are set to continue working from home following lockdown.
This means 2 in 5 people (40%) are looking to transform their garden areas in 2021.
With Jeyes recently replacing its heritage tin with a new recyclable plastic bottle and new formula, as it paves its way to create a more sustainable future – here's how you can upcycle tins to create stunning vases.
Materials and tools: 
Old Jeyes Fluid tin or any type of tin/can
All surface paint in a colour of your choice
Artist's paintbrush
Mask for protection when spray painting
Exterior spray primer
Exterior spray paint in a colour of your choice
Pencil
Thin card
Scissors
Flowers or foliage
Stencils (optional)
Old, spare cardboard box to spray
Method:
Before you begin the process, make sure the tin is empty and clean. Remove any stickers and sticker residue and wash both the inside and outside of the tin with warm soapy water. Allow to dry completely.
Before spray painting, place the tin inside an old cardboard box which can be used as a makeshift paint booth to contain any accidental overspray and avoid paint particles from landing into areas where paint isn't wanted.
Spray on 1-2 coats of primer.
Once the primer is dry, spray on 1-2 coats of spray paint. When using spray paint, shake the can first and then spray with light, even strokes back and forth across the tin. Carefully rotate the container as you spray so you can get coverage on all sides.
Create abstract shapes on a piece of card. You can do this by drawing around  stencils, or by using shapes around your house (e.g. coins / a glass). Look in art shops or online for a great range of stencils or different card shapes you can paint around.
Cut out the shapes using scissors.
Arrange them on your blank tin until you are happy with the design. You can use Blu Tack to keep them still while drawing.
Draw around the shapes on the tin using a pencil.
Using an artist's paintbrush, paint inside the shape using All Surface Paint in a colour of your choice. We would recommend a contrasting colour to the background so that it pops. Alternatively you can spray paint shapes using stencils. Leave to completely dry.
Once you're happy with the result, pop some flowers and foliage into the tin and you're done!
---
Looking to do more than simply upcycle old tins? There's more great craft content from "The People's Friend", click here.
For more Creative Spaces ideas, please visit the Jeyes Fluid website.