Fiction Sneak Peek: July 17, 2021 Issue
---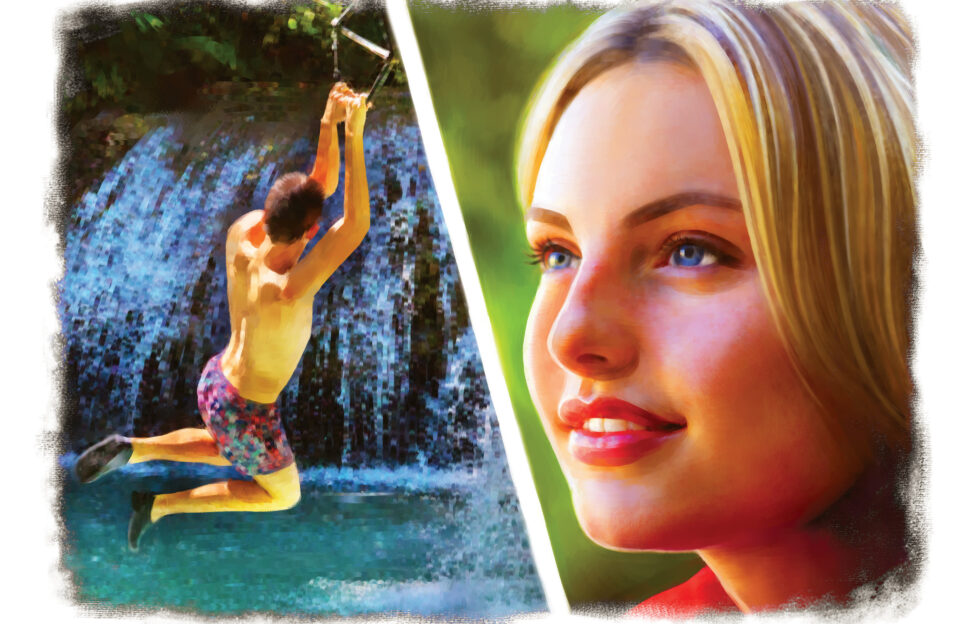 Illustration by Kirk Houston.
Let's welcome our July 17, 2021 issue with a sneak peek at the fiction inside. It has a summery feel!
Kindly Doctor Owen is a genuinely good egg. If only he and his beloved wife could hear the patter of tiny feet…Set in 1927, "Being Patient" by Teresa Ashby is our opening story, illustrated by David Young.
A young girl faces her fears in Nicola Martin's "Take The Plunge". A Kirk Houston illustration (above) accompanies this story.
We're on "An Open Road", next. After the departure of Carol's husband, can Carol and her estranged mum can finally settle their differences? This perceptive short story is by Gabrielle Mullarkey.
Two siblings prepare to celebrate their dad's milestone birthday in Sue Claremont's "Dad's Gift". Illustration by Ruth Blair.
Welsh policeman Jethro is back, investigating the death of a lady whose body is found on the beach, in Richard Bonsall's "Face The Music". Illustrated by Martin Baines.
An old school library book has been handed into Maddie's Bookshop in "Worth Checking Out", written by Liz Filleul and illustrated by Sarah Holliday.
Our final short story this week is Annie Harris's "Arriving In Style". The Rolls Royce has seen many happy couples – but today, all's not going according to plan!
Serials
A brand new seven-part serial starts today – Moira Gee's "The Ties That Bind". Life is hectic for Evelyn – but she always has time for her family Illustrated by Kirk Houston.
It's Part Four of June Davies' "The River Runs Deep" this week, and Billy-Bob has a lot on his mind after returning to Deep River, following the Civil War. Artwork from Sailesh Thakrar.
Series
The face-painting stall is in demand at the village fete, in Stefania Hartley's "Tales From The Parish".
In Glenda Young's "Riverside", how will the darts team fare against the Pig and Whistle?
---
If our July 17, 2021 issue has left you wanting more, don't worry! Our new issue is in shops soon.
Did you know that subscribers receive their issues early? Click here for more information on subscribing to the "Friend" today.