Knitting Preview: July 24, 2021 Issue
---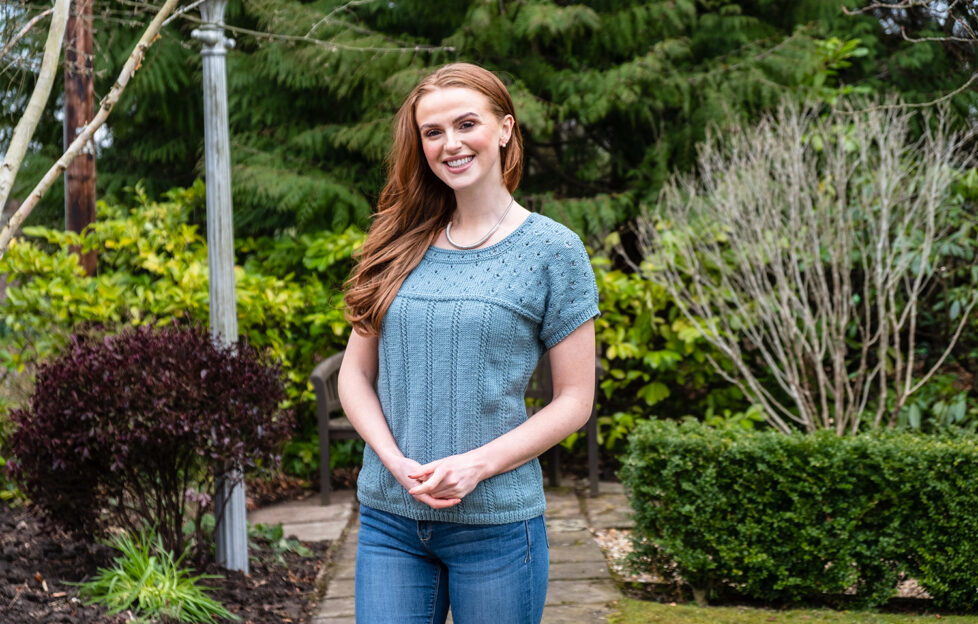 Photograph by Ally Stuart.
We have a lovely little top this week featuring an eyelet yoke and twist-stitch pattern.
This top with its round neck and short sleeves is the ideal choice for summer. It is available in six sizes ranging from 76/81 cm (30/32 ins) to 127/132 cm (50/52 ins).
Actual size is around 12/7 cm (4 ¾/2¾ ins) larger so we would recommend you work your usual size.
You work the twist-stitch pattern over a two-row repeat. It consists of a twist stitch set in stocking-stitch (knit one row, purl one row). The yoke pattern is worked over a ten-row repeat.
The sleeves are incorporated into the front and back and formed by increases and cast-on stitches just before the raised border and eyelet pattern. You work the armhole borders at the end.
The yarn we chose for this design is Stylecraft Bellissima DK in the delightfully named Bashful Blue, shade 3930. You can find out more about the yarn and find your nearest stockist at www.stylecraft-yarns.co.uk.
This is a great value top with the cost of making the first size less than £9 and the larger sizes around £14. It is fully machine washable making it easy to wash and wear.
You'll be able to knit this quickly, so you can wear it during summer.
Why not give it a go?
---
Have you mastered the twist-stitch pattern? Remember, we have lots more great craft content on our website.
Or you can subscribe to "The People's Friend" here. That way you'll never miss another one of our great patterns and projects!
A digital subscription means you can download every issue straight to your laptop, tablet or phone. Try it today!