Features Sneak Peek: July 31, 2021 issue
---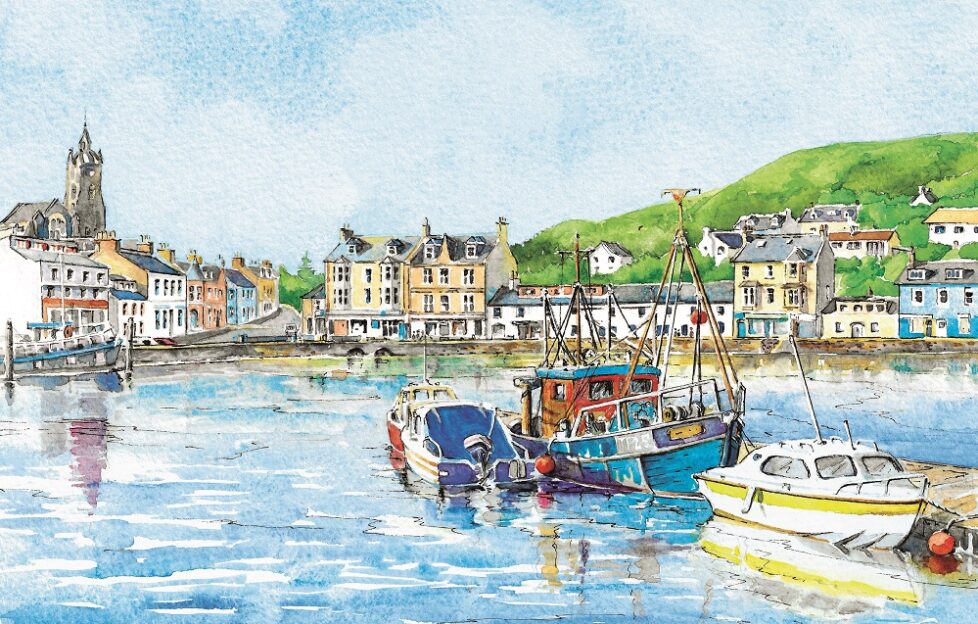 Illustration by DC Thomson Ltd.
Willie Shand takes in Loch Fyne's glorious views in our July 31, 2021 issue.
Included on the itinerary is Tarbert, a colourful wee fishing port. Being the Gateway to Kintyre, it's a busy place and attracts many visitors for its annual regatta. Hundreds of yachts from all over the world crowd the harbour for what is known as the friendliest regatta in the world.
Crinan and Ardrishaig are particularly picturesque and well worth a visit. The whole of Loch Fyne is designated as a Nature Conservation Marine Protected Area and there's every chance you'll see seals sunning themselves on the rocks. It's quite likely you'll spot dolphins, otters and basking sharks, too. Don't forget your camera!
You'll also find yourself snap happy while wandering around Crarae. Its woodland gardens are world renowned and home to more than 400 different azaleas, rhododendrons and many rare and exotic plants.
What's New, Pussycat?
August 8 marks International Cat Day so Sarah Muir took the opportunity to investigate the history of our feline friends.
Cats were so revered in Ancient Egypt that they were worshipped, and a number of their large pantheon of gods were depicted in feline form.
In Japan, the animal is seen as a good-luck symbol. And did you know that the Romans brought their cats to Britain? Read the feature for more fascinating feline facts.
Degree With A Difference
Since Beatlemania in the 60s, fans of the Fab Four have celebrated their music. However, this September, they will have an option to take their devotion even further. That's because the University of Liverpool is launching an MA in The Beatles: Music Industry and Heritage.
There are many other offbeat courses available to study besides that. Bath Spa University are offering a Contemporary Circus with Physical Theatre foundation degree. Those with a good sense of humour will find plenty of laughs on the Stand-Up Comedy course at the University of Kent. There are many more. Bill Gibb investigates further in the magazine.
Elsewhere, we have a collection of tasty desserts. The strawberry tart looks particularly tempting but there is a dessert to suit every palate. Plus we have a pattern to knit a stylish lacy cardigan.
We hope this features sneak peek has whetted your appetite! Be sure to let us know what you think.
---
Has this sneak peek at our July 31, 2021 issue encouraged you to subscribe to the "Friend"? Click here. If you do, your "Friend" will come straight to your doorstep! 
You can also take out a digital subscription, meaning your issue will come straight to your computer, tablet or phone! And it's great value for money. Click here for a sneak peek at that!