Fiction Sneak Peek: August 14, 2021 Issue
---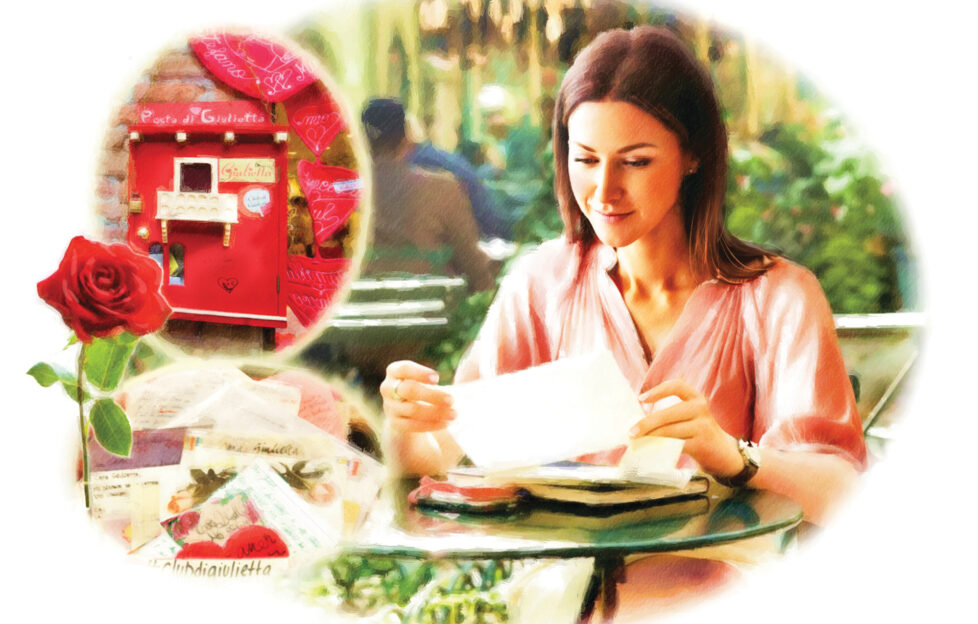 Illustration by Ruth Blair.
Hello! Welcome to our look at the short stories and serials in our August 14, 2021 issue.
Our opening story this week is Gabrielle Mullarkey's "No Place Like Home". Helen and Myles' only child, Chloe, is off travelling the world. Should they worry? With a Mandy Dixon illustration.
In the romantic city of Verona, Rosalina has to help out at the Juliet Club. But how can she give advice on behalf of Juliet, when she doesn't believe in Romeo? "Love Letters" by Alison Carter is illustrated by Ruth Blair (above).
Shouldn't the parent worry about the child, rather than the other way round? Nat finds that the tables have turned in "Taking Care Of Dad", by Teresa Ashby, illustrated by Mandy Murray.
A teenager's reluctance to go on a family holiday brings back memories in "A Snapshot Of Malta", written by Jacqui Cooper and illustrated by Shutterstock.
We're "In A Jam" next. When one young woman goes missing during a walk on the cliffs, can Esther's sharp-eyed sleuthing help solve the mystery of her disappearance? By Alyson Hilbourne, our story set in the 1930s is illustrated by Philip Crabb.
Letitia has a phobia which has a significant impact on her life. Can she overcome it before her 40s disappear? "Lucky Thirteen" by Eirin Thompson is illustrated by Martin Baines.
Our final story of the week is "Out Of The Woods", by Katie Ashmore. Can making peace with a friend help one young woman save the woodlands she loves? With a peaceful Shutterstock illustration.
Serials
Simon can make Evelyn laugh, but is that enough? Part Five of Moira Gee's "The Ties That Bind" is illustrated by Kirk Houston.
In the final episode of June Davies' "The River Runs Deep", as Myrtle's family make plans for a happier future, Laura and Johan look forward to their own…artwork throughout this serial is by Sailesh Thakrar.
Series
There's a slight shake-up to this year's Shakespeare in the gardens, in Stefania Hartley's "Tales From The Parish" . . .
And in Glenda Young's "Riverside", George has mixed feelings about seeing the old ship . . .
---
If our August 14, 2021 issue has left you wanting more, don't worry! Our new issue is in shops soon.
Did you know that subscribers receive their issues early? Click here for more information on subscribing to the "Friend" today.
You can also take out a digital subscription, and read your favourite magazine on your tablet, smartphone or computer.