Features Sneak Peek: August 28, 2021
---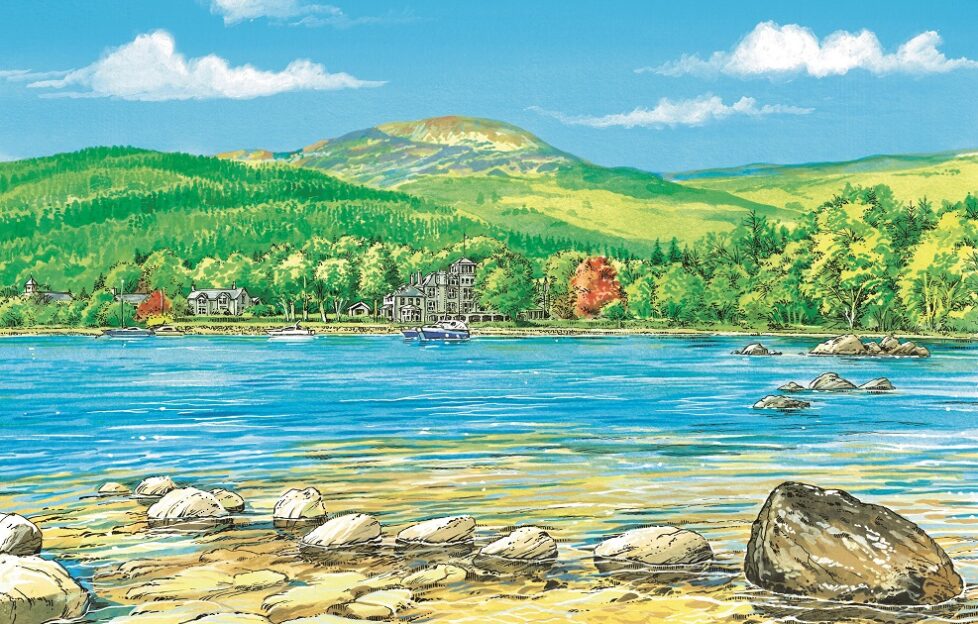 Illustration by DC Thomson Ltd.
Willie Shand enjoys the picturesque scenery of Loch Earn in the August 28, 2021 issue of "The People's Friend".
The village of St Fillans is set on the shores of Loch Earn around twelve miles west of Crieff. Many driving through the village may be unaware of the wonderful hill country that lies immediately to the north, stretching between Loch Earn, Loch Lednock and Loch Tay. Willie is going to change that as he shows us the beauty to be found in these parts.
The bracken's on the turn for autumn: some green, some orange, some brown. And if you keep your eyes peeled, you might even spot a red squirrel.
Aerial Photographer
Growing up in Northumberland, Paul Appleby has always been passionate about the country's gorgeous countryside and wonderful beaches.
Now, the photographer is sharing that passion with stunning images that give an unrivalled panoramic perspective.
Paul uses his camera and drone-flying skills to take magnificent aerial shots showing familiar landmarks in a new light. He has uncovered lovely little hidden gems in the process, too. Bill Gibb finds out more.
 Ladybird Books Collector
Helen Day grew up surrounded by books. In particular, she was fond of the Ladybird series, and now has a website dedicated to the artwork of these little books.
When her son was little, Helen started to pull together a collection of these classics. From "Shopping With Mother" to "Talkabout Home" she could see how much the illustrations caught her son's attention.
Later, after setting up her website, all kinds of people got in touch. Gradually, Helen's interest shifted from book-collecting to curating stories of everyone involved. As a result of her hobby, Helen has written for national papers and the BBC. She has also been interviewed on TV and radio. Features Ed Alex Corlett finds out more.
Fossil Finder
Once upon a time, Steve Etches was a plumber. However, an interest in fossils led him in a very different direction. He found his first fossil when he was just five but he was in his thirties when he really started to explore the wonderful world of fossils.
Steve went on to open a museum and was eventually able to quit his day job. He has even had several fossil species named after him and has received an MBE from the Queen. Steve Newman finds out more.
Elsewhere in the August 28, 2021 issue, we have a collection of recipes to make using ingredients fresh from the sea. Plus Alexandra Campbell unearths the best ways to design your garden in order to fit your lifestyle.
We do hope you enjoy it. Let us know what you think.
---
Has this sneak peek at our August 28, 2021 issue encouraged you to subscribe to the "Friend"? Click here. If you do, your "Friend" will come straight to your doorstep! 
You can also take out a digital subscription, meaning your issue will come straight to your computer, tablet or phone! And it's great value for money. Click here for a sneak peek at that!