Sensational Summer Berry Pudding
---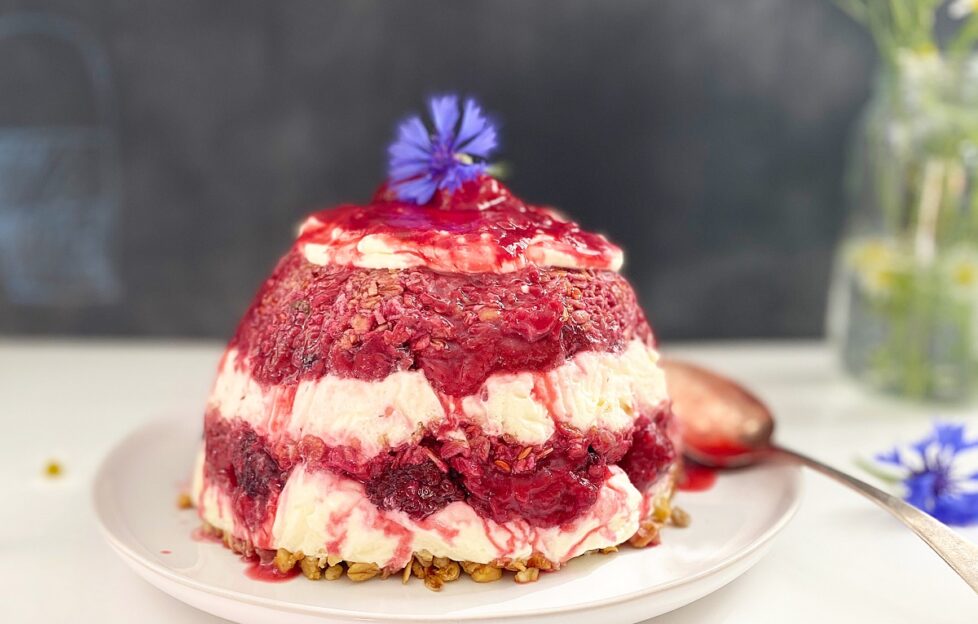 Image courtesy of Lizi's Granola.
Ingredients
600 g (1 lb 5 oz) berries: roughly 300 g (10 oz) strawberries, 200 g (7 oz) raspberries, 100 g (4 oz) blueberries and currants, defrosted if frozen
100 g (3½ oz) sugar
250 ml (9 fl oz) double cream, whipped
2 tbs icing sugar
100 g (3½ oz) Greek yoghurt
250 g (9 oz) Lizi's Original Granola
A pinch of sea salt
To Serve: edible flowers.
Recipe courtesy of Lizi's Granola.
This sensational summer berry pudding is the perfect way to make the most of still-plentiful fresh berries.
Lush summer berries and their syrupy juices layered with Lizi's Original Granola, softly whipped cream and thick yoghurt make a pretty pudding, perfect for lunch or dinner in the garden. If you have a special event coming up, the pudding can be made three days before as long as stored tightly wrapped and kept refrigerated.
Method:
Put the berries into a saucepan with the sugar. Over a medium heat, bring to a simmer and cook. Stir gently a few times to stop them sticking. Let them bubble gently for about 5 to 8 minutes.
Whisk the cream and icing sugar until it forms thick soft peaks, and then fold in the Greek yoghurt using a large metal spoon or spatula.
Line a pudding bowl or a loose-bottomed deep cake tin with cling film. Use two pieces of cling film – check all of the inside of the bowl is completely covered and there is a good 20c m (8 in) overhang as this will help you get the pudding out easily.
Spoon a third of the granola on the bottom of the lined tin or bowl. Spoon a generous layer of the berries on to the granola. Add a third of the cream and yoghurt mix. Smooth to cover the fruit.
Repeat, adding in more granola, fruit and then cream mixture in layers. Keep a little of the cream and fruit to one side in the fridge. Drizzle a final layer of granola on top.
Place a plate face down on top to cover the pudding. Put into the fridge for a minimum of four hours to overnight to chill and firm up.
Take the pudding out of the fridge and gently turn it upside down on to the plate. It should come away easily when carefully lifted off the pudding bowl.
Peel away the cling film then take the remaining cream mixture and spoon on top of the pudding, swirling in the crushed berries and some of the berry syrup on top and down the sides to decorate.
Decorate with edible flowers, serve and enjoy!
---
Enjoyed this Summer Berry Pudding? We have a whole range of lovely fruit-based dessert recipes here on "The People's Friend" website, including these Caramelised Pear And Salted Pecan-filled Pancakes With Hot Chocolate Sauce, Lemon And Mascarpone Drambuie Tartlets, and Blackberry And Bay Clafoutis.
Try them today!