Knitting Preview: September 4, 2021
---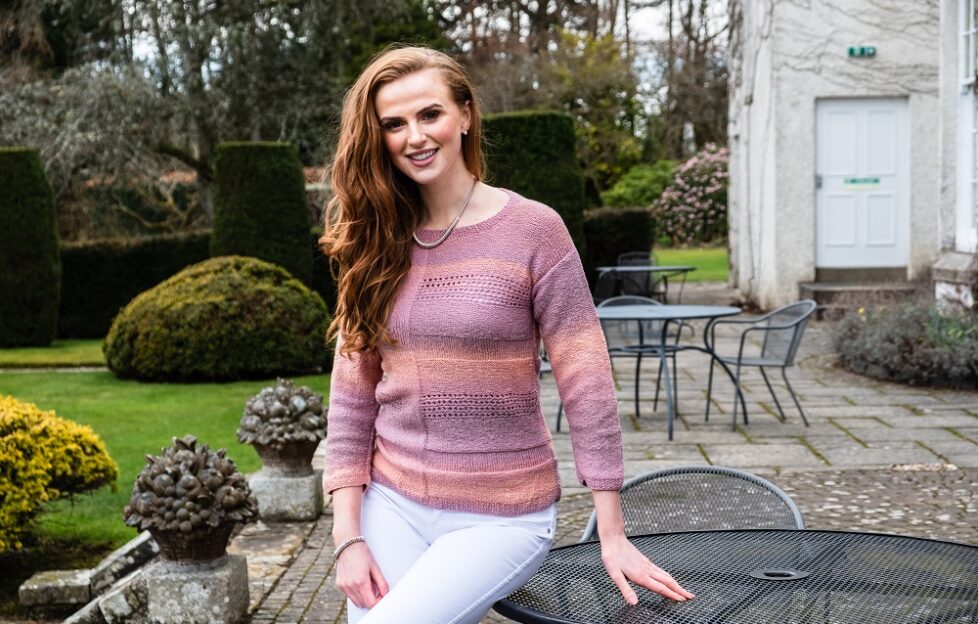 Photograph by Ally Stuart.
Have a look at our knitting preview for the September 4 issue, on sale Wednesday.
This week we have a lovely top worked in a mix of stiches to create a textured effect.
The eye-catching variegated yarn is the star of the show. It is Rico Design Fashion Cotton Light and Long DK in the shade Purple Mix (004). The shades in Purple Mix vary from purples to pinks to peach in a beautiful way.
If you would like to find out more about the yarn or order direct, visit www.beadandwoolshop.co.uk.
The Details
The sweater is available in eight sizes ranging from 81 cm (32 ins) to 117 cm (46 ins). Actual size is around 5 cm (2 ins) larger, so it gives a neat fit. And if you prefer a looser fit, consider working a size up.
The front and back are worked alike and feature a mix of reverse stocking-stitch (purl one row, knit one row), stocking-stitch and an eyelet panel.
You work the eyelet panel over a four-row repeat and create the eyelets using yf and K2 together, nothing too difficult.
The three-quarter length sleeves feature reverse stocking-stitch throughout.
We have marked this design as intermediate as you do need to keep track of where you are in the eyelet panel. Everything else is very straightforward.
This is a very versatile top, which is the perfect choice to see you through the change of seasons.
Have a look at our other knitting content, including our Cats Protection pattern for the 2021 Love Darg.