Fiction Sneak Peek: September 4, 2021 Issue
---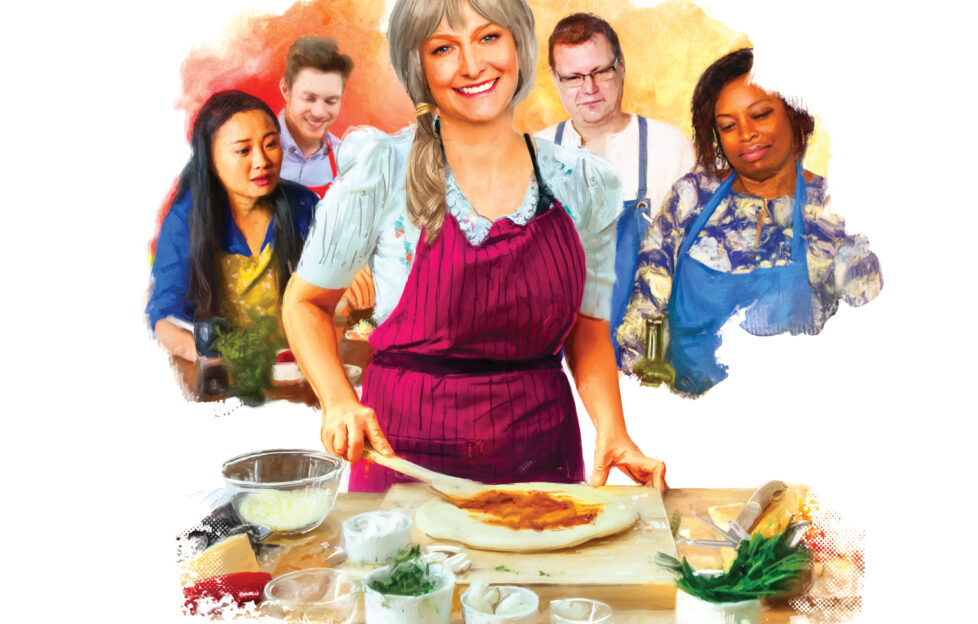 Artwork: Martin Baines
Welcome to the feel-good fiction in our new issue.
In our opening story this week, single Mum, Kate, goes on her first date in a very long time. Will she meet Prince Charming? Find out in Lynne Hallett's "Happily Ever After". Illustration by Mandy Dixon.
An evening class helps its students learn about so much more than just cookery, in Teresa Ashby's "Cooking For Comfort". Artwork (above) by Martin Baines.
We have a debut author next – congratulations to Writer Of The Week, Carol Allison! Her short story, "Just Not Cricket", has an illustration by Kirk Houston.
We go back to 1902 in our next short story. Can three friends find love on the Welsh coast? Alison Carter's "The Lighthouse Keeper" has a Ged Fay illustration.
Joy's retirement isn't going to plan, in "For A Moment's Peace". And the noise from next door is driving her to distraction! Alison Wassell's short story is illustrated by Sailesh Thakrar.
Becky admires paddleboard guy, Oliver, from a distance. Can a thunderstorm spark something between them? "A Summer Storm" by Alyson Hilbourne has an illustration from the Shutterstock picture library.
Evie realises that a community café has a lot more to offer than just coffee and cake, in our final short story of the week. Angela Wooldridge's "Someone To Count On" is illustrated by Shutterstock.
Serials
A brand new five-part serial begins today – "Shadows Of St Morfa Hall". Can a beautiful house be brought back to its former glory? Our dual-period story by Lydia Jones has illustrations throughout by Helen Welsh.
It's Part Three of "In A Class Of Their Own", by Anne Stenhouse, and Amabel's mischief has put Arthur in a spot of bother! Illustrated by Ged Fay.
Series
Who could have guessed a dung heap would come to the rescue, in Stefania Hartley's "Tales From The Parish"?
And there's a surprise for Anna as she prepares for her wedding, in Glenda Young's "Riverside".