Chinese Barbecue Gammon and Pineapple
---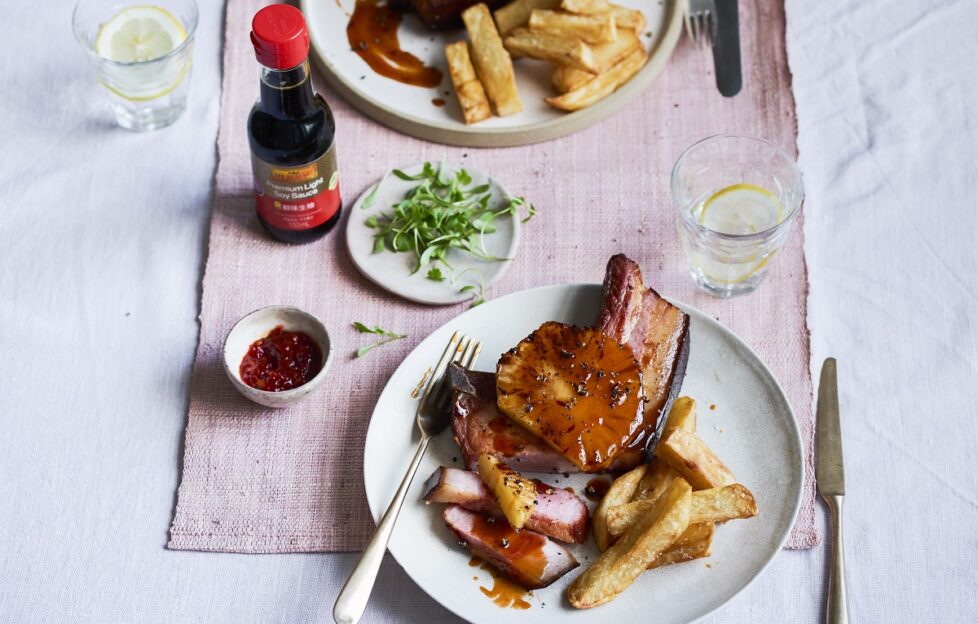 Ingredients
2 x 1.5 cm thick slice of smoked gammon chops or steaks, approx. 200 g (7 oz) each
2 x 2 cm (¾ in) thick rounds of fresh pineapple, peeled and cored
2 tbs groundnut oil, plus extra if needed
For the Glaze:
1½ tsp Lee Kum Kee Premium Light Soy Sauce
1 tbs Lee Kum Kee Plum Sauce
80 ml (2¾ fl oz) rice vinegar
3 tbs ketchup
300 ml (½ pt) pineapple juice
½ tsp Lee Kum Kee Chiu Chow Chilli Oil
½ tsp Chinese five spice
1 tsp butter
To Serve: chips or brown sushi rice or plain rice.
Recipe and image courtesy of Lee Kum Kee.
Combining flavours of East and West, this Chinese Barbecue Gammon and Pineapple makes a satisfying meal wherever you happen to be!
First, if you have time, soak the gammon in cold water for 2 hours, to help remove some of the saltiness.
To make the glaze, add the soy sauce, plum sauce, rice vinegar, ketchup, pineapple juice, Chiu Chow Chilli Oil and Chinese five spice together into a small saucepan, and place over a moderate heat for about 5 minutes, whisking until combined. Take off the heat and whisk in the butter until it has emulsified into the sauce. Set aside.
In a frying-pan, heat the oil over a high heat. Once the pan is smoking hot, add the gammon chops and fry for 2 minutes on each side. Use a saucepan to weight the gammon down to achieve a really good caramelisation, remove from the pan and set aside.
Wash the pan, return to the heat, and add a little more oil before adding the pineapple. Fry on each side for a couple of minutes. Don't worry if the pineapple gets a little charred – you actually are aiming for that as this adds another dimension to the final flavour.
Place one round of pineapple on top of each gammon steak. Pour over the glaze, allow to bubble for a few seconds. Serve immediately the traditional British way, with chips! Or alternatively with sushi rice or plain rice.