National Read A Book Day: What We're Currently Reading
---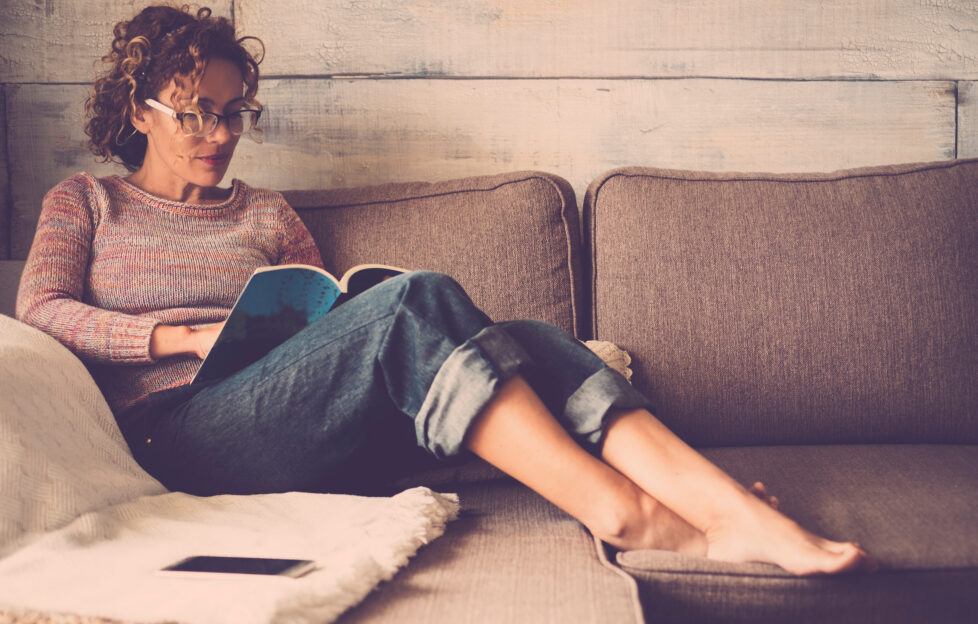 Shutterstock.
Here at the "Friend" we'll take any excuse to discuss what we're currently reading!
Today happens to be National Read A Book Day, so I asked the team which books they're loving right now.
Perhaps you'll find your next great read . . .
Editor Angela: "One For The Blackbird, One For The Crow" by Olivia Hawker
I'm reading Olivia Hawker's novel set in Wyoming in 1876. It's described as "a powerful and poetic novel of the American frontier", and that's exactly what it is.
Olivia's writing is beautifully descriptive, and she tells the story through the eyes of four characters. They each take turns to narrate the chapters from their viewpoint. This narrative device is really effective and plunges you into the life of each character as they try to navigate their way through the joint tragedy that has befallen their families.
It's a hefty chunk of a novel at almost 500 pages, so exactly the kind I like best!
I came across it while browsing for new books to read. After several disappointing so-called bestsellers that I just didn't really enjoy, I deliberately set out to find something less hyped readers. I'm very glad I did!
Features Ed Alex: "Nomadland" by Jessica Bruder
"Nomadland" is about America's nomadic retirees/semi-retired people, who travel the country in their vans and campers, and occasionally come together for big gatherings and reunions.
In the multiple-Oscar-winning film on Netflix, Frances McDormand plays a character who has been made redundant. She then travels for work, and makes friends at campsites along the way.
Frances and one other gent are the only actors in the film. Everyone else is a real person, who have all appeared in Jessica Bruder's book about these "grey nomads" – their back stories, their struggles, their sense of community.
It's such an interesting film that I had to read the book – and it was worth it. Some have difficult back stories, including Bob,  but many are just travelling out of choice, opting out of the rat race for the freedom of the open road. Modern day cowboys! Very cool!
Features Team's Yvonne: "A Place Of Execution" by Val McDermid
I love a good crime novel and having worked my way through most, if not all of Ian Rankin's Rebus books, I'm always on the lookout for other good crime writers.
The book I've just begun is "A Place Of Execution" by Val McDermid. Having only read less than a hundred pages, the story has me gripped already.
The downside is, I read at night in bed, so it's not the best subject matter for slipping into peaceful slumber!
Features Team's Lisa: "Something To Live For" by Laura Canty
I'm reading Laura Canty's autobiography about her experiences of postnatal depression (PND).
Doctors referred Laura to a mother-and-baby unit after she had suicidal thoughts. Laura and her baby son, Arthur, stayed there for 10 weeks. Laura wrote it to show other mums in the same situation that they are not alone.
To express her gratitude for those people who helped her, she now volunteers as an Expert by Experience for the NHS. Laura is aware there is still a stigma around PND and wants that to change.
It's a very moving book and such a page-turner that I'm getting through it very quickly.
Production Team's Eddie: "2001" by Arthur C. Clarke
I'm currently re-reading Arthur C. Clarke's sci-fi classic for the umpteenth time – I just love it. The subject of the universe and our place within it has always fascinated me, and I think this book really captures that sense of awe you get when you look up at the night sky and wonder what's out there.
The film is grand and operatic and obviously a favourite for many, but I've always preferred the novel – it's a bit more intimate, deftly capturing the conflicting thoughts and emotions of Bowman as he journeys through the cosmos and the crushing isolation of his situation is by turns haunting and spellbinding. A brilliant read.
Fiction Team's Tracey: "The Pillars Of The Earth" by Ken Follett
I'm late to the party with this 1989 release from Ken Follet! It's set just after the reign of Henry I, which is a period of history I wasn't very familiar with.
The main character is a stonemason called Tom and there are many story threads that cross throughout the book.
There's an real-life event that occurs at the beginning of the book, the sinking of the White Ship, that effectively changed the course of history in England in 1120.
I can't put it down!
---
Let us know what you're reading on Twitter or Facebook!
Find more great recommendations from us here.