Impressive Giant Sea Goddess Makes Big Strides
---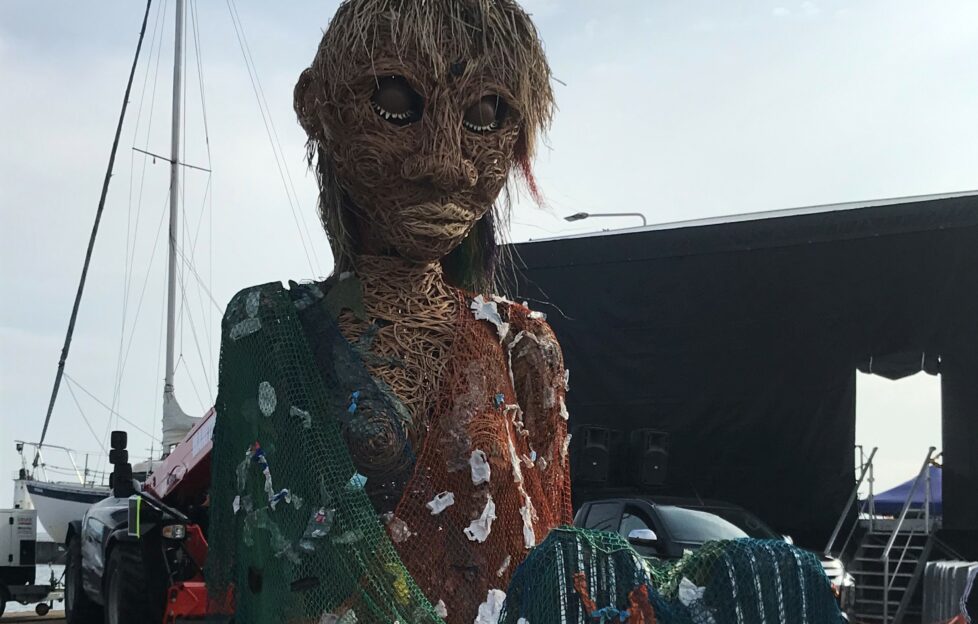 Sea Goddess, Storm, visits Anstruther: pic by Yvonne McKenzie.
It's not every day you get the chance to see an impressive giant sea goddess that is making big strides highlighting awareness of caring for our oceans. So, given the fact that one just happened to be visiting our local area, it was too good an opportunity to miss. The family piled into the car and we eagerly headed for the East Neuk of Fife. 
The imposing figure, by the name of Storm, was the star attraction to round off the Anstruther Harbour Festival. Set against the perfect backdrop of blue skies and sea she certainly attracted the crowds. Even the seagulls wheeled above her for a closer look. 
Sea Goddess Makes Big Strides
Storm is made entirely from recycled material and she's been visiting Scottish coastal areas helping to raise awareness about caring for our oceans. This lady does come with strings attached, she's a 10-metre-tall puppet under the control of eight puppeteers. They carefully choreograph things to magically bring her to life.  
No doubt, this sea goddess worked her own bit of magic too, as not only did she bring in the crowds, but also fabulous, sunny weather. Tots enjoyed everything from building sandcastles to face painting, with stalls enticing the grown-ups to purchase local fare.
We just had to round off our trip with some fish and chips – recycling our rubbish, of course. 
Read about another festival in the East Neuk of Fife at: https://www.thepeoplesfriend.co.uk/2018/06/14/crail-food-festival/