Knitting Preview: September 25, 2021 Issue
---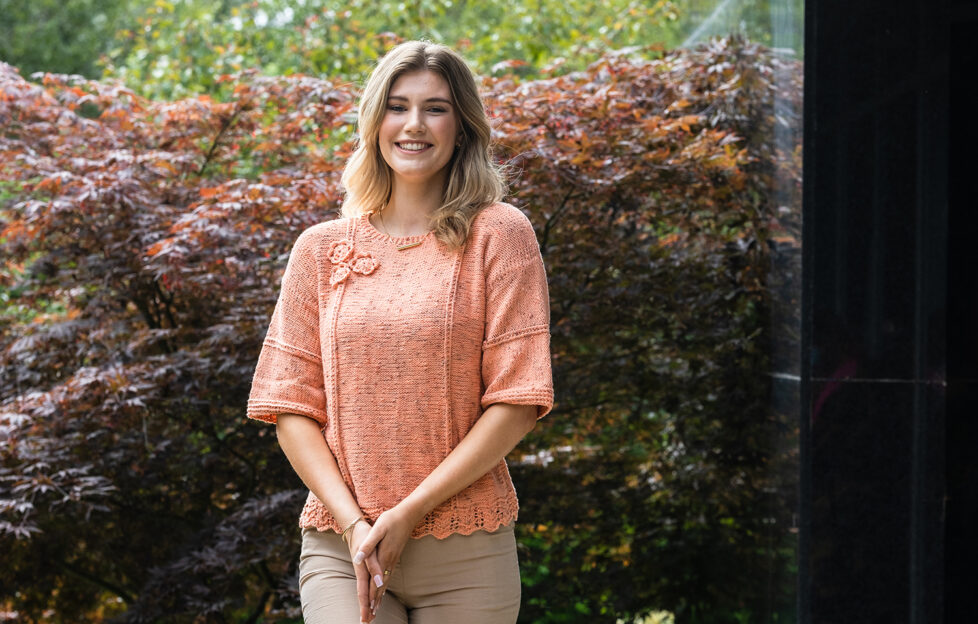 Photograph by Ally Stuart.
We have a lovely feminine top for you this week.
Little details make all the difference to our top, which features a lace border and a motif of crochet flowers to add a finishing touch.
If you prefer not to have the floral addition, don't worry, the top looks fine without it.
We have chosen a cotton blend yarn, which offers comfort and is great for people who are unable to wear wool.
Rico Fashion Cotton Neps DK is 97% cotton with a soft feel and little clusters of fibres (neps) in contrasting colours which create a gentle tweedy effect. We have chosen the shade Salmon (003) but there are another five shades available.
To find out more about the yarn or to order direct, visit www.myyarnery.co.uk.
The top comes in six sizes ranging from 76/81 cm (30/32 ins to 127/132 cm (50/52 ins). Actual size is around 15/10 cm (6/4 ins) bigger so we would recommend you work your usual size.
We have graded as an easy design. There is a simple 15-row lace border and you work the main body of the top in reverse stocking-stitch (purl one row, knit one row). A simple ridge runs up the front and back, created by working into the back of the stitch.
The elbow-length sleeves are worked sideways again featuring the ridge pattern.
Finally, the floral motif features chain, double crochet and treble stitches.
If you are looking for a comfortable, versatile top that will easily cross the season, this is the perfect choice.
---
If you're keen to tackle this feminine top, pick up this week's issue of "The People's Friend" from Wednesday.
Or you can subscribe to "The People's Friend" here, to make sure you'll never miss another one of our great patterns and projects!