Roast Butternut Squash and Chestnut Soup
---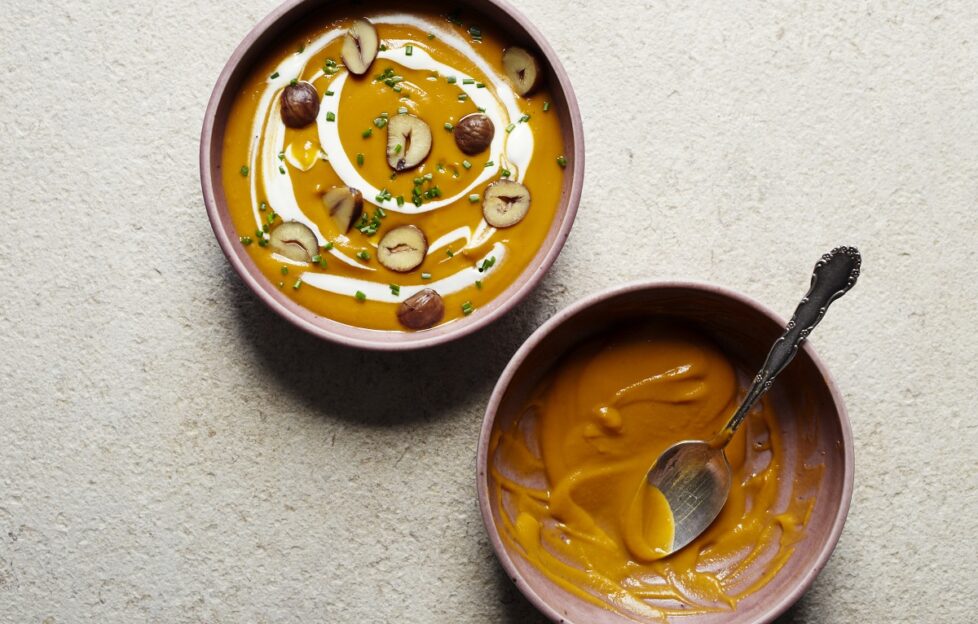 Ingredients
2 medium onions, peeled and diced finely
4 cloves garlic, peeled and sliced
2 tbs vegetable oil
1 large butternut squash, about 1 kg (2 lb 4 oz), peeled, de-seeded and chopped into 3-4 cm (1¼-1½ in) cubes
1 lt (1¾ pt) vegetable stock
150 g (5½ oz) Merchant Gourmet Chestnut Purée
100 g (3½ oz) Merchant Gourmet Whole Chestnuts, Simply Roasted
2 tbs tomato purée
Salt and freshly ground black pepper, to taste
For the Chestnut Yoghurt:
50 g (1¾ oz) Merchant Gourmet Chestnut Purée
100 g (3½ oz) vegan yoghurt
For the Topping:
100 g (3½ oz) Merchant Gourmet Whole Chestnuts, Simply Roasted, sliced thinly
6-7 tbs sliced chives
Recipe and image courtesy of Merchant Gourmet.
It definitely feels like soup weather this week, with a distinct autumn chill in the air, so this Roast Butternut Squash and Chestnut Soup is the perfect seasonal answer. It also works well with other vegetables such as parsnips, carrots or celeriac. Served with fresh, crusty bread, it's comfort in a bowl!
Serves: 6-7
In a large saucepan, add the onions, garlic and vegetable oil. Cover and sweat over a medium heat for 8 minutes until soft. Add the squash. Turn up the heat and fry for 5 minutes until the squash is lightly browned.
Add the stock, chestnut purée, whole chestnuts and tomato purée. Bring to the boil and boil rapidly for 10 minutes or until the squash is soft. Top up with water if the liquid goes below the level of the vegetables.
Take the pan off the heat. Blend the soup in a liquidiser for 1 to 2 minutes until it is totally smooth. The length of time you blend the soup defines how creamy it is. Longer is better, because more time gets more air into the soup and makes it creamier. Season to taste.
To make the chestnut yoghurt, blend the chestnut purée and vegan yoghurt together for 1 minute. Season to taste. Serve the soup very hot with a swirl of the chestnut yoghurt, the sliced chestnuts and chives.
---
If you're a fan of soup, we've got you covered. Try Rachel Allen's Bacon and Bean Broth,  Pearl Barley Soup With Tomato And Parsley or this delicious Creamy Fenland Celery Soup with Stilton Cheese. So tasty!
Click here for more great recipes from "The People's Friend".
Remember, we feature a whole host of recipes in every issue of our weekly magazine. Make sure not to miss your next "Friend" fix by subscribing today.