Smoky Tomato And Puy Lentil Soup
---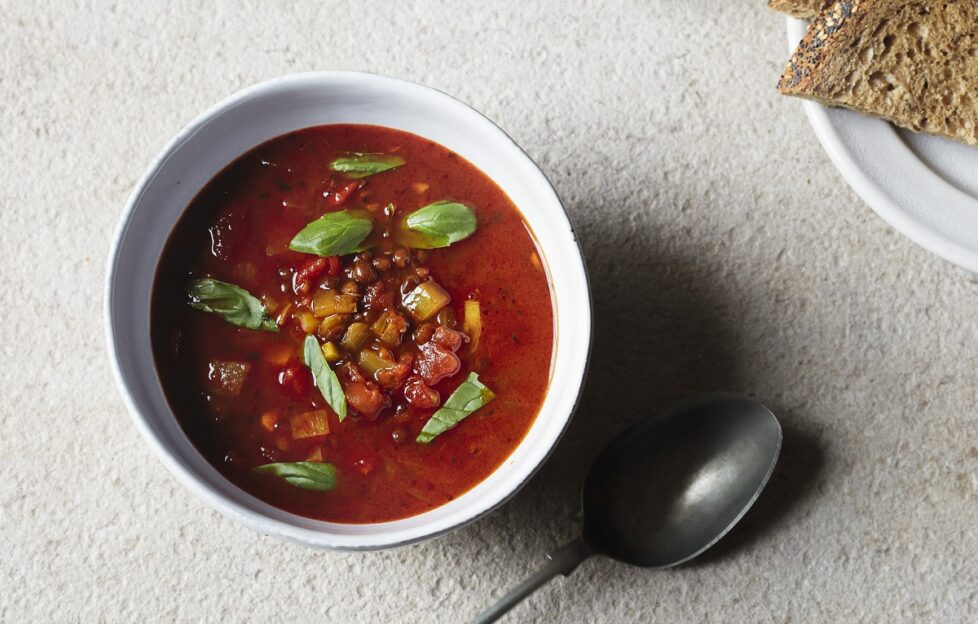 Photograph courtesy of www.merchant-gourmet.com
Ingredients
2 tbs extra virgin olive oil
2 medium-sized onions, peeled and diced finely
4 cloves garlic, peeled and sliced finely
1 lt (1¾ pt) vegetable stock
1 x 400 g tin chopped tomatoes
2 x 250 g pouches Merchant Gourmet Tomatoey French Puy & Green Lentils
1 tbs smoked paprika (hot or sweet, as preferred)
1 tsp turmeric
Salt (to taste)
6-7 heaped tbs (or to taste) finely sliced basil
Recipe courtesy of www.merchant-gourmet.com
This tasty Tomato And Puy Lentil Soup is a great choice for lunch now that there's a chill in the air.
It's quick and easy to make, and will serve 6-7.
Method:
Place the olive oil, onions and garlic in a large saucepan. Put a lid on the pan and sweat over a medium heat, stirring frequently, for 7 to 8 minutes, until the onions are soft but not starting to brown.
Add the vegetable stock, chopped tomatoes, lentils, smoked paprika and turmeric. Bring to the boil.
Lower the heat and simmer gently for 10 minutes, stirring occasionally
Season to taste with salt and more of either spice, if you'd like to. Add the basil right at the last possible second for a burst of freshness. Serve in hot bowls.
If you make too much, you can always freeze it!
This recipe is suitable for vegans.
---
Click here for more great recipes from "The People's Friend". And if you're a fan of soup, we've got you covered.
Try this Hearty Leek, Ham And Spelt Broth, for example. St Andrew's Day is just around the corner, which also gives you the perfect excuse to revisit our Lentil And Smoked Bacon soup. As if you needed one!
If you can't get to the shops just now for your "Friend", subscribe now by clicking here. It means your magazine will come straight to your door every week — all you have to do is put the kettle on!
You can also take out a digital subscription, meaning your issue will come straight to your computer, tablet or phone! And it's great value for money. Click here for more details.