Lisa's Best Ever Birthday Present
---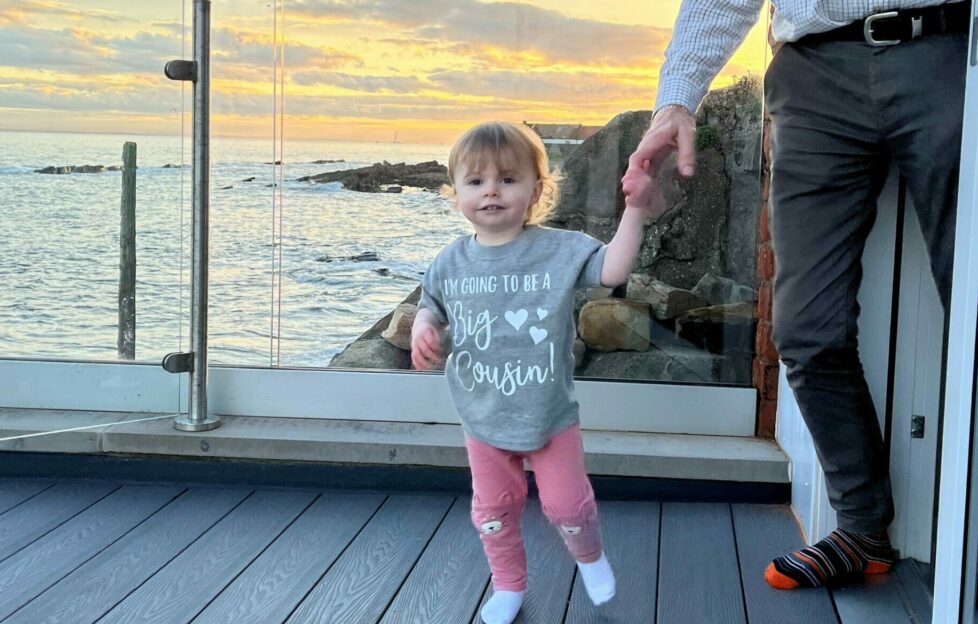 Photograph by Lisa Crow.
Earlier this year, I blogged about turning 40 in lockdown. After restrictions were eased, my family and I recently went away for a few days to my parents' timeshare for a belated birthday celebration.
However, it was just a couple of weekends ago that I received my best ever birthday present.
I went away for another weekend with my family, this time to Anstruther.
We had originally booked a stay in Anstruther as my sister, Jennifer, had been unsure if she'd be able to make the earlier holiday.
She was there for the first of the two holidays, though, and I thought all my 40th celebrations were over. I was wrong!
I arrived at our accommodation in Anstruther to be greeted by walls decorated with photographs of me at various stages in my life.
Some of the pictures showed me at my very best, on special occasions. Many could only be described as embarrassing!
Hand-decorated bunting was strung across the sitting room
Balloons and paper lanterns were hung at various points through the house and hand-decorated bunting was strung across the sitting room.
My amazing family had used the bunting in many creative ways.
Some of the flags were decorated with words to describe me, others had a few words summarising particular memories.
Many of them were decorated with Zentangle patterns. Zentangle is a passion of mine that I wrote about in a previous blog, and I was so touched at the effort my family had gone to to create something like that in my honour.
Retro treats
Another lovely idea of Jennifer's was to have two boxes of retro treats that would have been especially popular in my childhood.
One box filled with confectionery contained goodies such as Choc Dips, Flumps, Flying Saucers and Cola Bottles. The box of crisps contained the likes of Salt & Shake crisps, Frazzles and Fish 'n' Chips.
My favourite board game is Articulate, and my sister had created a personalised Articulate game on her laptop that related to things from the 80s.
My mum created an 80s quiz and my sister and Adam, my brother-in-law, arranged a cheese and wine tasting.
Later on we played another game, my sister's adaptation of Bruce Forysth's "Generation Game", a programme we watched when we were younger.
Challenges included designing an outfit from bin bags  and performing morris dancing routines. Lots of good fun!
However, the last round was the best. What Generation Game would be complete without "The Conveyor Belt Challenge"?
My sister and Adam had filmed short clips of themselves holding and naming random household objects.
The silly voices they put on and the cheesy background music will not be forgotten. Hilarious! The point in the activity is to remember as many of the objects afterwards as possible. So much fun!
I have saved my best birthday present to last
Everything that I have just mentioned would be enough for anyone to leave their holiday with a smile on their face. However, I have saved my best birthday present to last . . .
Not long after we had arrived on the Friday afternoon, my sister told me that she had a present for Isla.
She took Isla away downstairs to give her her present. A few minutes later, Isla returned wearing a new T-shirt. As Isla walked towards me, I burst into tears because the T-shirt had the words, "I'm going to be a big cousin" on it.
I couldn't imagine more exciting news and although it wasn't intended to be my best ever birthday present, it always will be.
What a special way to start an incredible weekend!
Most people love their families and think they have the best. I think it's safe to say, though, that mine is definitely right up there.
I'm so excited that we have another baby joining us soon. I can't wait to see Isla with him or her and I'm looking forward to lots more fun times ahead.
---
Click here for more from the "Friend" team.