Features Sneak Peek: November 13, 2021 Issue
---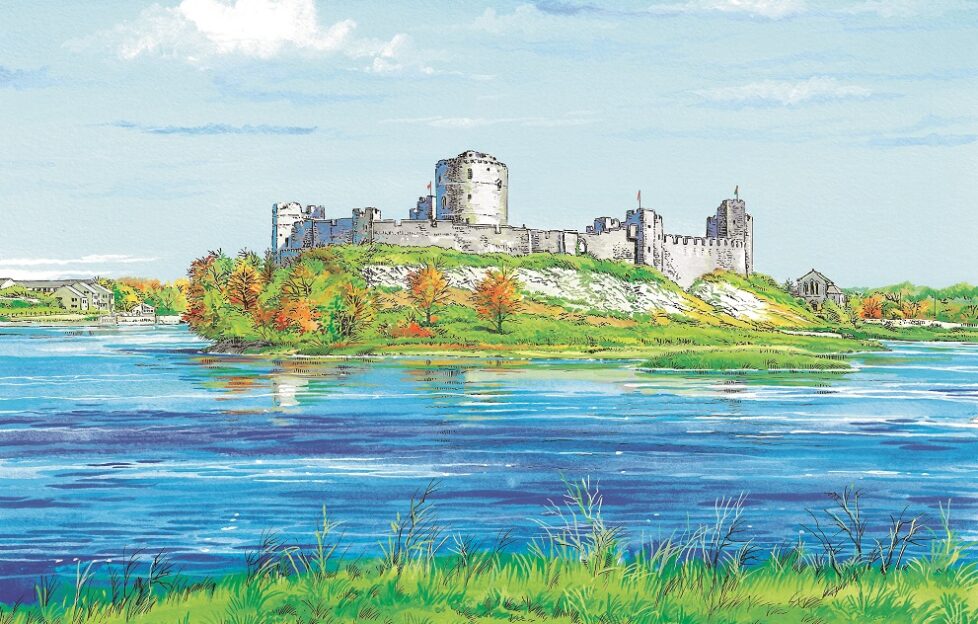 Illustration by DC Thomson Ltd.
Neil McAllister enjoys a trip round a charming Welsh town with a long and varied history in the November 13, 2021 issue of "The People's Friend".
Join Neil as he explores perfect Pembroke. Today the area is popular with holidaymakers, who come to enjoy its pristine beaches, pretty villages, wildlife havens and one of Britain's most spectacular coastal paths.
Pembroke Castle features on our itinerary and looks spectacular. It is framed by a body of water that looks like a moat. In fact, it was actually created by monks to power a tide mill.
There are many lovely places to stroll through in this area. Covering all the 186-mile route may require stamina beyond our capabilities, but short clifftop walks guarantee spectacular views.
Urban Birding
Nature programmes on television remind us of the glorious British countryside and exotic animals across the globe, but with over 80% of our population living in urban areas, these spaces are a long way from our day-to-day lives. It can mean nature feels a little remote.
However, a growing tide of naturalists are speaking up to remind us that nature is all around us. One such naturalist is David Lindo.
David, who goes by the name the "Urban Birder", grew up in north London and he was interested in what he found on his own back doorstep.
David's motivation for starting his career was reminding people that there nature is all around us. Passion became a profession when David was approached by the BBC. Features Ed Alex finds out more.
Female Firefighters
Women have fought fires over the ages – we just haven't heard much about it. From Molly Williams, a slave in New York City in 1815, to San Francisco heiress Lillie Hitchcock Coit, many women in history have defied the conventional idea of what a firefighter should look like.
In 1938, the London Fire Brigade appealed for volunteers, and women eagerly joined up. It was expected that they would do mainly fire watch and administrative duties, but many were involved in suppressing fires in the ruins of the Blitz. Many more women since then have trained to do what is still, to a degree, considered a masculine job.
In the magazine, Ali Henderson asks female firefighters how it really feels to work in a traditionally male-dominated profession.
Robert Swan
It all began for Robert Swan when he was eleven, sitting glued to the screen and seeing John Mills star in the 1948 film "Scott Of The Antarctic".
What upset him the most while watching was seeing Captain Scott arriving at the South Pole to find the Norwegian flag flying. He thought that perhaps he could level the score.
In 1989 he became the first person to walk to both the South and North Poles.
Thirty years ago, he was given a fifty-year mission by Jacques Cousteau to help preserve Antarctica. We now have twenty years to go until 2041, when the world will decide on its future. That's why Robert founded the 2041 Foundation to help preserve Antarctica as a natural reserve devoted to science and peace. John Wright finds out more about Robert's mission in the magazine.
Elsewhere, we have a collection of delicious vegan recipes. Plus we have a craft project to make a stylised table runner using punch-needle techniques.
We hope you enjoy it. Let us know what you think.
---
Has this sneak peek at our November 13, 2021 issue encouraged you to subscribe to the "Friend"? Click here. If you do, your "Friend" will come straight to your doorstep! 
You can also take out a digital subscription, meaning your issue will come straight to your computer, tablet or phone! And it's great value for money. Click here for a sneak peek at that!