Chantenay Toad In The Hole
---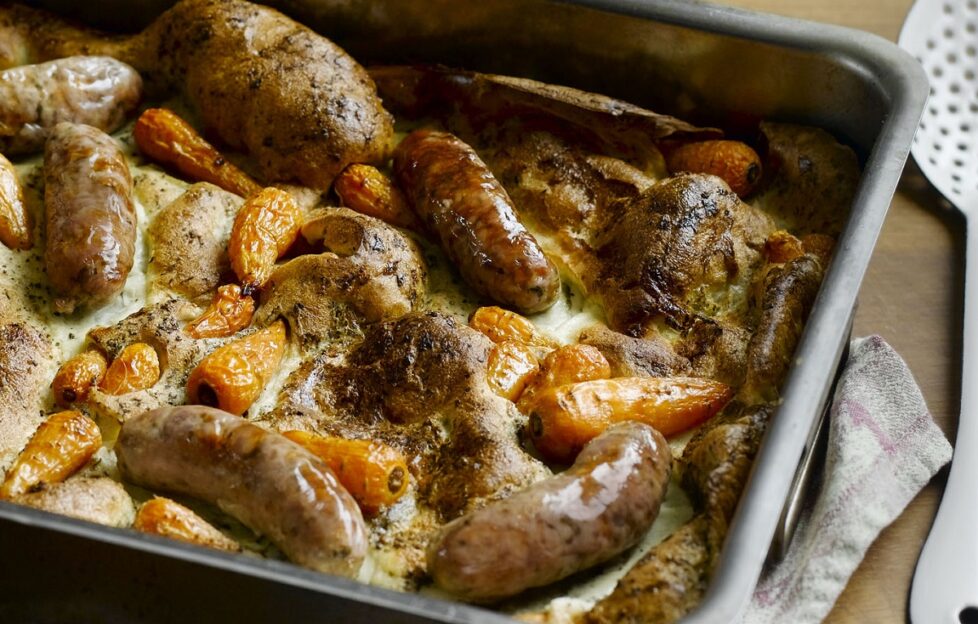 Image courtesy of Chantenay Carrots.
Ingredients
3 tbs olive oil
250 g (9 oz) Chantenay carrots, whole and unpeeled
8 fat sausages
For the Batter:
125 g (4½ oz) plain flour
3 medium eggs
150 ml (¼ pt) milk
150 ml (¼ pt) water
2 tsp dried herbs
1 tsp salt
To Serve: buttered cabbage.
Recipe courtesy of Chantenay Carrots.
We have a comforting toad-in-the-hole recipe for you this week. What could be more welcome on a cold, wintry evening?
And this one is especially good for you, as it comes with its own helping of tasty vegetables!
Serves: 4
Method:
To make the batter, add all the ingredients to a food processor and pulse until smooth. The batter should be the consistency of single cream. Leave to rest for 30 minutes.
Whilst the batter is resting, pre-heat oven to 220 deg. C., 425 deg. F., Gas Mark 7.
When the oven is hot, add the oil to a large roasting tin and put it in the oven to heat for 5 minutes. It is important that the tin is large as the batter will rise better if it has plenty of room.
When the oil is really hot add the Chantenay and the sausages and roast for 10 minutes.
Take the tin out of the oven and gently pour the batter around the Chantenay and sausages. You may find this easier if you transfer the batter to a jug that pours reliably.
The secret to a good toad in the hole is keeping everything really hot, so get the pan back into the oven as quickly as possible. After around 20 to 25 minutes the batter should be beautifully puffed up and golden brown.
Serve immediately with plenty of buttered cabbage.
---
If you've enjoyed our Chantenay Toad In The Hole, why not try our warming Chicken Stew with Leeks and Chantenay?
Looking for more sausage recipes? We can oblige! How about Gala Apple And Sausage Tray Bake or for a meat-free version, this Very Healthy Vegan Sausage Bake?